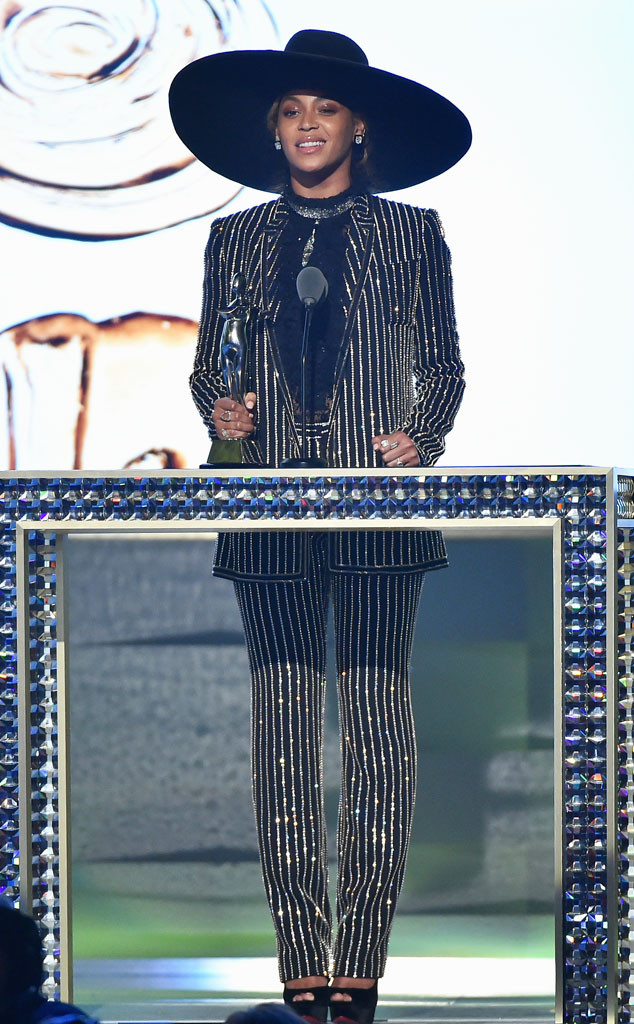 Theo Wargo/Getty Images
Beyoncé will always be in fashion.
The "Hold Up" singer made a surprise appearance at the CFDA Awards in New York City Monday. With Jay-Z, Blue Ivy Carter, Tina Knowles and Richard Lawson in the audience, CFDA president Diane Von Furstenberg presented Beyoncé with the Fashion Icon award. The diva—who rarely walks a red carpet or gives interview—used her time on stage to reflect on the beginning of Destiny's Child's and to honor fashion designers who aren't afraid to take risks.
"I feel so much love and I feel so proud. As long as I can remember, fashion has been part of my life. Its effect on me actually started before I was born. Many of you guys don't know this, but my grandmother was a seamstress. My grandparents did not have enough money; they could not afford my mother's Catholic school tuition," Beyoncé recalled. "So my grandmother sewed clothes for the priests and the nuns and made uniforms for the students in exchange for my mother's education. She then passed this gift onto my mother and taught her how to sew."
When Beyoncé's career began, she wasn't afforded the luxuries she is today. Yes, she always had style, but she wasn't always slaying in a Givenchy suit. "Starting out in Destiny's Child, high-end labels didn't really want to dress four black, country, curvy girls, and we couldn't afford designer dresses and couture. My mother was rejected from every showroom in New York. But like my grandmother, she used her talent and her creativity to give her children their dreams. My mother and my uncle, God rest his soul, made all of our first costumes, individually sewing hundreds of crystals and pearls, putting so much passion and love into every small detail. When I wore these clothes I felt like Khaleesi," she said, referring to actress Emilia Clarke's Game of Thrones character. "I had an extra suit of armor. It was so much deeper than any brand name."