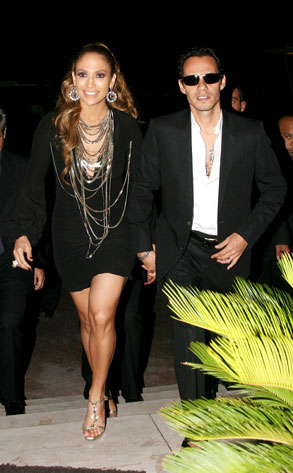 INFphoto.com
So much for Jennifer Lopez and Marc Anthony's big Valentine's Day demise. (Or so we're being led to believe...)
In the face of reports that the duo have been fighting and are headed for a split, E! News has learned exclusively that J.Lo and her hubby are spending a few days together in San Juan, Puerto Rico.
"They are on a holiday vacation," says Anthony's rep.
Two days ago, Lopez and Anthony met up with friends and family for dinner at Marmalade, a trendy, upscale restaurant in the old-town section of San Juan.
"Jennifer and Marc looked very happy, so it is hard for me to believe the rumors that their marriage is in trouble," the eatery's general manager, Trace Donaldson, tells E! News. "They were laughing and seemed to be having a great time."