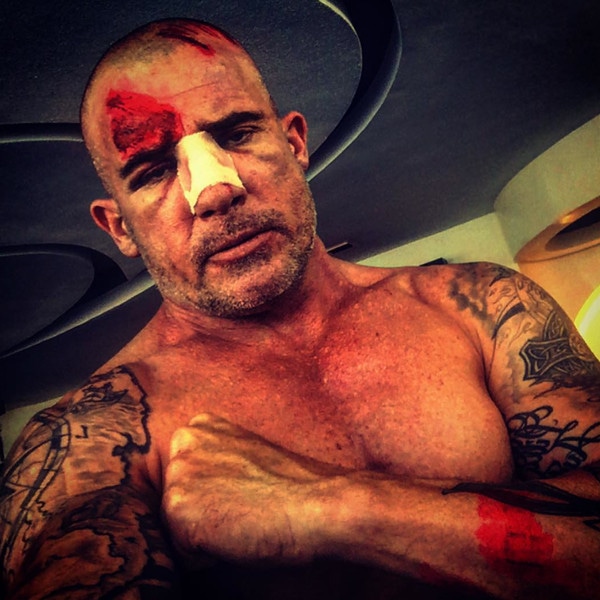 Instagram
Prison Break star Dominic Purcell had a major accident on the set of the Fox reboot earlier this week when a heavy iron bar fell on his head and broke his nose in two places, causing him to be airlifted to a hotel in Morocco.
Fortunately, the actor's okay—and his on-again girlfriend AnnaLynne McCord was there to take care of him after the scary accident.
"I'm good.#thanksforsupport ... Had a little accident on set. Haha ! Back at work asap. Pays to have a thick skull when an iron bar falls on your #head!! busting it open severely also broke my nose in two places. Haha. I got a free nose job out of it...... Stoked to be alive. All good. #chill. Oh. I didn't get knocked out took a knee. Ha!! Doc said I have an unusually tough tissue fiber that's what saved me apparently. Thank god for my #Viking heritage hahaha !!!!," the actor wrote on Instagram.
He also thanked his longtime love for her support during the terrifying time.
"Thank god my love @theannalynnemccord was there when my unfortunate accident occurred on set. She went into raging #momma mode along with #christinanorthup and got me the right care. Show goes on. No worries !!! Oh being airlifted out on a helicopter was another adventure I didn't expect. Thought the bloody thing was going to fall from the sky!!! What a day it was. Grateful to be alive."
McCord also posted about the incident, writing, "My #badass muthaf**ker man not worried at all during our 2 hour 'copter ride to be treated following an incident during filming. Won't lie. It was scary AF wondering for hours if his skull was in tact."
According to Fox, the accident occurred when a set piece fell on Purcell's head while filming a scene on location in Morocco on Monday. He is not only expected to make a full recovery, he'll also resume filming after a very short hiatus so his presence in the series will not be affected.
"Our friend and colleague Dominic Purcell was injured earlier this week during the filming of our event series Prison Break, and was flown to a medical facility where he received treatment," Fox Television Group said in a statement. "We are happy to report that he is in great spirits and is expected to make a full recovery.  He wanted us to express his appreciation to the fans around the world who have expressed their concern and support, and to reassure them that he will be back at work very soon."
Watch:
Dominic Purcell Is Amped for "Prison Break" Reboot