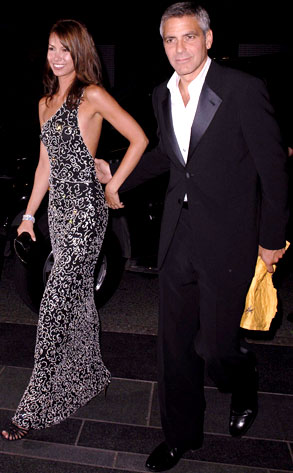 Most Wanted/Flynet
UPDATE: I've got more details for you from George Clooney's birthday bash.

There were actually two birthday cakes made by cake and pastry company How Sweet It Is! One was for Clooney in the shape of Italy, where he owns a villa.

The other was for David Beckham, who turned 33 on Friday. The soccer star's cake was in the shape of the United States.

I'm told John Mayer performed and Sarah Silverman even shocked some party guests when she spent some time working as Bungalow 8's doorperson.

_________________________
George Clooney turns 47 today, but the world's most famous hunk started celebrating last night.
Giorgio Armani hosted a birthday bash for the Oscar winner after the Costume Institute Gala. It was invite-only, a source reports, for about 100 people at Amy Sacco's legendary hot spot Bungalow 8. Clooney picked the venue, I'm told.
So just who made the VIP guest list?