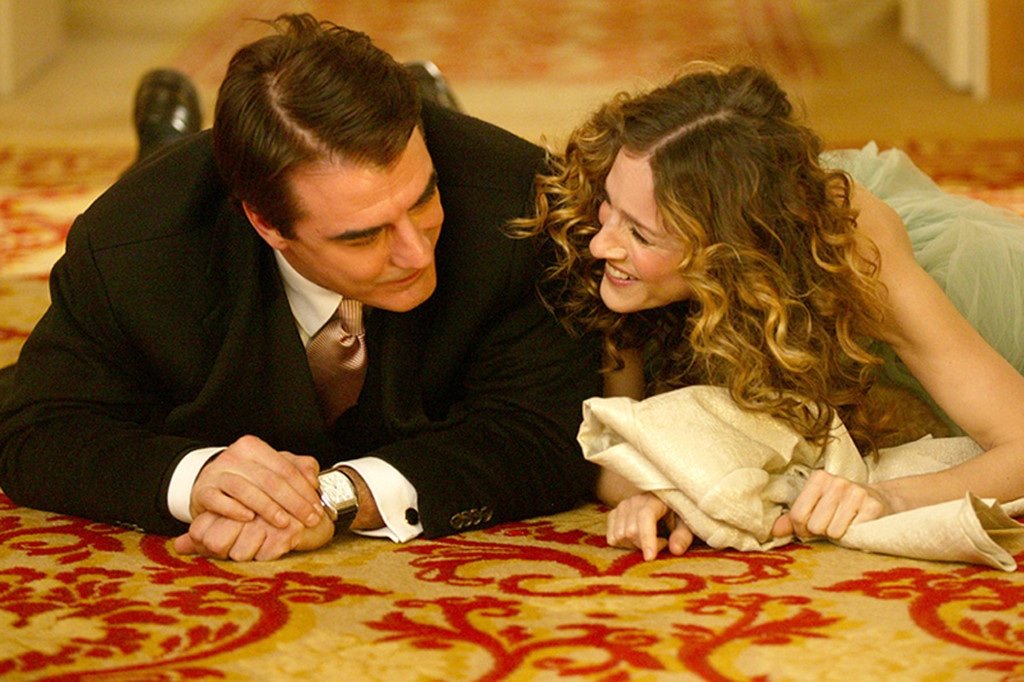 HBO
What better way to help kick-off Couples Week than by honoring one of TV's most famous lovebirds?
Even if you never became obsessed with the late '90s HBO series Sex and the City when it originally aired, chances are you've caught an episode or two on the small screen throughout the years, and are at least slightly aware of the epic and popular love story between Carrie Bradshaw (Sarah Jessica Parker) and Mr. Big (Chris Noth).
The 10-plus year roller coaster romance constantly left fans at the edge of their seat throughout the seasons, wondering if the pair would ever ultimately end up together, or if the obstacles that came in their way were too strong to overcome. And whether or not you were Team Big, you couldn't deny that there were some moments between him and Carrie that just gave you the feels.
Here are 11 moments between Carrie and Big that made us get carried away...
1. The Beginning: Who knew that a handsome man who helps you pick up condoms and cosmetics from the floor after getting your handbag knocked over would ultimately become the one to steal your heart? The mystery in the beginning was too alluring to ignore, especially for Carrie.
2. The Tie: It seems simple enough, but the act of Carrie tying Mr. Big's tie gave us a glimpse into that simple, ordinary life of a couple. And when Big said, "You better be careful. I could get used to this," we couldn't help but swoon.
3. The Fart: There a few things that prove the comfort level within a relationship, and letting it rip in bed is one of them. Carrie accidentally farted while enjoying a cuddle session with Mr. Big, and she was mortified. We felt it, too. But, at the same time, it was pretty hilarious.
4. The Time He Called Her His Girlfriend: Remember when she found her picture in his drawer? And then they went out to dinner and he introduced her as his girlfriend? You could see the butterflies practically flying out of her stomach!
5. The Time He Showed Up: No one believed Big would show up to the dinner to meet the girls, not even Carrie. But the moment they turned to see him at the top of the stairs waving to the group of girls was the moment everyone had a newfound hope in love (especially Miranda).
6. The Time She Had to Let Go: So, Big decided to go and get married to Natasha. Ugh. But no one can forget this pivotal scene between the two exes when she simply looks at him and says, "Your girl is lovely, Hubbell." And then he said, "I don't get it?" And then she said, "And you never did."
UGH. That will make your heart hurt every time.
7. The Time They Fell in Love in a Lake: In an attempt to be friendly, the former flames met for a lunch date. The problem? They were near a body of water. At one point, Carrie freaked out that Big was going to plant a smooch on her face, and the two ended up falling into the lake. It was funny and oh-so-sweet.
8. The Time He Left Her Plane Tickets: Can you believe it? Big decided to just up and move to Napa! In an attempt to give him one last night in New York City, Carrie had a romantic even planned, but it was halted by Miranda, who ended up giving birth. By the time she was able to get back to Big's place, all there was left was an envelope with a ticket for her to go to Napa. Sigh.
9. The Time He Went to Her Book Reading: How could you not have fallen in love when Carrie got a question from an audience member at her book reading and it was Big?! It was so sweet and just perfect.
10. The Time She Gave Us the Best Breakup Line Ever: At this point, fans didn't know where to stand. Do we want Carrie and Big together or not? Well, in this scene, it was a no. At least for Carrie. When Big tried to salvage whatever there was before she jet off to Paris with the Russian, Carrie cut him off in a fiery rage and yelled, "You and I NOTHING!"
She went on, "You cannot do this to me again. You cannot jerk me around...Forget you know my number. In fact, forget you know my name."
Oooooh! It was so good.
11. The Time He Finally Proclaimed His Love: Um, duh, we were going to include this moment. Everything led up to this! No one blinked when Big decided to follow Carrie to Paris to proclaim his love for her, and the second he finally said, "It took me a really long time to get here, but I'm here. Carrie, you're the one," our hearts burst.