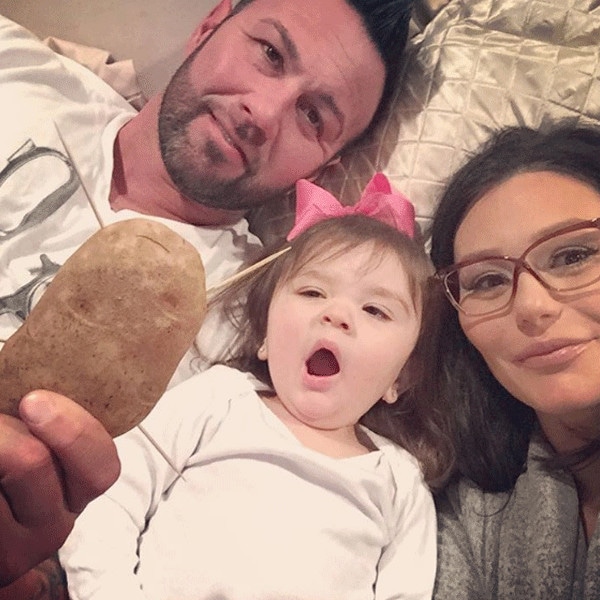 Instagram
Jenni "JWoww" Farley gave birth to her second child, Greyson Valor Mathews, only a few weeks ago, but the former Jersey Shore star can already attest to how much life has changed since having two kids to take care of. JWoww opens up to E! News in an exclusive interview about how motherhood has changed her life, telling us that even the smallest activities have to be planned down to the very minute.
"I tend to forget I can't just jump in the car with [daughter] Meilani and head to the beach. Since having Greyson, every day has to be planned the night before," she tells us. "[My husband] Roger [Mathews] and I always want to make sure Meilani isn't feeling left out or feels she's missing out on anything fun because her brother needs to stay home. It is getting easier, and Roger and I are figuring this out together."
Prior to giving birth, the happy couple worried whether Meilani would warm up to her new baby brother. Fortunately, it all worked out. "She is absolutely amazing. I was scared she would hate him or get super jealous," she tells us. "Meilani gives Greyson kisses and hugs and even feeds him." 
Greyson's addition certainly has made the already-close family even more tightly knit, especially when it comes to JWoww and Roger's romance. "We have much more respect for each other now. Roger is so hands on with both of them it made me fall in love with him all over again," she shares. "We also learned to talk through disagreements rather than be stubborn or argue. We don't want our children to see us fighting. We want them to learn how to talk through things and grow from the experience."
With Father's Day only a few weeks away, this family is planning on spending it altogether in a low-key way. "Staying in and doing fun art projects for daddy!!!! Possibly barbeque depending on this Jersey weather," JWoww tells us. "Roger and Meilani are outdoor buddies! They love playing in the mud, swimming or just throwing rocks. Meilani is his little girl!"
Only two weeks after JWoww gave birth to Greyson, she shared a picture on Instagram that showed her taut tummy. But the former MTV star tells us her quick results are a result of hard work and determination. "This time around, I am more strict than I think I ever have been. I have been doing shakes from 310 Nutrition as well as eating clean and working out," she says.
"310 has a 5 day detox that I love to do at least once a month. I am looking to be in the best shape of my life within the next couple of months but I know I won't get there without hard work and dedication."
As for whether they'll have more children, JWoww says, "Roger and I have spoken about adopting in the future but no more pregnancies! I want to get my body back and keep it."
JWoww's new app, JWoww by Jenni Farley, is available for download now.