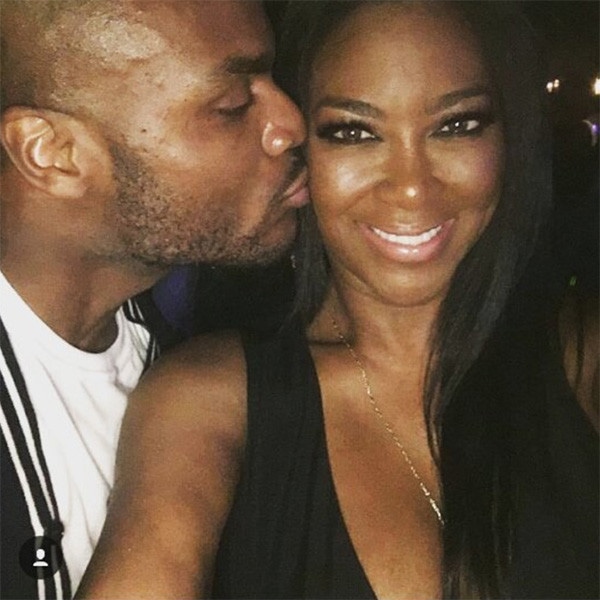 Instagram
UPDATE: Matt Jordan tells E! News exclusively, "Kenya and I agreed to never speak negatively of one another in the media or otherwise. I plan on holding up my end and say that I take full responsibility for the entire situation. There is my side her side and what God loves which is the truth!"
Furthermore, the Bravo star's rep tells us, "Like every relationship things happen and conversation become arguments. The only difference between theirs and the average Joe is that they are in the entertainment and media life."
____________________________________________________________
It's over for Kenya Moore and Matt Jordan.
E! News confirms the Bravolebrities called it quits after a dramatic Memorial Day weekend. According to TMZ, who first reported the split, they got into a "huge dispute" while on vacation in Mexico. In a since-deleted Instagram post (at Jordan's request), the Real Housewives of Atlanta star confirmed that she and Jordan have broken up; the caption accompanied a photo of smashed sunglasses.
"Love is never aggressive, hurtful, threatening, vindictive or accusatory, nor distrustful," Moore, 45, wrote. "Love is never a c--t or a bitch. Love is never demeaning or degrading. My love is real. My love is kind. My love is protective. My love elevates not destroys. My love is generous. My love is forgiving. My love is patient. My love is respectful. My love is worthy of the same."
E! News has reached out to reps for both stars.
Jordan later elaborated on the split via his own Instagram account.
"Looking back I blame myself totally. I learned very late in the relationship that a woman will not trust a man fully if he seems irresponsible or not up to standard in areas of a relationship. If she doesn't feel like she can put trust in a man emotionally, spiritually, financially etc. ...That will cause a woman to feel resentment and most of all untrusting in her man," the celebrity fitness trainer explained. "Because of what he lacks she does not feel like she will be properly protected or served! So the woman will not feel like she can give her all to a man that is unstable or irresponsible in areas of the relationship. Causing her to go inward emotionally."
Watch:
Kenya Moore Trashes Women of "Celebrity Apprentice"
Jordan, whose relationship with Moore was chronicled during RHOA's eight season, added that he was in denial about his flaws until late in the relationship. "It causes me to feel untrusting in her because I did not feel like I had her FULL love and attention. I didn't realize that I created my own circumstances. It's crazy how life has a way of showing you your own flaws," he wrote. "Making you look at yourself in the mirror!" He also shared a message with men everywhere—"brothers in particular"—regarding how to treat a woman. "Being a real man is a lot more than just being a strong physical dominating presence and opening doors for her. In addition, just for the record, infidelity or cheating was never part of our relationship or one of our problems!!"
Moore has since deleted all traces of Jordan from her Instagram account. "She only took down my pics because it was what I requested," he wrote in one caption, adding that their breakup was due to "my own immaturity, not hers." Responding to another commenter, the newly single fitness fanatic wrote, "I don't mean any disrespect but that's the mindset and the kind of talk that makes Brothers lazy. I hear it all the time that these women are all out for money they want a guy with money!!! Excusing it or calling women evil for wanting a man that has a lot of money sends the wrong message to brothers. Basically saying that as long as I'm a nice guy I should have smart strong beautiful intelligent woman that has money!!!???? No sweetie it's 2016 and I live in the United States of America I should just get more money then.!! To all the brothers out there if you're upset about it get more money. Feel insecure? Get more money. Tired of the nonsense? Get more money. I'm going to go take my own advice now."
Originally published on June 2, 2016, at 9:22 a.m.
(E! and Bravo are both members of the NBCUniversal family.)