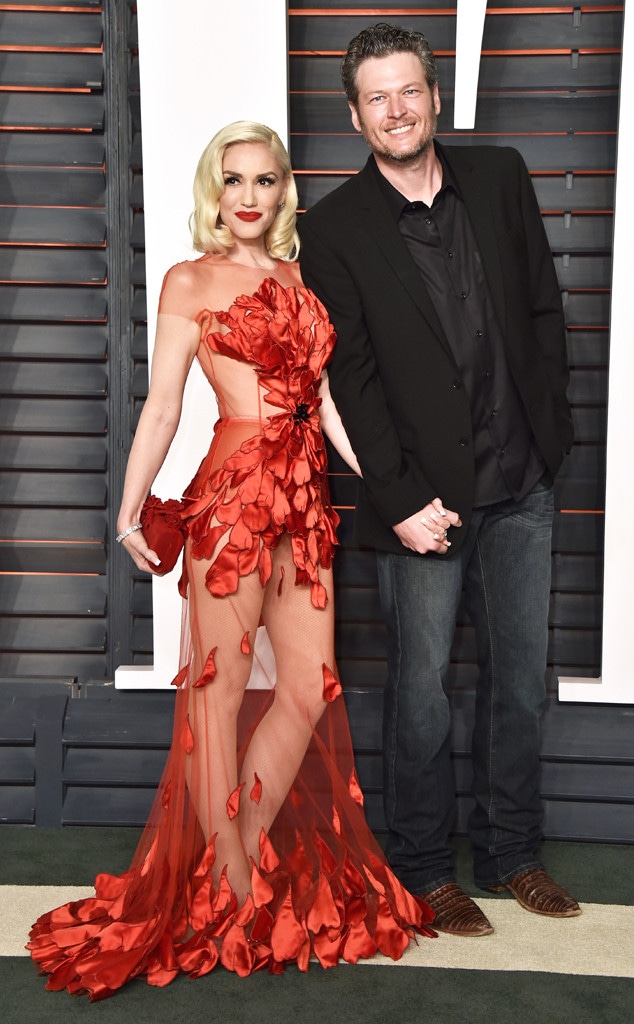 Pascal Le Segretain/Getty Images
If wedding bells are ringing, Gwen Stefani can't hear them.
The "Make Me Like" you singer has been in relationship with Blake Shelton since last fall, and though their romance has seemingly moved at warp speed, neither musician is in a rush to get remarried. After all, Gwen was married to Bush's Gavin Rossdale from 2002-2015, while Blake was married to Kaynette Gern from 2003-2006 and then to Miranda Lambert from 2011-2015.
In the June 13 issue of Us Weekly, however, a Gwen family source claimed that the singers—who met as mentors on NBC's The Voice—"talk openly about their future together. They say things like, 'When we get married...' all the time." In fact, one of the pop star's friends claimed she is "totally smitten and wants to have a baby with Blake. Gwen is trying to get pregnant."
Not so, according to Gwen.
In a radio interview with 94.7 Fresh FM's The Tommy Show Wednesday, Gwen denied reports that she's ready to wed. "Let's just take it one day at a time," she told host Tommy McFLY. "Everything's crazy right now so no, absolutely not. Can you imagine the amount of gossipy, weird stories people make up? To me, it makes me laugh every day. I actually do Google my name just so I can see the next one that's gonna happen, because it's gotten so out of control."
Gwen—mom to sons Kingston Rossdale, 10, Zuma Rossdale, 7, and Apollo Rossdale, 2—tries to laugh off the rumors. "The best part about it is it's hilarious," the singer, 46, told McFLY. "The worst part about it is that some people actually believe that stuff. Like, that is what's funny."
The day of her interview, Rolling Stone published an interview with Blake in which he opened up about the origins of their romance. "As I was making the record, other developments were happening," Blake told the magazine. "I was spending some time with Gwen all of a sudden, and she became my closest ally, my friend, my person in my life who had my back, and I had hers. And created this bond with somebody that I never would have thought in a million years."
"We were starting The Voice last year, and I had to sit down and go, 'Look, by the time this thing airs, my life will have completely changed, and we need to talk about this now because it may affect what we talk about on the show.' I just felt like there doesn't need to be secrets," the 39-year-old "Came Here to Forget" singer revealed. "And then the same thing [happened] with Gwen. It was like, 'Here's what's going on, this show ain't gonna air until three months from now, so let's get this talked about right now.' That's how we even found out what was going on. And we just started to develop a friendship after that. And it took awhile, because it's chaos. But just over time, seeing each other a lot at work, it just kind of developed into that."