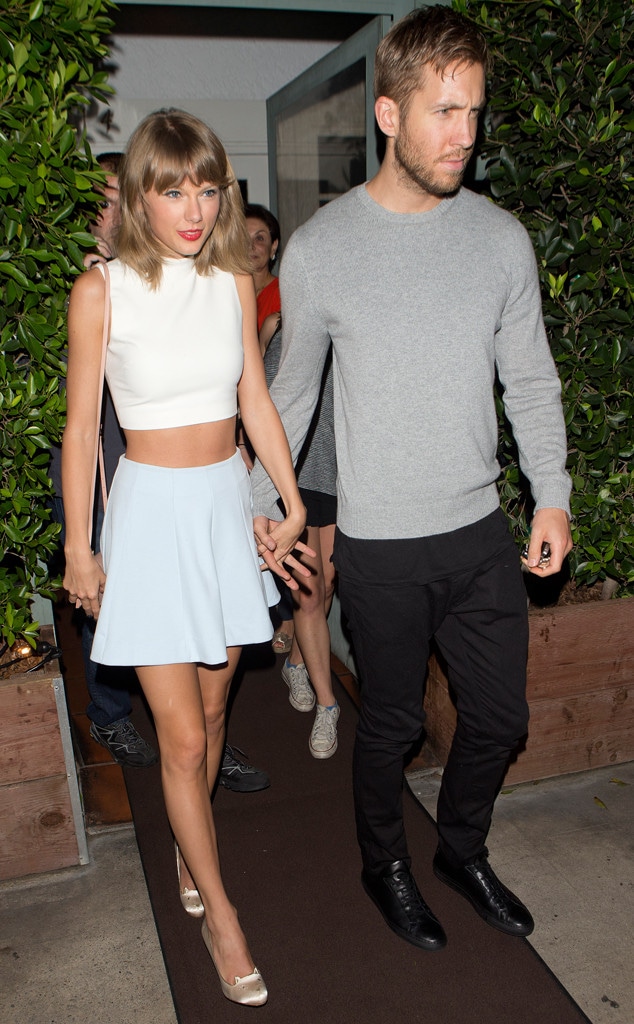 SPW / Splash News
Another love story has come to an end.
Yesterday's news that Taylor Swift and Calvin Harris split after 15 months certainly came as a shock to fans of both musicians far and wide.
A source told us at the time that "there was no drama" between the two, while another insider insisted the the romance just seemed to fizzle out over time.
And now that details about their breakup have little by little come to light, it seems to be the perfect time to reminisce about T.Swift's past endeavors into the world of dating.
Joe Jonas (July 2008 – October 2008)
The Jonas brother marked T.Swift's first foray into the young Hollywood world of romance and there were reports that the two split over a brief (like, 27 seconds long brief) phone call. That being said, it seems to be water under the bridge now and the two appear to be on good terms these days.
Jean Baptiste Lacroix/WireImage
Taylor Lautner (August 2009 – November 2009)
After meeting on the set of Valentine's Day, these two cuties ended almost as soon as they started. While fans speculate that the 26-year-old's "Back to December" is written about the Twilight hunk, neither have commented publicly on the matter. Though, there is this.
Dimitrios Kambouris/Getty Images for VEVO
John Mayer (November 2009 – February 2010)
The two singers may have only dated for a few months, but the aftermath of their romance seems to live on forever in her track, "Dear John" and his subsequent response in "Paper Doll."
Cory Monteith (April 2010 – May 2010)
Prior to the late Glee actor dating Lea Michele, he was seen on a bowling date with the Grammy-winning songstress. And while the two didn't date terribly long, they were said to be on friendly terms following their few public outings.
Jake Gyllenhaal (October 2010 – December 2010)
Between all of the songs on her Red album which were allegedly inspired by the A-list actor, it seems as though Swift had fallen hard for Gyllenhaal. In fact, T.Swift revealed in an interview that Jake called her after listening to the album and told her it was a "bittersweet experience."
Conor Kennedy (July 2012 – October 2012)
After several PDA-filled beach getaways, T.Swift sold her Hyannis Port home that sat right next door to Kennedy's family compound. Back in 2012, a source confirmed to E! News that the home was more of a short-term investment and was flipped for more than a million dollars in profit. Not too shabby!
Harry Styles (December 2012 – January 2013)
After the release of Swift's highly anticipated 1989, Swifties went into overdrive about many lyrics possibly being about her relationship with the One Direction singer. And even though he didn't outright admit to being the inspiration behind hits like "Out of the Woods" and "Blank Space," he did compliment Swift on her songwriting skills. "She's really good…they're good songs. So I'm lucky in that sense," he told pal Ben Winston in a video interview shortly after the album's release.