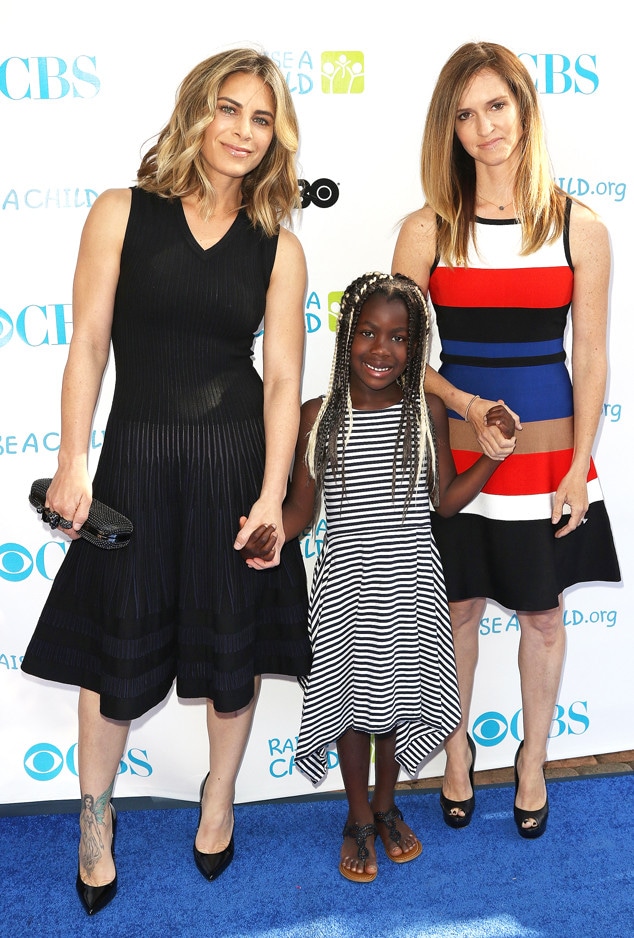 JC Olivera/Sipa USA
Jillian Michaels is speaking out about a cause that's close to home.
The beloved trainer and star of Just Jillian opened up to E! News about being an advocate for RaiseAChild, an organization aimed at helping and informing families and individuals who are interested in the adoption process.
"I find it extremely concerning that there are over 100,000 kids in America who are in need of loving homes," the mother of two told us. "This is unacceptable. Every child deserves a family."
Michaels and her partner Heidi Rhoades adopted a two-year-old daughter, Lukensia, from Haiti back in 2012.
That same month, Rhoades gave birth to the couple's son, Phoenix.
"This is why I felt very strongly about making sure that adoption was one avenue we pursued in building our family," the 42-year-old explained before sharing that she and her longtime partner hit major hurdles when it came to trying to adopt.
"We were told that the Congo and Ethiopia would not adopt a child to a gay couple."
Michaels added, "I have seen tremendous prejudice against LGBTQ couples in this country. Up until very recently, there were only 14 states in which LGBTQ couples could adopt…the laws are changing in our country, for the better, at a dizzying pace."
But for many millions of people within the LGBTQ community in this country looking to start a family, things are beginning to look up. "At this point now it is legal in all states of America," Michaels told us. "I think love wins once again."
And there was no clearer sign that love rules all for Michaels and Rhoades than when their daughter Lu presented them with the "Let Love Define Family" award at the 4th Annual RaiseAChild Honors Gala. "Heidi and I could barely speak to accept the award simply because we were so moved," the proud mother explained. "It was a long journey."