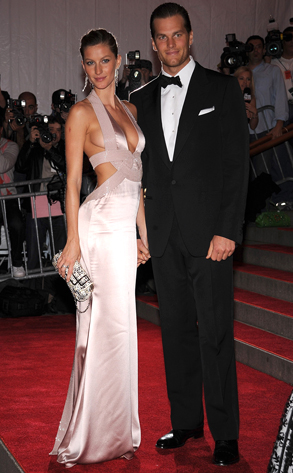 Dimitrios Kambouris/WireImage.com
There's been plenty of Monday-morning quarterbacking as far as Tom Brady's reported engagement to Gisele Bündchen goes.
Despite a reputable source's confirmation that a proposal took place on Christmas Eve, the duo who birthed the football star continue to insist they don't know if his Brazilian supermodel girlfriend has officially been invited to be their daughter-in-law.
"I know nothing about it," mom Galynn Brady told E! News Monday, when contacted at her Boston home. "I have no comment."
This, in addition to what Tom Brady Sr. told the Boston Globe over the weekend: "We don't know a thing about it. Nobody told me. We talked to him and there's nothing to say. It's rumor, rumor, rumor."
Bündchen's sister, Patricia, has also denied the news, and no one has spotted a ring on Gisele's finger since Brady, aided by roses, champagne and his good looks, perhaps popped the question aboard a private jet.
—Additional reporting by Whitney English