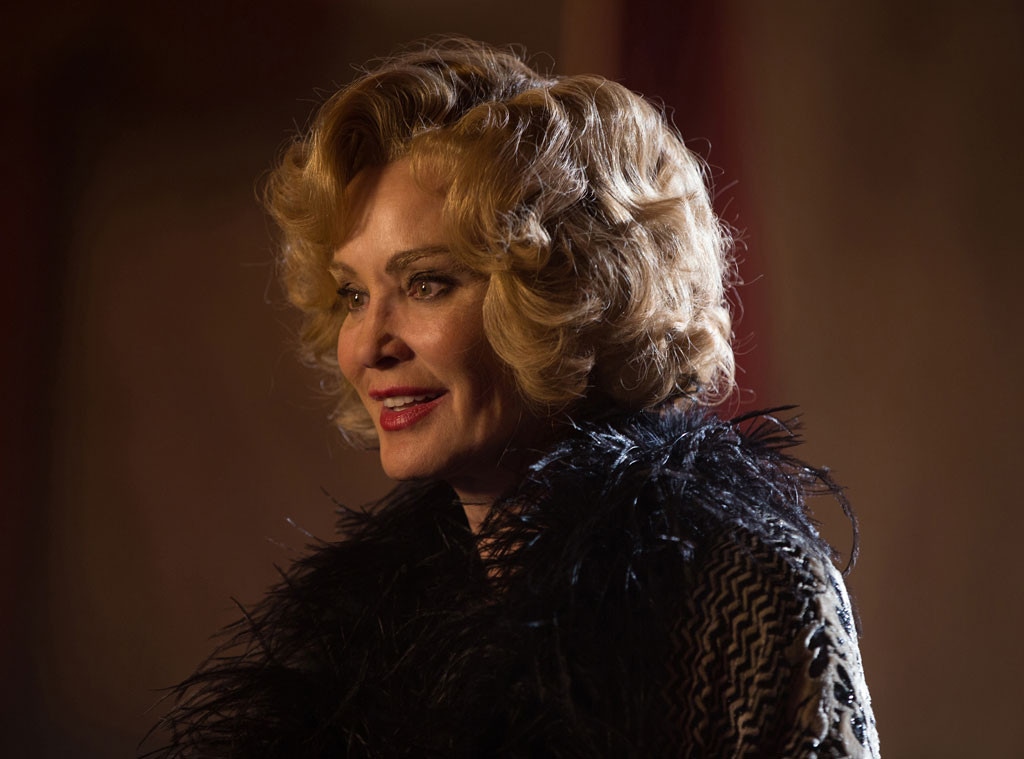 Sam Lothridge/FX
After four seasons of stunning work on FX's American Horror Story—and two Emmys as reward—Jessica Lange's departure from the anthology series prior to its fifth season felt like a scare that only AHS maestro Ryan Murphy himself could conjure. Lady Gaga ably stepped into her leading lady shoes for AHS: Hotel, wowing us (and the Hollywood Foreign Press) with her turn as The Countess, but we'd be lying if we said La Lange wasn't missed. 
Fans of Lange on AHS may have to get used to her absence from Murphy's stable of players moving forward, however. Not only will the actress have her hands full with the starring role in FX's next anthology series from Murphy, Feud, but she recently admitted to Charlie Rose that her days scaring the living daylights out of us alongside Sarah Paulson, Evan Peters and the gang are pretty much behind her.
In a recent interview with Rose, Lange was asked whether she saw herself returning to the spookfest. "No, I think, you know, I had four years with that. Four seasons. And each year was a marvelous character," she admitted. "Everything changed from one year to another, which made it very interesting for me. But, no, I think sometimes you come to the end of something and it has a…"
"And you know?" Rose asked, finishing her sentence for her.
"Yeah. And it has had it's natural…" she said, trailing off before actually saying the word "end."
Seeming a bit distraught himself at the thought of her leaving AHS in her past, Rose countered, "But, I mean, people loved you in that."
"I know. I know, I know," she replied, laughing. "It's funny."
A request for comment from FX hadn't been returned as of press time.
While we're not exactly laughing at the idea of no more Lange on AHS, at least we can rest assured that she and Murphy will be re-teaming for Feud, which is bound to be our next TV obsession. The first installment of the anthology series, which will focus on the what lies beneath one of history's legendary feuds each season, will take us behind the curtain of Bette Davis and Joan Crawford's infamous conflict as they filmed What Ever Happened to Baby Jane? in 1962. Lange, stepping into Crawford's shoes, will star alongside Susan Sarandon as Davis. Production on the eight-episode season is expected to begin this fall for a 2017 release.
Are you disappointed that Lange doesn't plan to return to her AHS stomping grounds? Let us know in the comments below!
American Horror Story returns for its sixth installment this fall on FX.
Watch:
Watch Jessica Lange Avoid "AHS: Hotel" Question