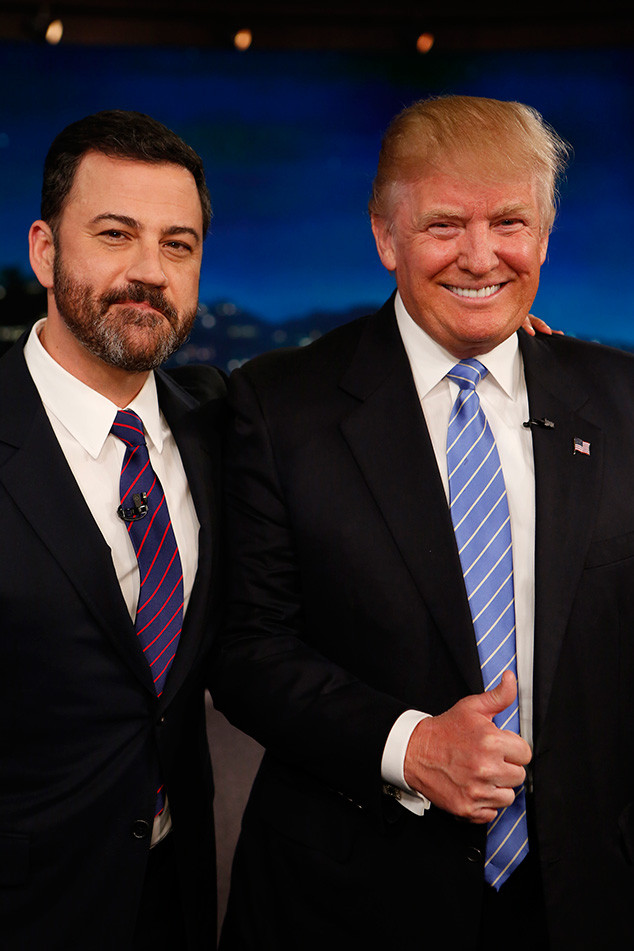 ABC/Randy Holmes
The Weeknd and Belly canceled their performance on ABC's Jimmy Kimmel Live! Wednesday—and they're blaming Donald Trump. The musicians had been scheduled to perform "Might Not."
"I feel like the way I was raised was to be able to see through all the titles in this world—from religion to race," Belly said in a statement. "I just didn't want to feel like I was a part of a celebration for somebody who has beliefs that majority of us don't agree with." Later, his rep told E! News, "Belly, a man of the world who grew up as a minority immigrant in Canada, has a strong conviction against Donald Trump's radical beliefs. A strong believer in equal rights for all, Belly is taking a stand against a man who has made many negative and detrimental remarks about minorities, women, various religious groups and more. His television debut was meant to support the release of his soon-to-be-released mixtape Another Day in Paradise. Belly hopes that his fans understand his point of view, and he plans to make it up to them very soon."
The Weeknd has not commented on the cancellation.
Trump—who himself bailed on a Jimmy Kimmel Live! taping last fall—did not address the stars' absences when he appeared on Jimmy Kimmel's show. Even so, tensions were running high. Outside the El Capitan Theatre on Hollywood Boulevard, people trashed Trump and criticized Kimmel for giving the Republican presidential candidate such a prominent platform on late-night TV. Kimmel—who recently announced that he's running for the office of Vice President—joked that he "would like to be considered" for the No. 2 job. "Can I make a suggestion about this Vice Presidential thing? Why don't you do this just like Celebrity Apprentice? Why don't you get these guys all in a room—or women, whatever you have—and then each week it would be the highest-rated show in the history of television? You eliminated one person and they go back to wherever the hell they came from. See, this is why I would be your best Vice President!"