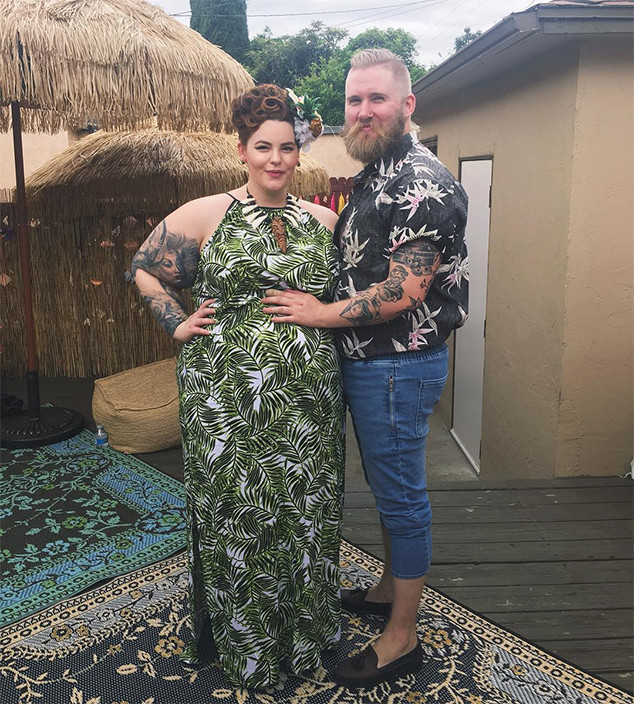 Instagram
Congrats to Tess Holliday!
The 30-year-old, dubbed the world's first size-22 supermodel, has welcomed her second child, a boy named Bowie Juniper Holliday, a rep for the model tells E! News. The rep adds that baby Bowie was born Monday, June 6 and he weighed 8 lbs., 10 oz., and measured 22 inches long.
This is Tess' first baby with Australian fiancé Nick Holliday. She is also a mother to a 10-year-old son, Rylee, from a previous relationship.
She and Nick have been together since 2012 and she began using his last name professionally in 2015. Born Ryann Hoven, she had previously used the stage names Tess Typhoon and Tess Munster, named after one of her favorite TV shows, the '60s series The Munsters.
Tess' rep revealed the model's pregnancy this past January. In mid-May, she and Nick hosted a Hawaii-themed baby shower at their home in Long Beach, California.
"It's impossible to fit my gratitude into one photo of how special yesterday was," Tess wrote on her Instagram page. "Our beautiful tropical day was the vision of my talented partner @nickhollidayco who put the whole day together & made me feel so loved."
Days later, when she was 37 weeks along—about three weeks from her due date, Tess posted a naked mirror selfie showcasing her baby bump.
"When people say to me "I can't tell you're pregnant" & my face is like...I will continue to live unapologetically, to thrive in this body, prove the naysayers wrong & laugh at the ignorance #babyhollidayontheway #37weeks #effyourbeautystandards #plussizepregnancy," she wrote.
Tess has often fired back at body shamers.
"What I've had to be learn to be okay with (WHICH IS NOT COOL) is the fact that people still think it's okay to comment on my body," she wrote on Instagram in April. "When 'celebrities' are pregnant in the press, they look glamorous, toned & are eager to talk about how they are going to get the baby weight off. While I've done my best to look as put together as possible, that's not real life, & it's not for most women."
"I'm not the first plus size woman in the public eye to have a baby & share it with the world, & I certainly won't be the last," she added. "However I'm part of a small minority that's telling you it's okay to not have a perfect baby bump, or not show at all, to be plus size & have a healthy child, & most importantly to find a care provider that doesn't shame you about your size. It's also okay to tell someone to f--k off when they give you unsolicited advice about what's 'best' for you & your baby."