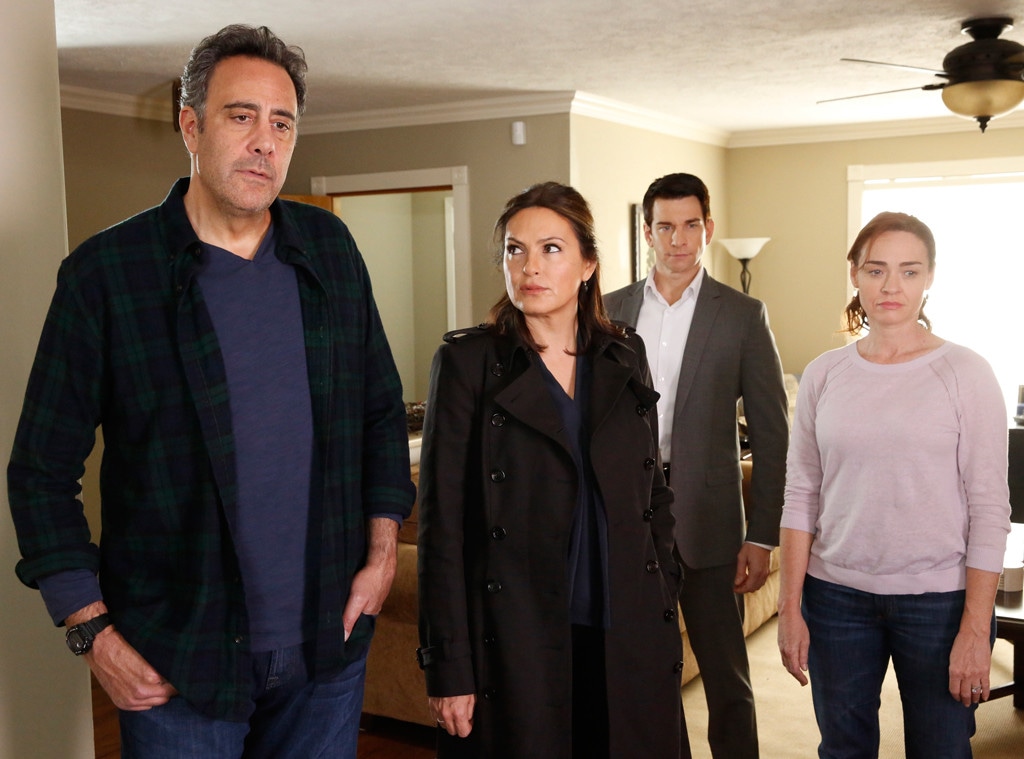 Will Hart/NBC
Law & Order: SVU ended season 17 with a bang. For the first time ever—yes, this hasn't happened in 17 seasons—SVU killed off a main character, a member of the Special Victims Unit. Andy Karl's Sgt. Mike Dodds met his maker after a hostage showdown with Brad Garrett's nefarious corrections officer character.
Karl, who joined the series earlier this season in the 2015 episode "Maternal Instincts," is heading to London for a musical. His character's death comes after viewers learned Dodds was moving on to the Joint Terrorism Task Force and more about his home life.
"This it is for me," he told E! News on set of the finale in April. "I said goodbye this morning, to Mariska, as far as Sgt. Dodds...This character has really gained a whole bunch of knowledge and helped out so much with SVU. Then to have a tragedy ripped from the precinct will affect everyone's character. So really, my character will initially affect and move on."
For those who have come to know and love Dodds, take note: "I want fans to know I feel completely at ease with everything. It's an honor to have that happen because it's never happened to anybody in the precinct before, so it's going to be a good Jeopardy! question, but also that it's [Warren Leight's] final script and I am really a huge part of making it dramatic, that's an honor as well. I thank all the fans for supporting this character and being nice," Karl said. "Sorry to break your hearts."
Garrett, who first guest starred in the Wednesday, May 18 episode, said he's prepared for his character to rile fans up.
"There will be women out there that want to marry me, that's really weird. Not that the ones I've married in the past weren't weird, this is a whole different level," he joked. "Andy's character is so loved. There are going to be people who have trouble deciphering the difference between TV and reality—there are those. Hopefully they'll know it's make believe and we can all move on… Yes, it's all make believe. But you get so invested with these characters. I remember when I was just a lad and Tootie from The Facts of Life broke her ankle skating. Well, I couldn't got to school. [Laughs.] This affected me, so there's a lot of that."
Series star Mariska Hargitay has openly spoke about how the finale moved her, and now you know why. The death rocks Benson and her squad.
"I think she takes this hard. This is, again, [she] cannot catch a break because there's so much…this idea of being a leader, right? And everything's your fault because it's all under you. It's taking on so much responsibility and I think that she has survivor's guilt pretty serious and takes a hit on this one. These things are adding up, I think she really blames herself. I know just reading it I was like," she said, pausing with tears in her eyes, "I felt sick."
Hargitay's Benson places the blame on herself because they didn't search Garrett's character for weapons.
As Karl mentioned, this is executive producer Leight's last script. The showrunner is leaving after five years on the NBC drama.
"I feel bad about it. I liked Andy, I loved working for Andy. We gave him more and more and he got stronger and stronger, but he's going to do a musical. When I heard he got a musical I said, 'Oh, you're going to catch a bullet,'" he said with a laugh. "Again, it was, 'What is the reality of police work?' You don't catch a bullet chasing a bad guy down the street. In this case it's domestic violence, which is the single thing cops fear most. We wrote to the reality of that: how dangerous the situation is for a wife to leave an abusive spouse, or anyone to leave an abusive partner, and how dangerous it is when cops go into that. So it's not a gratuitous—we didn't cliff hang it particularly. It's not gratuitous, it's just another aspect of this world, that there's a possibility of loss. Even though the guy does everything right. The last two episodes…if you were to watch them again, you'd have a sense of this has been fated from the beginning of the two episodes. Every step along the way, if he made another choice he could have gotten out. If he didn't go to the prison…but that sense of, 'He's a good cop trying to do the right thing 'til his last day'—I hope that doesn't mirror me particularly—but good cop trying to do his best and the need to not leave that woman in there is his undoing. And also the father-son dynamic, that his father raised him to be a hero and this is what can happen."
As for the other finale reveal about Detective Carisi's decision regarding his status with the police department after finishing law school and passing the bar, Peter Scanavino said he's "very happy" with his character's choice.
"Carisi is going to stay a police officer because he says, 'I took an oath to serve and protect.' I think he really believes that. It would seem unfinished for him to leave, that he hasn't done everything he wanted to do in this part of his life yet, so I think he's going to continue that," he told us. "Especially with the passing of Dodds. They're a family. I think he really does see the squad as a family and if anything means anything to Carisi it's family. His personal family and his work family and he's not going to abandon them."
Law & Order: SVU returns this fall, Wednesdays, 9 p.m. on NBC.
(E! and NBC are both part of the NBCUniversal family.)
Watch:
Mariska Hargitay Teases "Law & Order: SVU" Season Finale