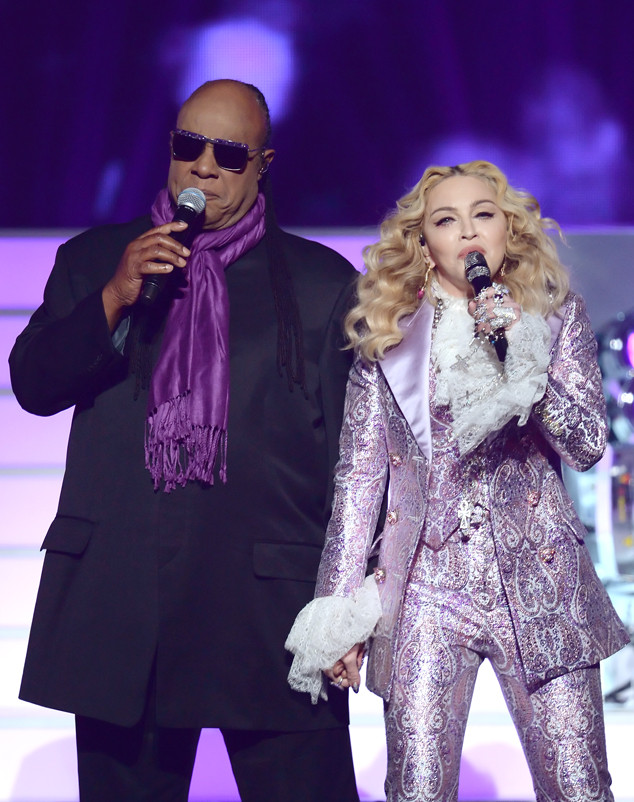 Kevin Winter/Getty Images
Bitch she's Madonna.
The iconic pop star honored Prince at the 2016 Billboard Music Awards Sunday night, but not everyone was pleased. Joining her on stage was Stevie Wonder, but even that didn't seem to make viewers enjoy the performance anymore. Madonna faced a lot of backlash from the Internet, BET (yes, the network) and other outlets, but she's taking it in stride.
The "Bitch I'm Madonna" songstress took to Instagram to defend her performance. "Anyone who wants to do a tribute to Prince is welcome to. Whatever your age Gender or skin Color," she captioned a pic of herself wearing a purple boa and a bag that has "DEALER" printed on it. "If you loved him and he inspired you then show it!!!! I love Prince 4 ever."
Afterwards Madonna posted a video of herself dancing with a rose in her mouth. "This is my 'I'm not your bitch don't hang your s--t on me' dance," she wrote alongside the video.
Although Internet critics can hide behind their social media handles, Today show co-anchor Tamron Hall told the cameras—and viewers—directly what she felt about the tribute to one of her closest friends. "I've learned to compartmentalize Prince the artist and then there's Prince the personal part of my life," she said on the morning show Monday. "I compartmentalize different things to survive [his death]."