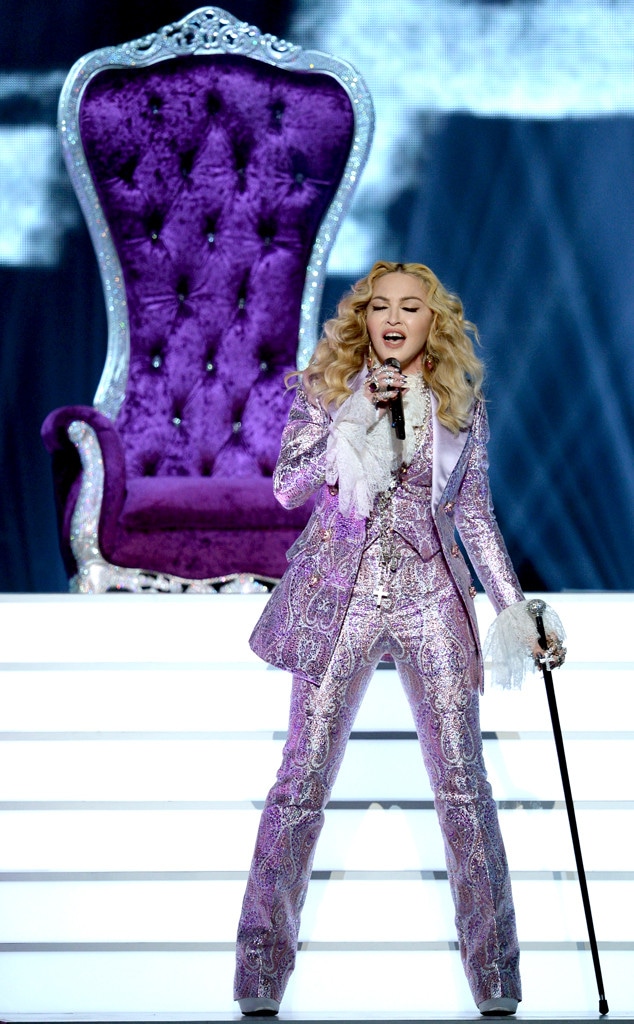 Kevin Winter/Getty Images
It was the most highly anticipated finale of the night, one teased in promos and echoed on social media.
However, when Madonna finally took the stage to pay tribute to the late Prince at the 2016 Billboard Music Awards Sunday evening, it fell epically flat—according to the Internet. As one Twitter user reviewed, "this is exactly why doves cry."
Clad in a paisley purple satin suit and ruffled blouse, the seven-time Grammy winner looked perfectly armed to launch a legendary tribute when she spun around on stage seated on a plush velvet throne.
However, while it got off to a captivating start, viewers quickly grew underwhelmed by the pop star's emotional rendition of "Nothing Compares 2 U"—a song Prince originally wrote, but was made famous years later by Sinead O'Connor. 
Some online critics argued it was the wrong song to pay homage to the late star, while others took issue with Madonna's seemingly flat sound.
Most noticeably, the production did not contain a single dance move, which seemed like the greatest offense in honoring one of the most mobile and captivating performers in music history. 
The vibe, albeit touching and sentimental, did not get anymore upbeat when Stevie Wonder surprisingly walked out to join Madonna in leading a rendition of the iconic "Purple Rain." Suddenly, the audience lit up with purple lights as the two stood statically at the front of the stage to repeat the chorus, at times a cappella. 
Not long afterward, BET tweeted out a new promo for its upcoming awards. The video quickly caught viral fire when viewers realized it was throwing subtle shade at what had just unfolded on the BBMA stage. "Yeah we saw that. Don't worry. We Got You," the screen read under a purple image of Prince as it teased their planned tribute to the late legend. 
Meanwhile, others took to the Twitter stage to air their complaints about the dedication, particularly about why Madonna had been chosen instead of a list of other singers, including Sheila E. who often collaborated with Prince throughout the 1980s. 
Fellow singer Linda Perry blamed popularity for the choice to include Madonna. "In all fairness, Madonna was asked to do this and she was friends with Prince but you also have to think about it's really the Billboard Awards, they think about who is hot and popular," she argued on The Talk. "They're not gonna call up Chaka Khan and re-put together The Time and Sheila E. because they're not relevant right now."
However, Sheila E. was not pleased with the comment, fighting back that it was that exact mentality that Prince often worked to combat 
"On behalf of musicians, artists, creators, performers and anyone aspiring to be one of those, YOU ARE RELEVANT!" Sheila E. wrote on Facebook. "It was exactly that type of attitude and comment, recently conveyed on a talk show by a misinformed guest, that Prince, Paisley Park and those who have been an extension of, continually fought, and still fight, against."
Regardless of why Madonna was chosen, viewers were not shy about expressing their discontent.