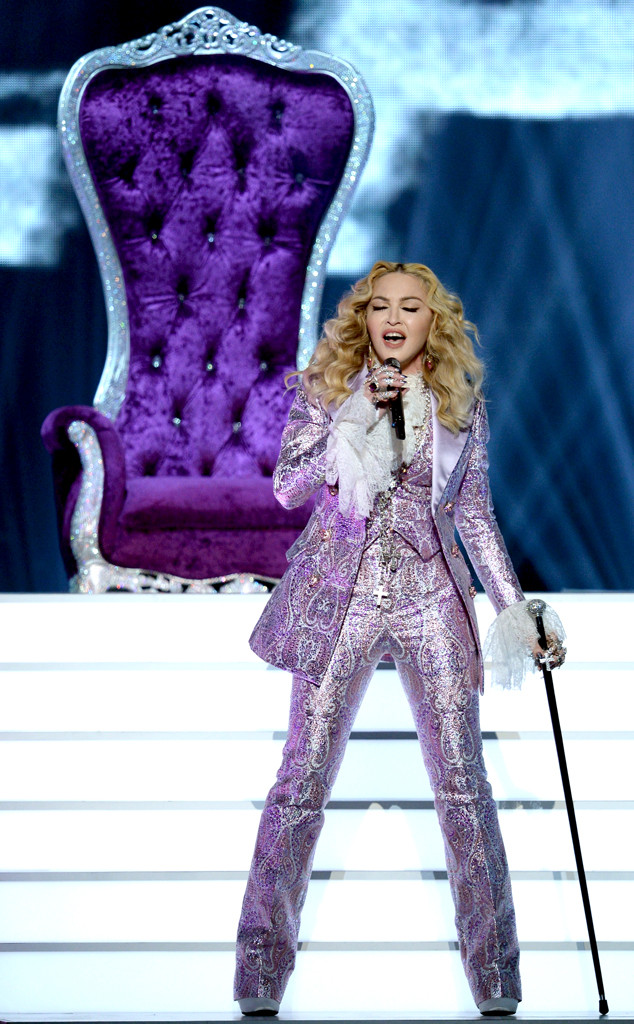 Kevin Winter/Getty Images
It was the most highly anticipated finale of the night, one teased in promos and echoed on social media.
However, when Madonna finally took the stage to pay tribute to the late Prince at the 2016 Billboard Music Awards Sunday evening, it fell epically flat—according to the Internet. As one Twitter user reviewed, "this is exactly why doves cry."
Clad in a paisley purple satin suit and ruffled blouse, the seven-time Grammy winner looked perfectly armed to launch a legendary tribute when she spun around on stage seated on a plush velvet throne.
However, while it got off to a captivating start, viewers quickly grew underwhelmed by the pop star's emotional rendition of "Nothing Compares 2 U"—a song Prince originally wrote, but was made famous years later by Sinéad O'Connor.
Some online critics argued it was the wrong song to pay homage to the late star, while others took issue with Madonna's seemingly flat sound.
Most noticeably, the production did not contain a single dance move, which seemed like the greatest offense in honoring one of the most mobile and captivating performers in music history.
The vibe, albeit touching and sentimental, did not get anymore upbeat when Stevie Wonder surprisingly walked out to join Madonna in leading a rendition of the iconic "Purple Rain." Suddenly, the audience lit up with purple lights as the two stood statically at the front of the stage to repeat the chorus, at times a cappella.