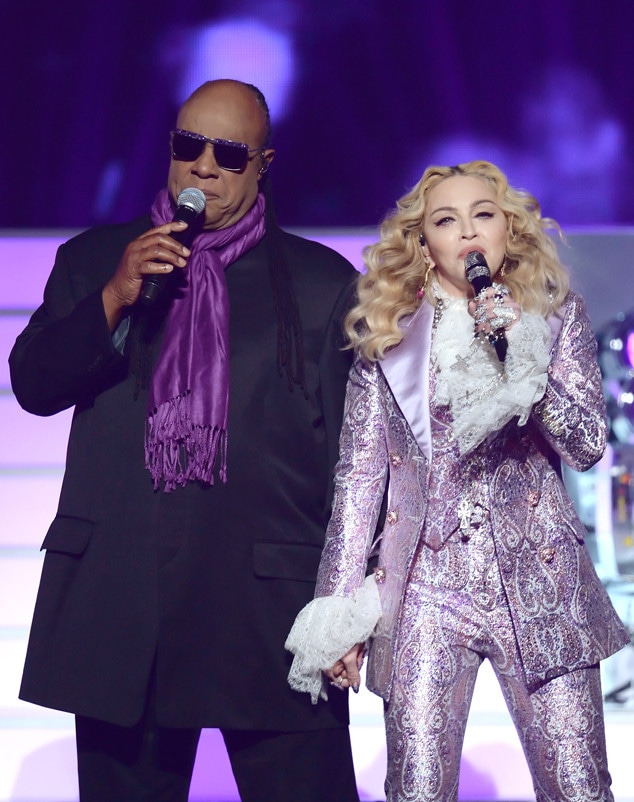 Kevin Winter/Getty Images
The power of Prince was felt by all in and around Las Vegas Sunday night.
During the 2016 Billboard Music Awards, Madonna was given the honor of paying tribute to the legendary singer just one month after his death. Let's just say the performance was must-see.
After an introduction from Questlove, the "Material Girl" singer appeared on stage in a luxurious purple chair to sing "Nothing Compares to You." While wearing head-to-toe purple, Madonna also surprised fans when Stevie Wonder joined in for a collaboration of "Purple Rain."
Throughout the tribute, images of Prince from multiple decades appeared on the big screen as the orchestra played some of the singer's most iconic sounds. 
"Thank you, Stevie," Madonna shared before exiting the stage. "And most of all, most of all, thank you, Prince Rogers Nelson, for all that you have given us. Thank you, good night." 
Sunday night's performance comes after the telecast received some criticism from viewers who questioned why Madonna was given the opportunity to honor the "Little Red Corvette" singer.
Ultimately, the show's executive producer stood by the decision and promised fans that the moment would be "respectful" to Prince's legacy.
"Listen, I think everybody is entitled to their opinion and everyone can have their opinion," Mark Bracco said in a statement to Billboard. "But I will say that we are honored and could  not be more excited for Madonna to be on the show and to pay tribute to someone that was her friend and her peer and her colleague."
He continued, "It's going to be very, very intimate and very respectful, and I think it's something that is really going to pay tribute to Prince as the incredible, ground-breaking artist that he was and the influence that he had on music."
Back in the '80s, Madonna and Prince collaborated on the song "Love Song" featured on the album Like a Prayer. They remained friends after making the hit. 
Prince passed away in his Minnesota home on April 21 at the age of 57. Since then, artists including The Voice coaches, Beyoncé, Mariah Carey and the cast of Hamilton have also paid tribute on different stages.
For complete coverage of the Billboard Music Awards, tune in Monday for Live From E! at 12:30 p.m. ET / 9:30 a.m. PT, plus watch E! News at 7 p.m. and 11 p.m. and watch Fashion Police: The Billboard Music Awards at 8 p.m.
Watch:
Musical Tribute for Prince Is Being Planned