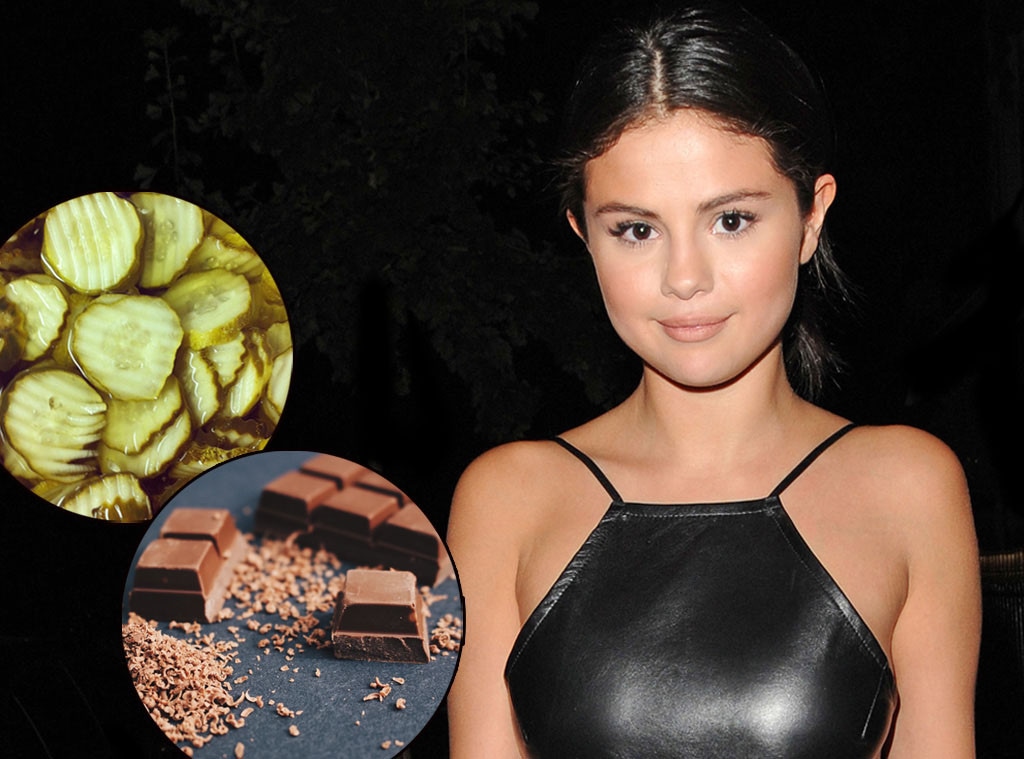 AKM-GSI, Twenty20
Want to make 
Selena Gomez
happy on tour? Bring chocolate. And, er, pickles.
Bon Appétit
magazine, posted Tuesday, the 23-year-old pop star revealed what foods she likes to snack on backstage at shows and on her tour bus.
"I keep things pretty simple [backstage]," she said. "Plenty of water and pickles."
On the tour bus, she said she has "Hot Cheetos and chocolate are staples."
However, Gomez had told EW.com earlier this month, "I used to have chicken pot pie, Hot Cheetos, Gatorade, Red Bull if I needed a pep in my step. But nope, I can't do that. I've got to be a little more conscious. My trainer won't let me eat [junk] but I can still have my pot pies. Just not every day."
The singer also told Bon Appétit that while on tour, she also loves to get Thai food and "a good plate of fried chicken," namely at KFC.
And let's not forget a pretty common staple she also keeps around: Coffee.
Gomez posted on her Snapchat Tuesday, the night she performed in Calgary, a video of herself enjoyed another caffeinated beverage: Coca Cola.
The singer began her Revival tour earlier this month. She had also snacked on pickles, as well as Ramen noodles, on her 2013 Stars Dance tour, her first solo concert series.
Gomez is set to continue performing in various cities in Canada until the last week of May, during which she'll head back to the United States and continue her tour there until July. She then heads back to Canada for one more show and will then perform concerts in Asia, Europe and Mexico until December.