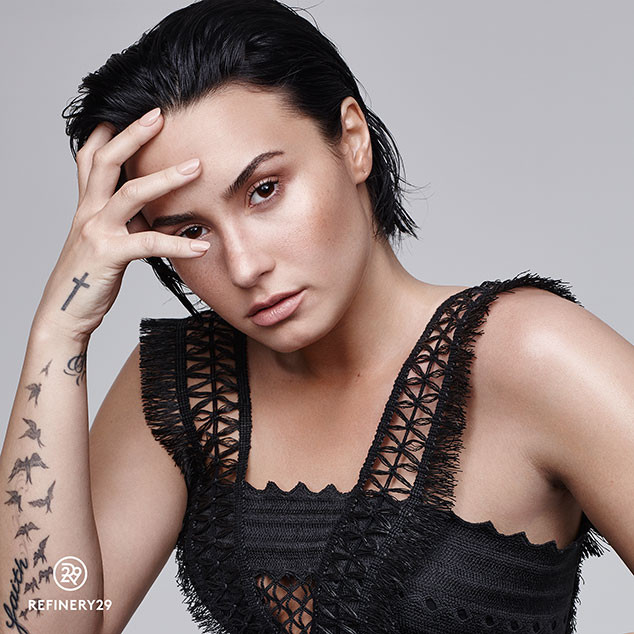 Nagi Sakai for Refinery29
Demi Lovato is telling the "stone cold" truth about her battles with addiction. 
"I was a nightmare to work with," the 23-year-old triple threat told Refinery29 of her teenage years riddled with substance abuse.
Fresh off her success as a bonafide Disney star, the Camp Rock alum had cultivated a squeaky-clean image and bubblegum sound. However, unbeknownst to the larger public, the teenager was in the midst of a rapid downward spiral behind the scenes fueled by substance abuse, addiction, bullimia and self-inflicted harm. As she told the outlet, Lovato reached a level where she "couldn't go an hour without using cocaine." As the "Confident" singer described, there was no reasoning with her. 
"'Try to ground me — I pay your bills,'" she recalled telling her family. "Prior to getting sober, I was one of those people who was like, I don't give a f--k, whatever. And I used that as an excuse to do whatever I wanted." 
JAIMIE TRUEBLOOD/ DISNEY CHANNEL
By 2010, her destructive private life and booming professional life collided when she infamously punched backup dancer Alex Welch on the Camp Rock 2 international tour with the Jonas Brothers. After a family intervention, she checked out of the tour and into rehab for three months. However, resuming life after treatment was not a seamless process, but rather, one stunted by several brief relapses. 
"I had to learn the hard way that I can't do parties anymore," she admitted to the website. "Some people can go out and not be triggered, but that's not the case for me."
Nagi Sakai for Refinery29
Today, the LGBT advocate is a full-fledged adult with an emotionally raw album and increasingly stronger sound. While she's focused on proving her talent beyond the average chart-topper, Lovato is also keenly aware of her naysayers. 
"I still have more things to prove—not just about the things I can do with my voice," she declared. "Some people think that because I'm young, I can't stay sober. But these are things I want to prove to myself."
Michael Buckner/WWD/REX/Shutterstock
Beyond the recording studio and sobriety, the singer has little concern for the superficial glitz and glamour of the Hollywood social calendar. "I've come to a place where I'd rather be relaxed than get all dressed up and go to some party or club with people who don't really care about my well-being at all," she admitted.
That social discomfort was clear at the 2016 Met Gala, when Lovato attended for the first time clad in a Moschino by Jeremy Scott gown. However, while walking the carpet with Scott and his other date Nicki Minaj, a photo was snapped that immediately had feud rumors swirling. 
Nagi Sakai for Refinery29
"This picture pretty much summed up my first and probably last met #cool #sof--kingawkward #notforme #sweatpants #forensicfiles #whatsgood p.s. some of y'all need to learn how to take a joke.. I'm obviously laughing at the fact that 1. I look incredibly awkward and 2. That the shade being thrown in this picture actually gives me life," she wrote on Instagram a day after the gala. 
"I have no problem standing up for myself. Maybe I got it from growing up in Texas, but I never took shit from anybody," she told the website. "Now I know how to do it without pushing people away. You just don't approach things with a F--k You mentality. Instead it's: This is the way I'm perceiving things. There's nothing wrong with my beliefs or feelings. So let's agree to disagree, or let's just disagree."
Nagi Sakai for Refinery29
And disagree she does. When Taylor Swift pledged $250,000 to Kesha in her legal battle against music producer Dr. Luke, Lovato appeared to reply to the news with this dissatisfied tweet: "Take something to Capitol Hill or actually speak out about something and then I'll be impressed." 
"Listen, there's nothing positive that comes from pitting women against each other. There are women that I don't get along with, and that's fine. My thing is, don't brand yourself a feminist if you don't do the work," she explained about the past scenario. "I have an immense amount of respect for women like Lena Dunham...or Beyoncé, who make amazing political statements through their work."
Still, when asked who she wants to be when she grows up, Lovato didn't say Lena or Queen Bey. 
"That's easy," she quipped. "Me."