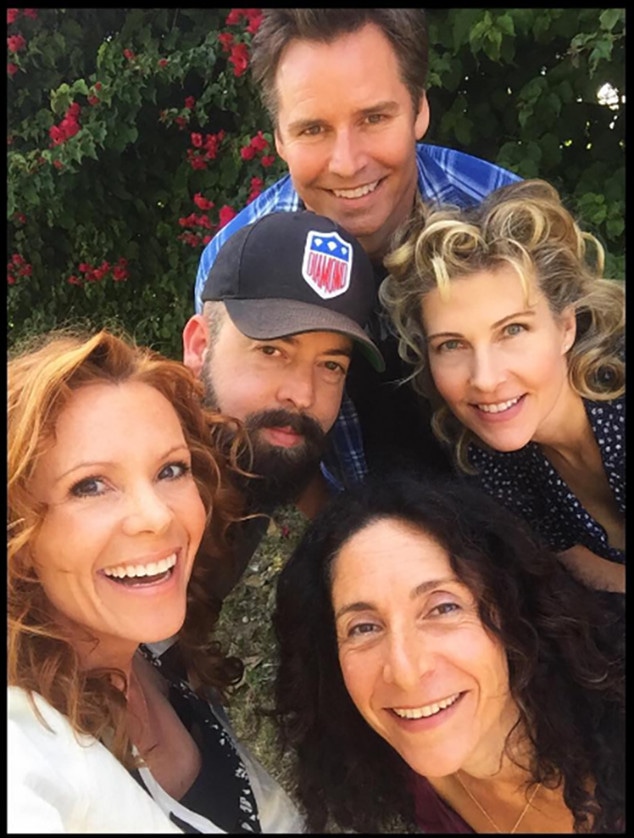 Instagram
Nostalgia alert!
The cast of Teen Witch has reunited and it's giving us all the feels. Robyn Lively, the star of the cult '80s hit and Blake Lively's sister, posted a picture on Instagram to let fans know of the epic reunion, which serves an even bigger purpose. Brad (Dan Gauthier), Louise (Lively), Polly (Mandy Ingber), Randa (Lisa Fuller) and Richie (Joshua Miller) gathered to take one awesome selfie.
"Sooo... THIS happened!!! AHHHH!! #Louise #Polly #Bradtheredhotlover #Randa and #Richie! The cast of #Teenwitch REUNITE for the DVD commentary! It was pure #MAGIC!! #nevergonnabethesameagain #yourmorningpapah Can't #topthat," she captioned the picture. "Love u guys! We did this for all of YOU!! Woohoo!! #BestdayEVERRRRR." 
Lively has had fairly busy week reuniting with her 1989 costars, as she also met up with Ingber to help celebrate the release of Ingber's new book, Yogalosophy for Inner Strength: 12 Weeks to Heal Your Heart and Embrace Joy. Although they didn't participate in any rap battles or practice magical powers, they did look like they had an amazing time together.
"It's #LOUISEandPOLLY!! Reunited! Never to part again! Bound by love, friendship and #yogalosophy," Lively captioned the adorable picture. "So proud of my girl @mandyingber! What a beautiful person inside and out! This book is a MUST! Love her! #TOPTHAT."
Keep the Teen Witch references coming!
For those who might not be in the know, Teen Witch tells the story of high school student Louise who discovers she's a reincarnated witch and gains supernatural talents on her 16th birthday.