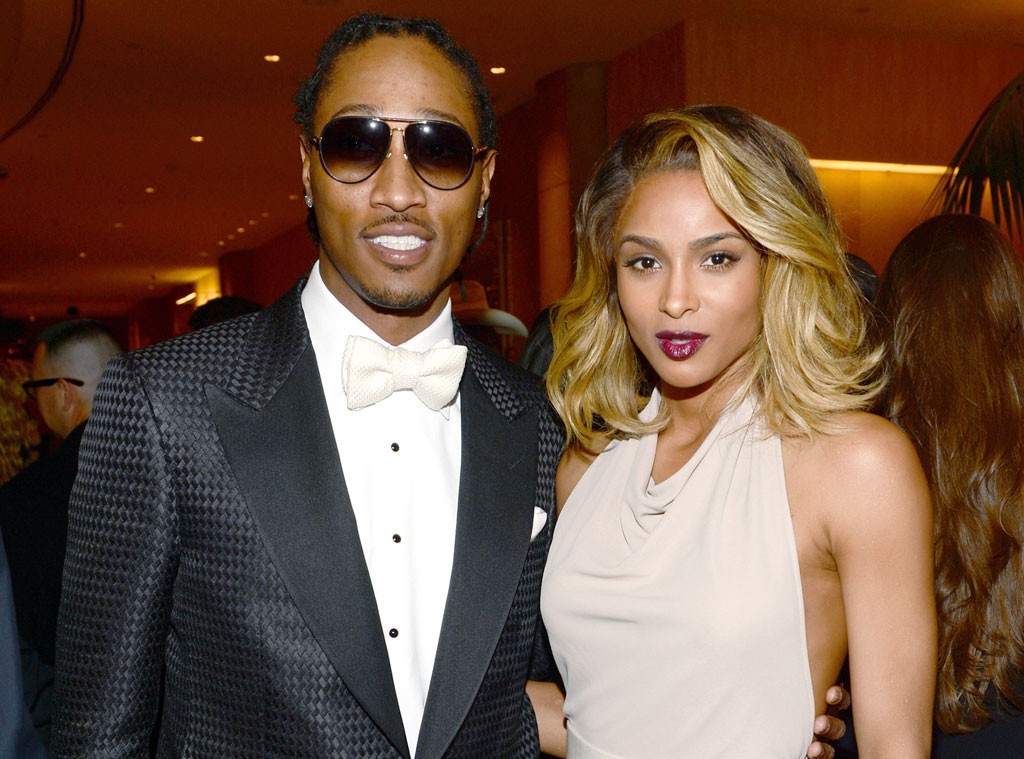 Larry Busacca/Getty Images
Ciara may have flipped the restart button on her personal life, finding companionship and new love with NFL star Russell Wilson.
But her past with Future is not as far behind her as she would prefer.
The singer and her ex-fiancé, with whom she shares custody of their almost 2-year-old son, Future Zahir Wilburn, have been in and out of court for over a month, the two now having spent more time at odds than they spent engaged.
Where did it all go so wrong? Couples break up all the time and manage to refrain from tearing each other up on social media. (Well, at least couples break up sometimes and avoid all that. Admittedly it's becoming increasingly rare.)
Ciara and Future, however, enjoyed only a short time of happily engaged bliss before they were, first, working on their relationship and, shortly afterward, everything went to hell. Still, Future, whose real name is Nayvadius DeMun Wilburn, didn't immediately come out on the attack.
Did the "Turn on the Lights" rapper really lose his cool because Ciara started dating somebody else?
Ciara and Future first met while working together and their connection in the studio subsequently translated into real life. Future released a remix of Ciara's "Sorry" in 2012 and appeared on "Where You Go" and the "Body Party" remix off of Ciara's fifth studio album, 2013's Ciara.
"He is an amazing guy," the singer said in April 2013 on The Qdeezy Show on Philadelphia's Hot 107.9. "He is really a gentleman and I don't want to say too much, and then he's like, 'Babe, you're saying a whole lot,' but he really is just an amazing man. It's like when we were working on the personal side of things, I really saw an amazing person and the way that he approached me since day one is just the way a man is supposed to be from my perspective.
"It just really organically happened that way," she continued. "I didn't expect anything to come from us working together. I didn't even know what to expect from going into the studio with him and then we began to meet each other and everything just began to flow. He is really cool—like he is my friend too. So I felt something really unique from the beginning and then it just organically went this way."
A few weeks later, when asked about her decision to go public with her relationship, Ciara told MTV News, "I've had my experiences over the years and I've been able to learn a lot and, you know, when you do step outside you put yourself in a position to where people are going to be able to judge and they can criticize, and they can give their opinion, and that's something...I used to always fear...I'm running toward my fear, running towards the things that make me uncomfortable because I feel like if I live my life based off of those things, I won't live my life how I'm supposed to. I won't live it to the fullest."
She continued, "That's where I am at this day and time in my life, and I'm also with someone that makes me extremely comfortable to be that way, which is really important. And the way that he makes me feel is just, 'Why not?'"
"There's nothing sexy about hiding your love," Ciara added.
Michael Stewart/Getty Images
Future, meanwhile, was equally head over heels. They had each others' initials tattooed on their hands and, in August 2013, the rapper told Hot 97's Angie Martinez that he was ready to settle down.
"This it. I don't get into nothing to get out," the Atlanta-born artist said.
Future also said that he predicted he was going to be with Ciara seven years before they got serious, having seen her shooting a video one day and vowing to his mentor Rocko at the time, "'I'ma have her one day.'"
"[Rocko] was like, 'Man, stop and say something to her.' I said, Naw, I ain't gonna say nothing to her, but I'ma be with her one day,'" Future told Martinez. "That was seven years ago and I was saying that and it ended up happening. But I never met her, never listened to any of her songs, never read up on her, it wasn't, I'm not one of those guys..."
Lloyd Bishop/NBC/NBCU Photo Bank via Getty Images
Not one for research.
"I'm not a stalker. I was caught up in my world, my life, and it ended up happening," Future recalled. "But words are powerful. She'll tell you the same story just like that. It wasn't no pressure, no pressing her because [Rocko] was with Monica at the time and they had a relationship where they knew her. She would be around them. He knew her so I could have met her. But then I was like, 'Naw I'm good.' He was like, 'You sure you don't wanna meet her?' I was like, 'Naw, but I'ma be with her one day.'"
And so he was. He said that, when he did finally meet her, he knew right away. "Like I said, I said it before…seven years ago," he explained, "so for it to come around and happen, it was just meant to be."
Sure enough, by October 2013, Ciara was rocking a 15-carat diamond engagement ring and she tweeted Oct. 27, two days after her 28th birthday, "Today Has 2 Be Like One Of The Sweetest Days Of My Life! #TheBestBirthdayEver," she wrote. "If I'm Dreaming I Don't Want To Wake Up..Aaaaaahhh!!!"
A few days later, asked if he felt different being engaged, Future told MTV News he didn't—but "it feels great. It's a great situation and I'm happy, I'm excited about it. I know she's super happy and, it's just like, I feel good to be able to make someone happy."
He revealed that he "definitely" surprised Ciara with the ring. "I was takin' my time with it, I just wanted it to be special for her," he said.
"I'm very, very excited! Like every girl…we think about making that dress and that moment, and being with your bridesmaids. I just can't wait to do everything, I'm like a little kid right now," Ciara told E! News, talking wedding planning that November.
"We talked about what we want to do. We want it to be very special. I know I don't want it to be like, burning hot [at her wedding]. I want perfect weather! Like, right when the sun starts to get really warm or right when it ends."
And apparently they had a great time celebrating, because in January Ciara revealed on The View that she was pregnant!
They welcomed Future Jr. in May, Ciara's first child and Future's fourth. Ciara's dream was coming true, the singer having told us she wanted "a big house" and "a big family—not too big, but big enough."
But while they were proud parents, something went wrong between the two of them not long after their son arrived. By summer 2014, while Ciara was Brides' August-September issue cover girl, the couple was plagued by rumors that Future had cheated, leaving the supposed bride-to-be understandably "humiliated and angry."
Future helpfully captioned a photo of himself on Instagram, "I Dnt respond to rumors I respond to money."
Though she initially reportedly broke up with him right away, they attempted to repair their relationship for the next several months; but by December 2014, Ciara was having her tattoo of Future's initials removed.
In January 2015, Ciara released the first single off of her then-upcoming album Jackie. "I Bet" was widely interpreted to be a response to her broken engagement and Future's alleged betrayal—and it also ended up sounding remarkably prescient considering what was to come.
"I bet you start loving me as soon as I start loving someone else / Somebody better than you / I bet you start needing me as soon as you see me with someone else / Somebody other than you / And I know that it hurts / You know that it hurts your pride / But you thought the grass was greener on the other side," she sang on "I Bet."
So that.
The video for "I Bet" dropped in March 2015 and, the following month, she was holding hands with Seattle Seahawks quarterback Russell Wilson at the White House Correspondents Dinner and looking fairly uninterested in shooting down dating rumors.
In July 2015, Wilson confirmed that they were a couple and--perhaps most memorably—that they were abstaining from sex before marriage.
"I ain't gonna lie—I need ya'll to pray for us," the recently divorced athlete joked (but probably not that much) to Pastor Miles McPherson of San Diego's Rock Church. "Because I know you have seen her on the screen now. If there's a 10, she's a 15. Pray for me, keep my mind clear, keep my heart clear." 
Um, coincidentally, about a week later the first part of a five-part online documentary about Future, Like I Never Left, premiered and featured the rapper musing about what went wrong between him and Ciara.
Apparently the big spotlight on their relationship ultimately was a problem for him, and there was a creative disconnect between them as well. "I can't have… all these different big media outlets covering my wedding and I'm not comfortable," he said in Like I Never Went.
"I'm not comfortable with the people who are in here," Future went on. "I'm not comfortable about where I'm at in my career. I'm not comfortable about compromising and about being the person that I am and being the man that I am. I feel like my better judgment is to go back to record and make music. Make the music I know the people want. I know they want the ratchet s--t from me, I know they want me to say the most disrespectful s--t it is. I came in like that. I gotta say some off-the-wall s--t to get people's attention."
He also denied in an interview with HuffPost Live in July 2015 that cheating had anything to do with their breakup, saying he called the engagement off "way before any cheating rumors came out" because of his issues with the public road their courtship had taken.
Ironic, considering Ciara had once said that Future, being the man he was, made her feel particularly comfortable about expressing her feelings in public.
"I was like, 'I'll marry you today. You want to get married, let's get married.' But I'm not getting married with all these different people in my wedding," Future said. "My family have to be there. I'm from the hood, hood people going to be there. It might be people that you don't like that's going to be there. But I know they love me, they got my best interest...I don't want nobody from the industry there, I don't want the media there. You know how girls have their fairy tale weddings, this how they pick it."
And, according to Future, they had sex first and prayed later.
Ciara not-so-subtly-tweeted her reaction, writing, "Some Person Is So Dishonest and Ignorant That They Don't Deserve A Response." She added, "Furthermore, One's Main Focus Should Be On Being A Good Parent."
Asked how he felt about his ex moving on with a new guy, Future said on 105.1 FM's The Breakfast Club, also last July, "I swear, man, I'm not thinking about her...I mean, I want her to be totally happy. Like, you gotta understand, you want a person to be happy."
The rapper added, "I'm not bitter. People think I'm bitter because she moved on. But I'm good. I'm taking care of me. I don't need him—she needs him."
However, he wanted to make it clear how he felt about his son spending time with his ex's new guy, too. "Of course I wouldn't want someone pushing my son [in a stroller]," he continued. "Like, that's the number one rule. Like, if I was a kid and my mom had a dude pushing me, I would've jumped out of the stroller and slapped the s--t out of...you never do that in our community. You don't even bring a man around your son. You know this dude for a few months and you're bringing him around your kid? Who does that? Nobody does that."
A source told E! News that neither Ciara nor Russell Wilson was particularly "concerned" by Future's comments, and that she was more "annoyed" than upset.
In September 2015, Ciara told E! that, so far, becoming a mom was "the best thing that's happened" to her in life.
But Future's commentary would soon become concerning enough that Ciara would file a $15 million defamation lawsuit against the father of her child after he continued to accuse her in interviews and on social media of using Future Jr. as a publicity pawn. She alleged that Future, who did promise some "off-the-wall s--t," was running his mouth (and his thumbs) to promote his music.
"This bitch got control problems…" Future tweeted at one point. "I gotta go through lawyers to see babyfuture…the f--kery for 15k a month. I jus want babyfuture that's all."
Ciara sued in February and Future fired back last month, stating in court documents that his ex—who will be hosting the 2016 Billboard Music Awards this weekend with Ludacris—wasn't doing well enough to have an image for him to ruin. Furthermore, he wanted her to stop badmouthing him.
And while they share custody, E! News has learned that she wants her ex to be a more responsible dad and show more respect to her as the mother of his child.
Meanwhile, Ciara's still very-present past with Future didn't deter Wilson one bit. He's been by her side throughout and supports her 100 percent, a source says. Moreover, he popped the question in March and they're planning on getting married in the not too distant...
Time soon down the road.