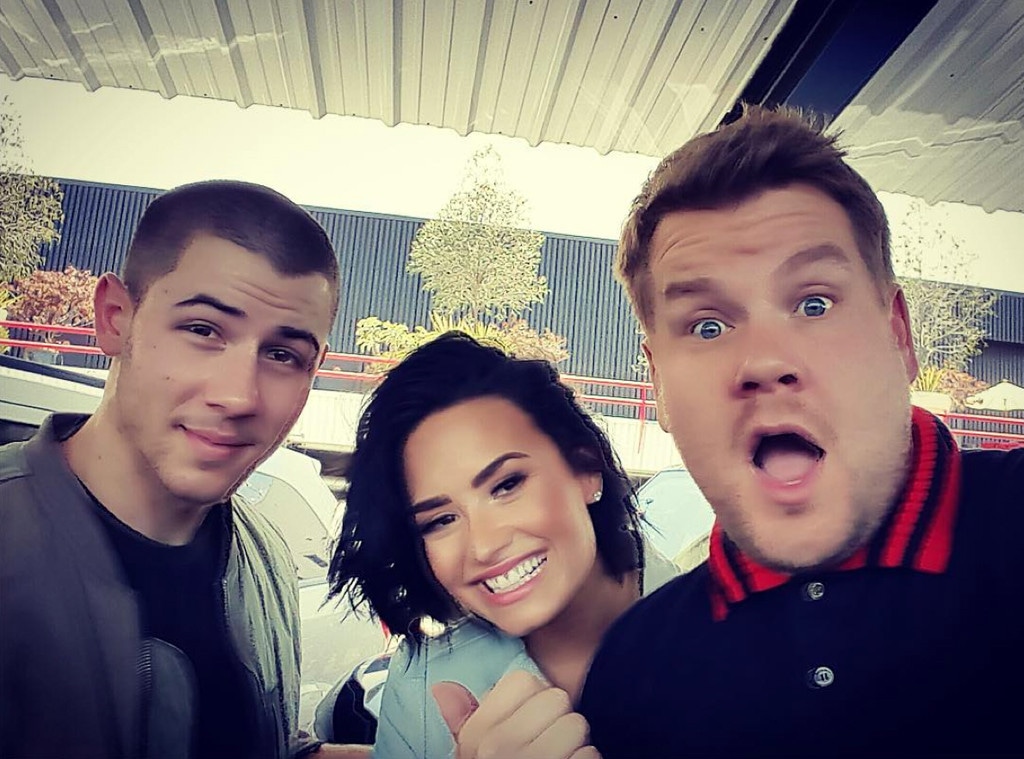 Instagram
It's Carpool Karaoke time with Demi Lovato, Nick Jonas and, of course, James Corden!
The beloved The Late Late Show segment returned this evening with the famous trio for a medley like you've never heard before.
"So you're dating Joe [Jonas], Nick you're dating seemingly everyone, and then who else?" Corden asks before the trio gets started with their sing-alongs.
Lovato chimes in with, "Miley [Cyrus] and then Selena [Gomez] and then back with Miley."
"But this is all during the time that you're wearing the old purity ring...it's not anymore," Corden added. "So when did you decide to ditch the ring?"
Jonas replied, "I had a real relationship with an adult and I fell in love actually and I decided it was time for me to take it off...Are we gonna keep talking about my dating life?"
But it wasn't all a grill session for the hilarious segment. The group sang DNCE's "Cake By the Ocean," Jonas' "Close," Lovato's "Heart Attack" and many, many more hits.
The group also jokes about starting a new band and they try their luck at street music out of Corden's car while tourists and onlookers film them as they do a rendition of "Confident."
Lovato teased clips from inside her ride with the late-night host and her Future Now Tour buddy earlier today on social media, writing, "So f--king excited for #CarpoolKaraoke tonight…you guys are gonna love @j_corden and I grilling @NickJonas"
Jonas then added on his own account, "Helping some friends get to work tonight on the @LateLateShow."
Lovato and Jonas join the ranks of the Carpool Karaoke artists that came before them, including Mariah Carey, Carrie Underwood, One Direction (all four members), Jennifer Lopez, Jennifer Hudson, Jason Derulo, Adele, Elton John, Sia, Stevie Wonder, Rod Stewart, and Justin Bieber—twice!
And, for the record, if you loved what you heard tonight on Corden's Carpool Karaoke, be sure to check out the upcoming Future Now Tour beginning on June 29.
The two singers are embarking on a 42-show tour of North America—in everywhere from California to Florida, and back again—and will conclude on Sept. 17, 2016.
Mike Posner will serve as the opening act for the former Camp Rock co-stars.
In late April, both Jonas and Lovato explained via Twitter that they were cancelling their shows in Charlotte and Raleigh over North Carolina's HB2 law.
"After much thought and deliberation, we have decided to cancel our Honda Civic Tour: Future Now shows in Raleigh and Charlotte," the performers shared on social media. "One of our goals for the tour has always been to create an atmosphere where every single attendee feels equal, included, and accepted for who they are."
The pair continued, "North Carolina's discriminatory HB2 law is extremely disappointing, and it takes away some of the LGBT community's most basic rights and protections. But we will not allow this to stop us from continuing to make progress for equality and acceptance."