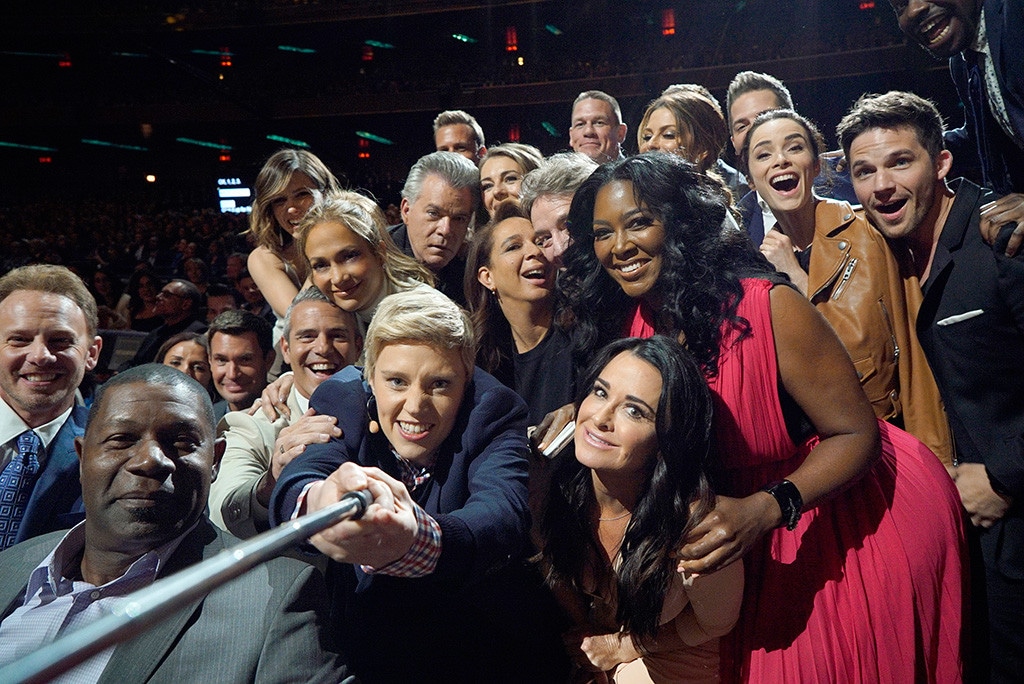 Paul Drinkwater/NBCUniversal
Say cheese!
Kate McKinnon managed to pack more stars into one selfie than even Ellen DeGeneres—ironic, considering that she did so while impersonating the beloved talk show host. DeGeneres was unable to attend the NBCUniversal Upfront at Radio City Music Hall in New York City Monday, so she gave the audience the next best thing: McKinnon, live and in the flesh.
"Being in this room, there's a real Academy Awards vibe, and I have to say, the only thing that's missing is a viral moment," Meyers said. "And when I think about viral moments, no one's better at that than Ellen DeGeneres. And because her show is seen on all of the NBC-owned stations and over 70 affiliate stations, and because she's the EP of NBC's Little Big Shots, we asked her if she could be here today and she said 'no.' Right away, a hard 'no.' We didn't even get to the end of the question; she knew where it was going. A hard 'no.'"
Instead, DeGeneres filmed a video from the set of her eponymous daytime talk show. "Hello, everyone, I'm Ellen, and believe me when I say, I wanna be there.' I do. So much! But I have this thing at this place and so on," she said. "However, I have sent the next best thing—not Oprah! Please put your hands together for...me."
Cue McKinnon, who was standing in the aisle. "That's right, I'm here. I'm Ellen," she said. "Wow, I made it."
"Wow, so let me get this straight: There's more than one Ellen now?" Meyers asked.
"Yes, Seth. We got a bunch of scientists together and we cloned me, so now there's an Ellen in every major American city. It's like Chick-fil-A but more gay-friendly," McKinnon joked. "Now, I should say—I have to warn you all—something went wrong with the Ellen in Cincinnati. She can't dance; it's really messed up. Also...she bites. It's all right—Ellen's got soft teeth."
After taking a seat in Cohen's lap, she quipped, "That's a nice blazer; I have that."
Then it was time to take a selfie that would rival the one DeGeneres famously took during the 2014 Oscars. You know, the one with Jared Leto, Jennifer Lawrence, Channing Tatum, Meryl Streep, Julia Roberts, Lupita Nyong'o, Kevin Spacey, Bradley Cooper, Brad Pitt and Angelina Jolie? "Let's get J.Lo," McKinnon said. "Let's cram everyone in here."
McKinnon's selfie didn't include any Academy Award winners, but it did pack twice the star power. Cohen, Chicago P.D.'s Sophia Bush, Suits' Patrick J. Adams and Gabriel Macht, Incorporated's Dennis Haysbert, Shades of Blue's Jennifer Lopez and Ray Liotta, The Royals' Elizabeth Hurley, Keeping Up With the Kardashians' Khloe Kardashian and Kourtney Kardashian, Maya and Marty in Manhattan's Maya Rudolph and Martin Short, WWE Raw's John Cena, E! News' Maria Menounos and Jason Kennedy, Real Housewives of Atlanta's Kenya Moore, Real Housewives of Beverly Hills' Kyle Richards, and Timeless' Matt Lanter and Abigail Spencer all appear in McKinnon's photo. After she got the shot, Meyers and the audience shared a laugh over the "unscripted" moment.
Throughout the two-hour event, audiences got a sneak peek at what NBCUniversal has in store for the 2016-2017 TV season.
(E!, Bravo, NBC and USA are all part of the NBCUniversal family.)