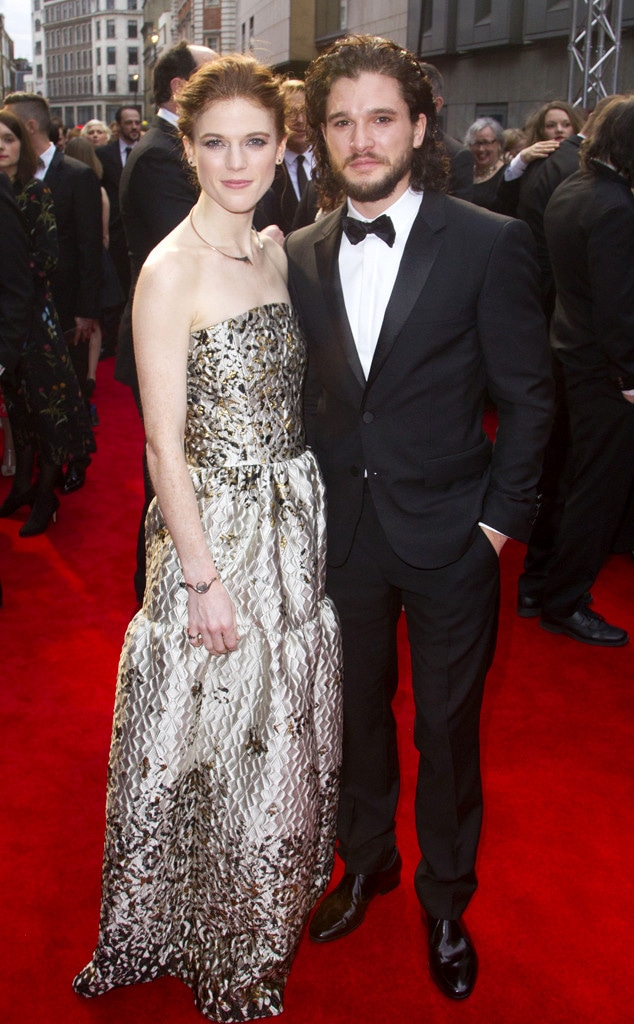 Dan Wooller/REX/Shutterstock
Kit Harington recalls the moment he and girlfriend and former Game of Thrones co-star Rose Leslie fell in love.
The actor, who plays Jon Snow on the HBO series, and Leslie, who played his character's love interest Ygritte, have been dating on and off since 2012.
A source had told E! News in January Harington and Leslie had rekindled their romance. The two, who are notoriously private, officially stepped out as a couple at the 2016 Olivier Awards at the Royal Opera House in London in April, where they showed some PDA on the red carpet.
In a recent interview with Vogue Italia, Harington reminisced about how the two fell in love while filming Game of Thrones. He called his time shooting season two in Iceland his favorite show memory.
"Because the country is beautiful, because the Northern Lights are magical, and because it was there that I fell in love," he said, adding, "If you're already attracted to someone, and then they play your love interest in the show, it's becomes very easy to fall in love."
Spoiler alert!
Snow was brought back to life in a recent season six episode after being stabbed to death by men and a boy who betrayed him in the season five finale.
Harington said on NBC's The Tonight Show Starring Jimmy Fallon in an interview that aired Friday that he told Leslie and other people close to him about Snow's fate in advance, even though he was supposed to keep it a secret.
"I told Mum and Dad straight away," he said. "It's Mum and Dad. No one else...well, my girlfriend knew. A few people knew quite quickly. They're all very trusted people."
Harington had also told EW.com recently that he told Leslie about Snow "from early on" and that the showrunners were aware he was going to.
"She was allowed to know," he said.
However, Leslie had said this week in a Sky News interview that she "had no idea" about Snow's fate, adding, "So I was kind of, like, just as surprised as the rest of the world when the man woke back up again."
During his interview on The Tonight Show, Harington also talked about a funny incident that spurred him to reveal Snow's fate to a stranger.
"OK, one policeman knew," he said. "I was driving back from my parents' house and I was driving too fast, I was just being a bit naughty," he said. "I was going over the speed limit and I feel the sirens go off behind me and this policeman comes up, pulls me over."
"He said, look, there's two ways we can do this: You can either follow me back to the police station now and I book you in or you can tell me whether you live in the next series of Game of Thrones,'" Harington said.
He said he told the police officer he is alive in season six.
"And he goes, he says, 'Mmmhmm. On your way, Lord Commander,'" Harington said.
Watch:
"Game of Thrones" Casts Insist Jon Snow Is Dead