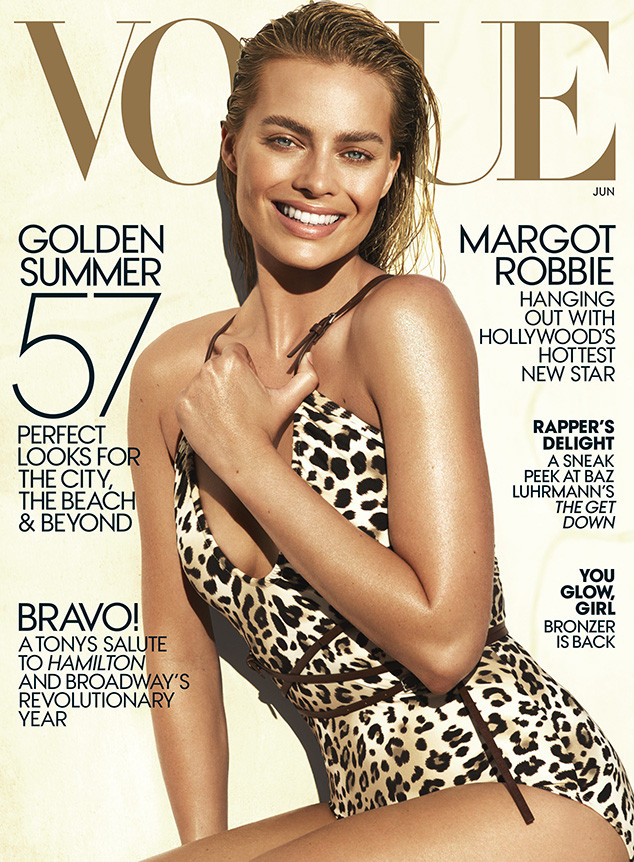 Mert Alas and Marcus Piggott/ Vogue
Margot Robbie has officially made it.
The 25-year-old Australian actress appears on her very first Vogue cover, via the magazine's June 2016 issue. It's a major coupe for any woman in the entertainment industry, to be sure, though Robbie previously thought she'd "made it" in Hollywood after people started spelling her name correctly. After all, it can be spelled in a variety of ways—Margaux, Margo, Margot. "I always said, 'Mom—there was a really cool way of spelling my name, and you picked the boring way that gets everyone confused. They forget the T or call me Mar-got,'" the Legend of Tarzan star explains. "Now everyone's finally spelling my name right—that's how I knew I'd made it."
All this attention is a bit surreal to Robbie, who comes from a working class background. "I went to a school where all of my friends were very well-off, and I went to their houses a lot, and so I knew what it looked like to be rich but I didn't have it, so I was like: OK—I know exactly what I want," she says. Prior to acting, Robbie worked several odd jobs—tending bar, making sandwiches, selling surfboards—all of which boosted her confidence at a young age. "The whole fake-it-till-you-make-it thing has really worked out for me. The more times you do that, the more you realize that no one really knows what they're doing; everyone's kind of figuring it out or pretending they know until they do know. And you can apply that to anything—you just have to hustle."
Robbie realized she wanted to be an actress while watching a TV show at age 15. "There was a girl my age doing a scene, and she said her line, and it was just not that good," she recalls. "And I remember thinking, 'I could have done it better.' And then I thought, 'Well, why is she doing it? Why isn't it me?'" After cutting her teeth on the Australian soap opera Neighbours, Robbie moved to L.A. in 2011 and was cast in ABC's short-lived TV series Pan Am. The actress next appeared in Richard Curtis' About Time, followed by Martin Scorsese's The Wolf of Wall Street.
Oscar winner Jared Leto was blown away by Robbie's performance in the latter film. "She took a role that other people would have had a very difficult time with and elevated it to something spectacular," says Leto, with whom Robbie co-stars in the upcoming movie Suicide Squad. "To be able to stand alongside [Leonardo DiCaprio], one of the titans of the industry, and be there face-to-face, blow for blow, and not only hold her ground but really shine, was kind of a rare, explosive discovery. It reminded me of Michelle Pfeiffer in Scarface." At first, Robbie wasn't even sure she wanted to play Naomi Lapaglia in the biopic of disgraced stockbroker Jordan Belfort. "When I first read it, I thought, 'I have nothing in common with her. I hate her.' It was a really tricky one to get my head around," she says. "But her motivation was, 'You guys are doing it—why shouldn't I? It's this man's world, and I'm going to get mine.' And I understand that."