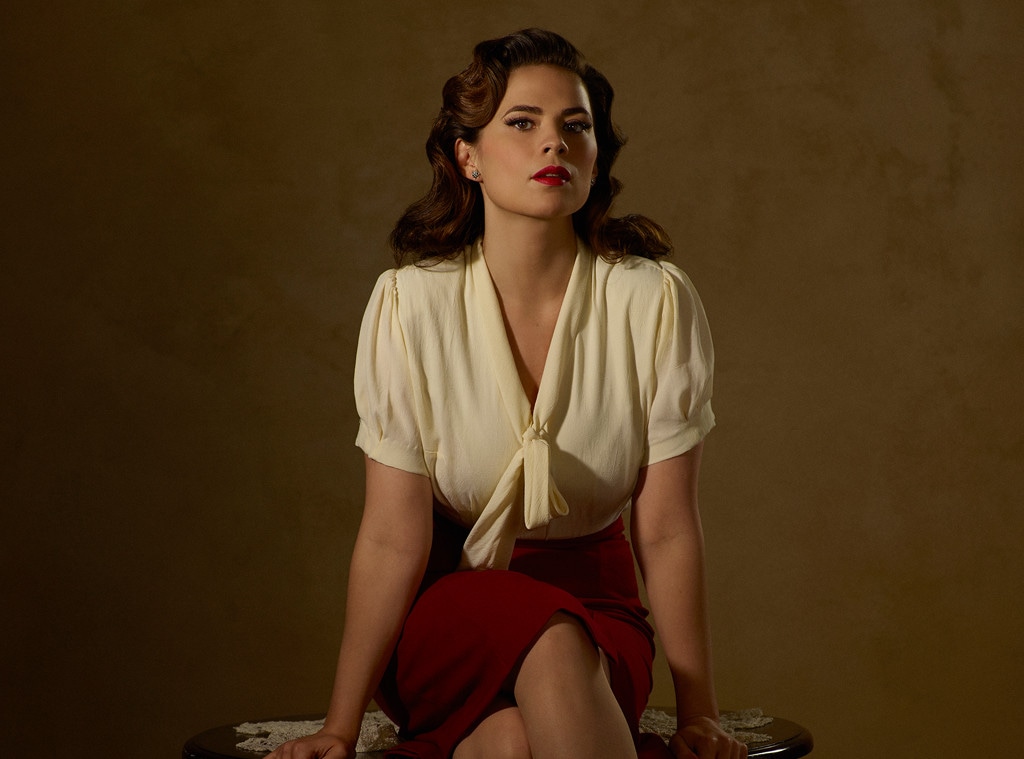 ABC
Warning: The following contains mild spoilers for both last night's new episode of Agents of S.H.I.E.L.D. and Captain America: Civil War. If you're particularly averse to those sorts of things, you may want to turn away. Consider yourselves warned.
Dearly beloved, we gather here today to pay tribute to to the life of Agent Peggy Carter. But is it also time that we begin mourning Agent Carter, too?
If you didn't make it out to the megaplex over the weekend to catch Captain America: Civil War, last night's new episode of Agents of S.H.I.E.L.D. probably dropped quite a bomb on you with their brief mention about the passing of the beloved founding member of S.H.I.E.L.D. at the age of 95. That's right, friends—Peggy Carter is dead.
At the start of the episode, while awaiting a meeting with Gen. Talbot, Coulson (Clark Gregg) was spotted reading Peggy's obituary while listening to a news report about Steve Rogers being on the run following the events of Civil War. It was a brief moment that allowed the S.H.I.E.L.D. leader to mourn the legends that got him into the world-saving business, while also offering eagle-eyed fans quick with a pause button a bit more information about Peggy. Though her love life was very much in flux during the last two season of Agent Carter, her obituary does indeed confirm that "later in life, she would marry and have two children, who she is survived by." (Please tell us her husband was Agent Sousa. Please!)
While Peggy's passing in present day can't come as much of a surprise—she was 95, after all—the decision to mention it in the episode of S.H.I.E.L.D. does. It was hardly a major plot point in Civil War, all things considered—and, while the Sokovia Accords and its ramifications were discussed throughout the episode, the Peggy moment seems to serve a greater purpose. With Agent Carter's future at ABC very much on the bubble, the subtle closure on a life well-lived could be the network's way of putting a cap on Peggy's story without giving her a third season of adventures. As THR recently noted, a season three pickup for the critically championed—but criminally underwatched—Hayley Atwell series is considered highly unlikely, meaning that this will likely be the last we hear of Peggy Carter on ABC.
We'll soon know for sure, as ABC is set to reveal their lineup for the 2016-2017 TV season at their Upfront presentation on May 17. 
Are you still holding out hope for a third season of Agent Carter? Sound off in the comments below.
Agents of S.H.I.E.L.D. airs Tuesdays at 9 p.m. on ABC.
Watch:
"Agent Carter" Cast Teases Big Move to Hollywood