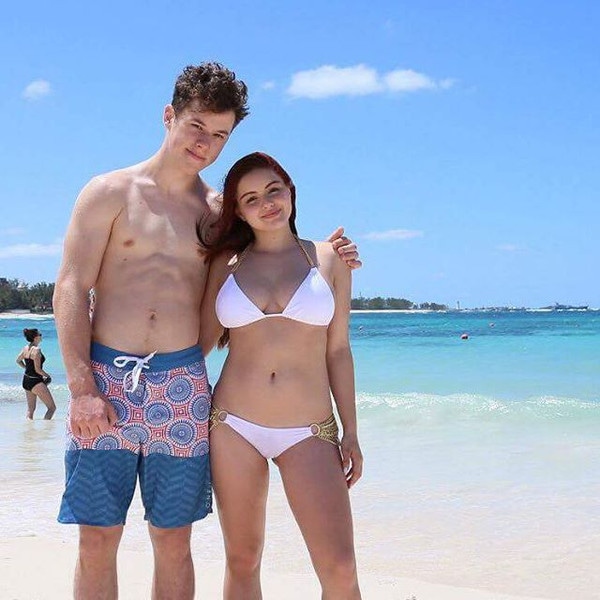 Instagram
Could we potentially see a Modern Family couple in the future?
TV star Nolan Gould stopped by the Allegedly podcast to chat with hosts Theo Von and Matthew Cole Weiss about practically everything under the sun (seriously, these three discussed a variety of topics), including whether or not he could ever see himself dating co-star Ariel Winter.
"No, I love her but she's a really good friend. We grew up together," Gould explains, and adds that he wouldn't want to risk that friendship. "It's an interesting world for young kids, to have another person go through the exact same thing as you and be able to talk about that, I would never wanna waste that." 
In fact, the 17-year-old can't really see any of his cast mates in that light, regardless of working with beautiful women.
"No, it's probably the exact opposite because they are so close to me," Gould says, adding that he can't even watch Julie Bowen's sexy scene in Happy Gilmore because she's always in mom-mode to him.
However, speaking of moms, Gould does admit that he gets a lot of attention from, um, "MILFs."
He tells the guys, "I'm a hit with like 35 and up," and adds that he "plays along," but "I'm not gonna do anything. It's still kinda fun…It's still a felony. I don't want a poor woman to go to jail for me. I'm not waiting for you to get out." LOL!
That can certainly get awkward, but perhaps not as awkward as the moment Gould didn't recognize Emma Watson. Yeah, seriously!
When asked about the weirdest celeb interaction that he's had, Gould confessed that he once talked to the A-list star and didn't know who she was. 
"The awkward thing was she recognized me and I didn't recognize her back," he said.
"I was at the Emmys, HBO after party, Emma Watson comes up and she's like, 'Hello, I really like your show. it's really nice to meet you.' And we talked for a little bit and then she walked off. Her mom was there, and she started talking to me too. People were taking pictures, and I was like 'wait, who are you? I know her name is Emma but what's your last name?' And she was like, 'Watson.' I had to go to her mom to find out who she was." 
Oh, Nolan.