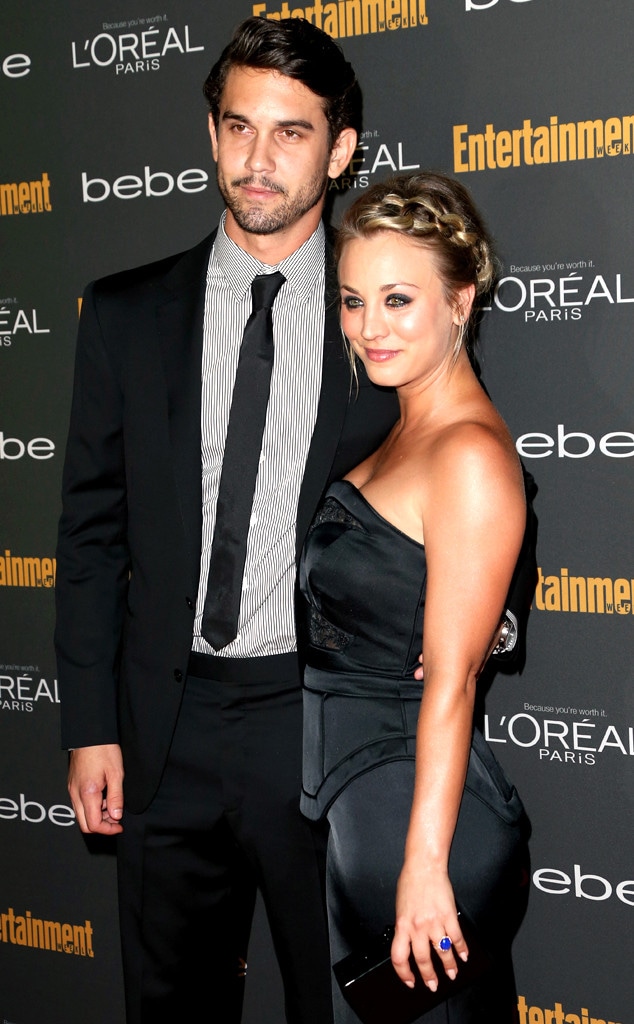 Frederick M. Brown/Getty Images
While art may often imitate life, such is not the case for Kaley Cuoco and her Big Bang Theory character, Penny. 
To start, the 30-year-old actress just celebrated the wedding of the character she has played for nearly a decade in the show's ninth season. However, off-screen, Cuoco recently finalized her divorce from her former husband of 21 months, former tennis pro Ryan Sweeting. The split was legally confirmed as of May 6. 
"Everything ended the way it was supposed to," the actress told Gayle King on CBS This Morning. 
"I'm not ashamed of anything that happened," she said regarding the split. "I love hard and when it's over, it's over…I wouldn't call it a mistake. It just is what happened in my life."
Meanwhile, days later, the actress was spotted arriving to a taping for The Late Show with Stephen Colbert with her new beau, equestrian Karl Cook, at her side. The conversation quickly turned personal.
While discussing Penny's future children with the host, Cuoco admitted that she's just not so keen on having babies at the office. 
"I don't like working with kids," she declared to the late-night host. 
"Do you have kids?" Colbert asked in return.
"No! No," she answered adamantly. "I like kids. I don't want to work with them. I don't want to be around them."
"Babies are really tough to work with," she continued explaining. "They're the biggest divas you could possibly have around. They're carried in. They only work like six minutes. Guess what—I'd like to only work six minutes."
Cuoco had no intentions of sugarcoating her feelings. 
"I just feel like the babies can do whatever the hell they want and I don't think that that's fair," she declared. "So, I don't want to work with them."
While she seems to be in little rush to become a mom, she has "never been happier" thanks in part to her new man. 
"He's special," she said during CBS This Morning. "I think that the horse connection is special."