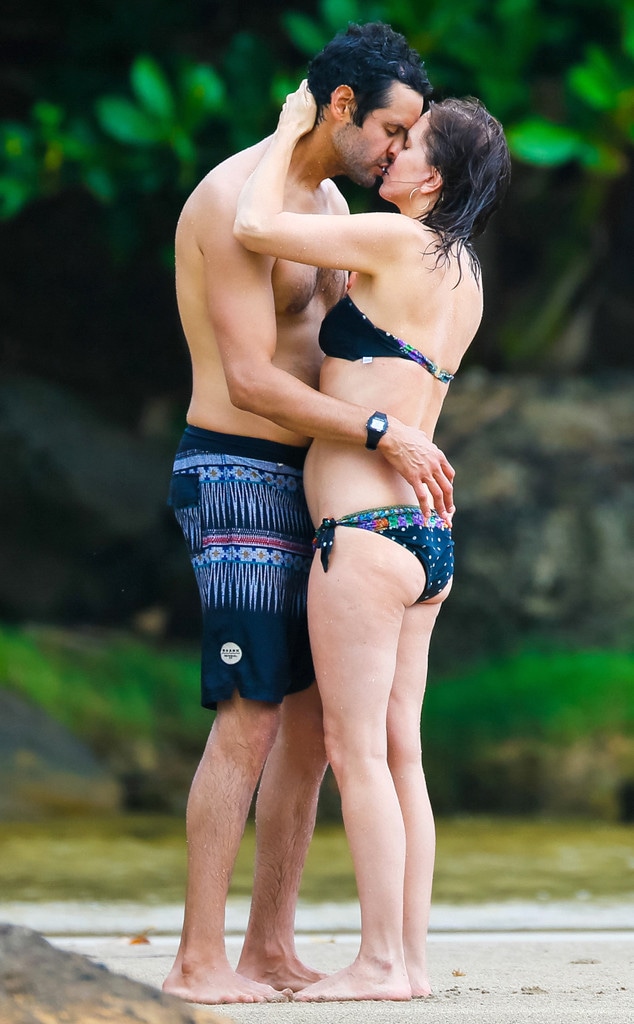 FameFlynet/AKM-GSI
Sparks are flying for Kristen Wiig. 
The Ghostbusters star was spotted getting up close and personal with actor Avi Rothman while on vacation in romantic Kauai, Hawaii—a rare sighting for the typically private actress. The two were caught right in the middle of a smooch during their tropical vacation. Clad in bathing suits, the two were wrapped in each other's arms as they openly embraced in the sand. 
After her divorce from her former husband of four years, actor Hayes Hargrove, Wiig's last public relationship seemed to be in early 2012 when the SNL alum stepped out with Strokes drummer Fabrizio Moretti. However, their romance fizzled a year later and Wiig hasn't been confirmed with another special someone since—until now. While the actress hasn't outwardly confirmed that Rothman is indeed her new boyfriend, these pictures speak a thousand words. 
Here's all that we know so far about the actress' new man: 
1. He's an actor, too. 
With over 20 acting credits to his name so far, the dark-haired Hollywood hunk knows a thing or two about the business. Rothman has typically performed in short films and TV movies, several of which he has written and produced himself.
His most recent project was Hello Charles, a short about an adult who gets a visit from his imaginary childhood friend. 
2. He writes about stores in his spare time.  
When he's not writing, producing or acting in a film or television project, Rothman is writing about stores he finds interesting. 
"I love wandering into unique stores run by people who love what they do," he shared on his co-founded website, More Than Stores. The site and accompanying Instagram account aim to highlight local spots and the special items they produce. 
3. They've been dating under the radar. 
This romance is not something that came to fruition last week. 
"They've been secretly dating for a few months," a source told People. "He's her boyfriend. They're really happy together."
4. He has a funny bone. 
The actors can take turns making each other chuckle because Rothman is also a bit of a jokester. He has starred in a host of comedies much like his leading lady, who has become an icon in the genre. 
5. He's a private guy.
Just like Wiig, Rothman has limited personal social media and seems to keep his private life out of the public eye as much as he can.