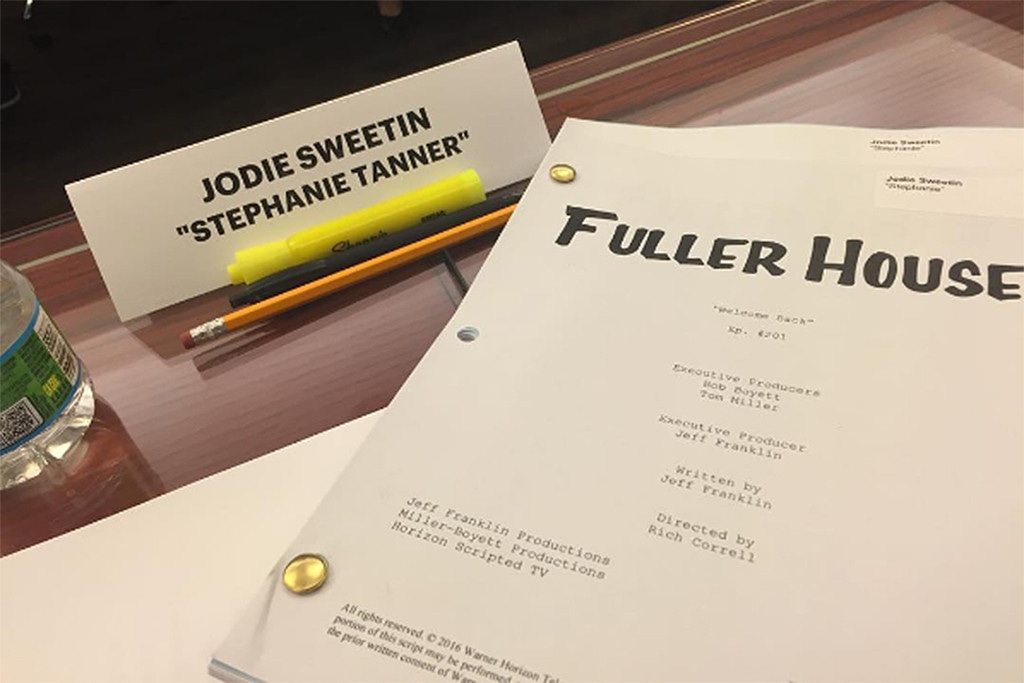 Jodie Sweetin/Instagram
They're back!
Fuller House is officially back in production for season two, and the cast has wasted no time in posting behind-the-scenes photos from the first table read of the year.
As we can see in the pics, the episode is aptly titled "Welcome Back." While Candace Cameron Bure, Jodie Sweetin and Andrea Barber all opted for the traditional script pic, Scott Weinger got a little more creative with his snap.
Weinger, a.k.a. D.J. Tanner's high school boyfriend Steve, posted a face-to-face pic with John Brotherton, a.k.a. D.J.'s veterinarian coworker Matt, a.k.a. Steve's romantic rival for D.J.'s affection.
The end of Fuller House season one saw DJ choose herself, Kelly Taylor style. Bure told E! News a few weeks ago that when we return in season two, both men will have moved on with new women—but that doesn't mean that either of them is over D.J.
"I'm not sure—If Steve and Matt both have girlfriends, it might change her feelings. You know how once something's unavailable that you think is and you're like, 'Hmm, maybe I missed out on something, maybe I should rethink this.' I think that's going to be one of the big storylines," she told us.
Netflix renewed Fuller House for a second season within a week of season one's debut earlier this year, and star/executive producer John Stamos told E! News that we won't have to wait nearly as long for new episodes this time.
"They actually sort of put a rush on it," he said. "I don't think they've announced the dates, but they're going to be a lot sooner than we released last year's."
Click through our gallery for more behind-the-scenes pics from the Fuller House set!