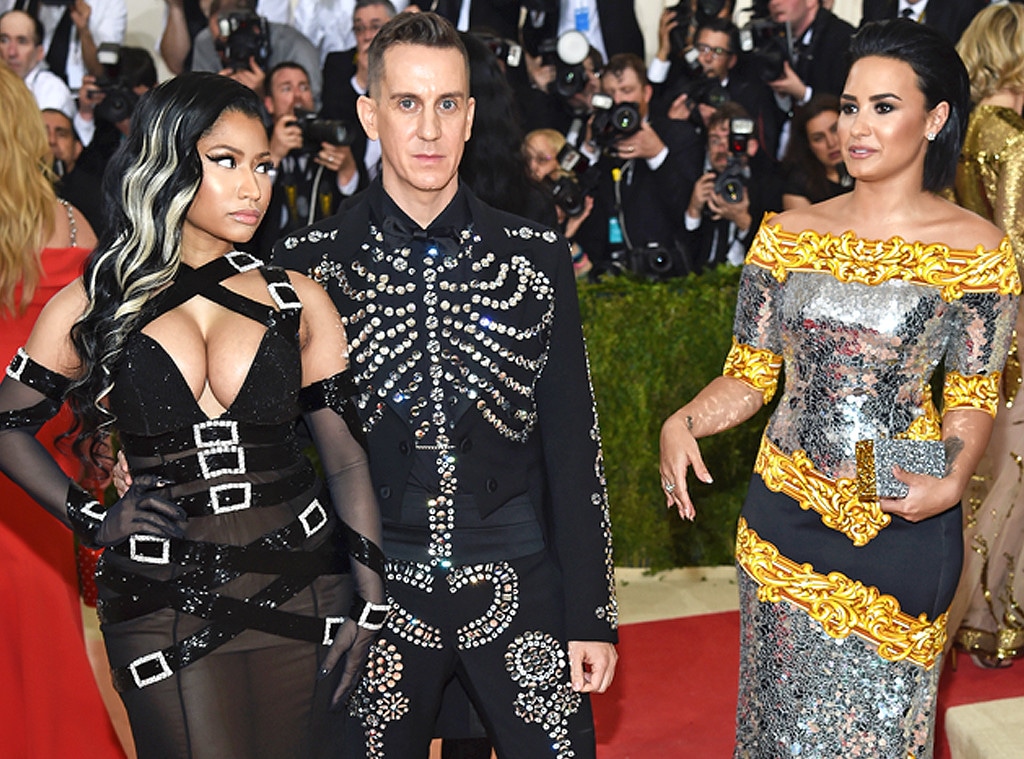 Michael Buckner/WWD/REX/Shutterstock
A picture is worth a thousand words, and it seems like at least a few of them aren't very nice.
It looks like there may be a feud brewing between Nicki Minaj and Demi Lovato following their attendance at the Met Gala last night, at least, that's what all of the social media clues seem to suggest. It all started when the Pink Friday rapper shared a picture on Instagram of herself posing for cameras on the carpet alongside designer Jeremy Scott and the singer.
But, the only person she tagged was Scott. Hmm...
According some eagle eyes on the Internet, Lovato commented on the photograph with a laughing emoji, peace sign and thumbs up, before taking to her own account to share the above photo, showing Minaj giving Lovato some major side-eye, with the caption, "This picture pretty much summed up my first and probably last met #cool #sofuckingawkward #notforme #sweatpants #forensicfiles #whatsgood."
She added, "p.s. some of y'all need to learn how to take a joke.. I'm obviously laughing at the fact that 1. I look incredibly awkward and 2. That the shade being thrown in this picture actually gives me life."
That's not all, though.
Demi also referenced the no-mention on Snapchat, using one of the distorted selfie filters to snap a picture of herself deep in thought with the caption, "When you aren't mentioned in a post but didn't do s--t to the other person..."
The 23-year-old had the special privilege of attending her first ever Met Gala with the fashion powerhouse behind her sequined silver Moschino dress, alongside Minaj, who was also wearing a Jeremy Scott design in her black buckled up ensemble.
Although Minaj has never really been one to shy away from confrontation, she hasn't addressed this on any of her social media outlets, which makes us wonder if she's going to entertain the entire fiasco at all. 
So far, the only thing that is painfully clear is that Demi has not received (and probably will not receive) a tag on that picture.
Watch:
Curator Andrew Bolton on Fashionable Met Gala Guests