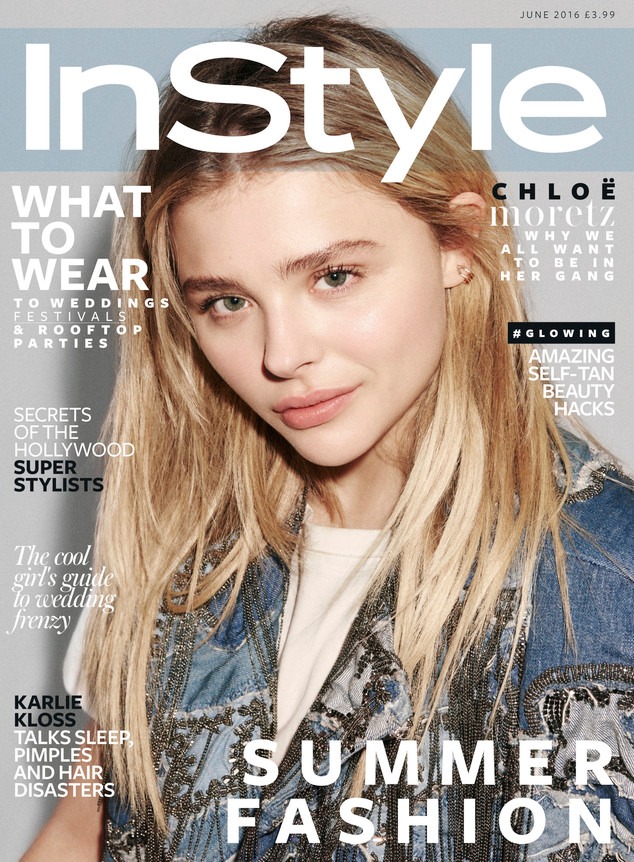 Tung Walsh for InStyle
Young love can be exciting and romantic, but when you're in the spotlight, it can be a bit tough.
Actress Chloë Grace Moretz, 19, has been rumored to be dating 17-year-old Brooklyn Beckham for some time now, and their romance was recently confirmed through a series of lovey-dovey Instagram photos. However, while there are obvious reasons that make this pairing seem pretty awesome (a day hanging out with the Beckhams? Yes, please!), the Kick-Ass star admits that sometimes it can be pretty difficult.
The cover star for the June issue of InStyle UK explains that dating can be awkward already, let alone dating someone who is also well-known in the industry. "You already know what I look like in a bathing suit. You know what I look like in a sex scene. You know what I look like when I say 'I love you' to someone. You've already seen it all."
She continued, "It creates a mass frenzy and they follow you in separate cars so you can't just run around and share little silly and cute moments."
The actress also touched on her refusal to be a part of Taylor Swift's squad, which seemed to shock many. But as she puts it, she's just not a fan of cliques.
"No one really puts herself in the shoes of the girl that's not in the squad—and that was always me. I didn't go to school. I had all brothers. I was a dork," she explains. And there was one famous controversy that got Moretz wrapped up in a fiery Twitter debate—Kim Kardashian's nude selfie.
A few months ago, she called out the racy photo on Twitter, writing to Kim, "I truly hope you realize how important setting goals are for young women, teaching them we have so much more to offer than just our bodies," which drew a sassy response from the E! star (and her followers).
"I've never been afraid to have my own voice and to speak my own mind. I wasn't catty about it," she said of the whole ordeal. "A lot of people came back and said, 'You're wrong.' I was like, 'You might disagree with me and that's great. Let's have a debate.' At least I believe in something."
Moretz's issue of British InStyle is on sale now.