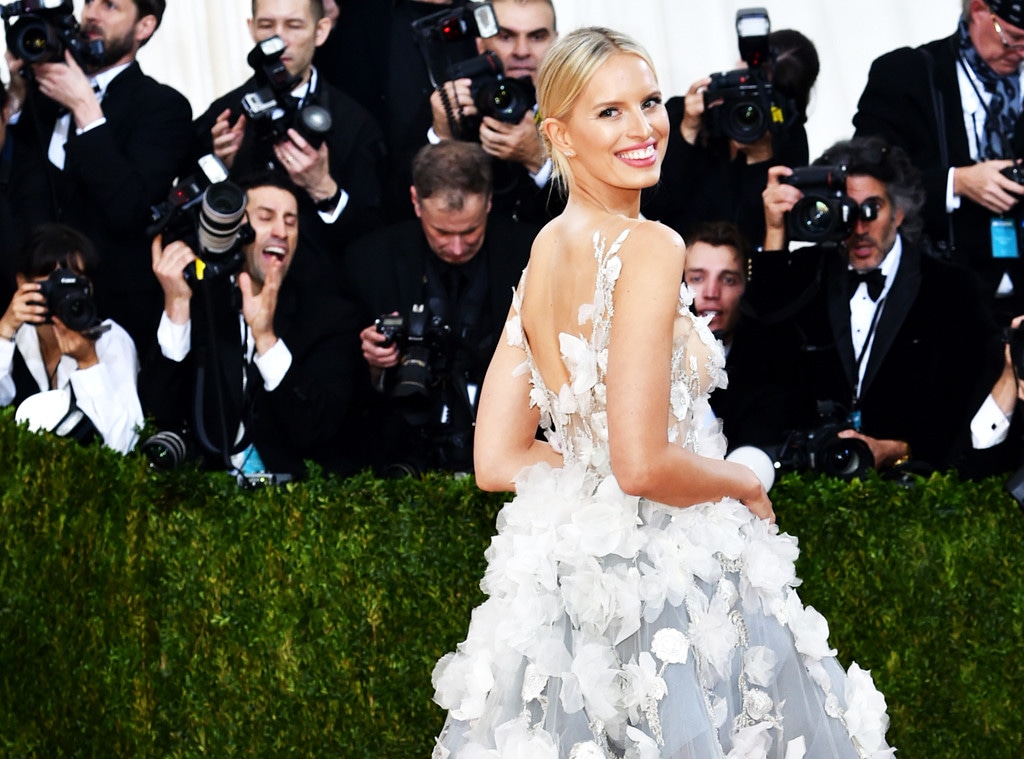 Andrew H. Walker/REX/Shutterstock
Fashion and technology have found the perfect marriage in Karolina Kurkova's 2016 Met Gala look. 
Clad in custom Marchesa, the supermodel's dress is layered with hidden wiring—a nod to this year's theme, Manus x Machina, also known as "wearable technology."
The technical elements are disguised by hand-sewn arrangements of ivory flowers adorning the strapless sheer gown. However, as the blond beauty poses along the famous Met Gala steps, the dress will suddenly turn different colors.
As designers Georgina Chapman and Keren Craig described to E! News' Zanna Roberts Rassi, the flowers will work as a technical reflection of how people feel about the dress in real time. 
The Marchesa ladies teamed up with IBM's cognitive computer, "Watson" to develop the technology to make this dress come to colorful life. 
Watch:
Marchesa Designers Talk Tech-Assisted Designing
"Watson took 150 images of our dresses from the past and what he did is he pulled different emotions tied to how people have reacted to those dresses on social media and then those reactions have created a color palette that were working with on the dress," they revealed to E! exclusively. 
"The color palette will reflect in real time people's tweets about the dress, so the dress is emotionally talking to us."
While the concept and creation is immediately intriguing, it was not born overnight. Instead, the look has taken "hundreds of hours" to create, the women shared. As they say, greatness is a work in progress and from the first impression of this ensemble, it's a living masterpiece. 
"It has feelings, it has moods like us females," Kurkova described. 
As for Kurkova's beauty look, she was perfected by makeup artist to the stars, Charlotte Tilbury. With products from Tilbury's very makeup line, the supermodel was transformed into an even more stunning version of herself. 
"I was totally inspired by Karolina's beauty and glowing skin," the artist told E! News exclusively. "We wanted to create something that was very beautiful and ethereal and glowing and modern and fresh."
To achieve such an enviable look, Tilbury first prepped Kurkova's face with her Goddess Skin Clay Mask and then with Charlotte's Magic Cream Treat & Transform Moisturizer. 
Watch:
Karolina Kurkova Wears Charlotte Tilbury to Met Gala 2016
Next, she perfected her skin with the Magic Foundation and brightened her under eye area with The Retoucher Conceal & Treat Stick.
To sculpt her eyebrows, Tilbury used her Legendary Brows wand to define Kurkova's fair-colored arches.
As for the overall eye makeup look, Tilbury kept everything fresh and natural, first covering the model's lids with cream eyeshadows in the shades Jean and Marie Antoinette to bring out the green in her eyes. To get that Bambi doe-eyed effect, Tilbury then lined Kurkova's eyes softly with brown eyeliner, coated her lashes with mascara and then added some strips of false lashes to achieve a fanned-out effect.
Tilbury carved out Kurkova's cheek bones with her Filmstar Bronze and Glow sculpting palette, highlighted her cheekbones and nose and then topped off the cheeks with her Love Pop blush and Wonderglow highlighting cream. 
No look would be complete without a bit of lipstick. After lining Kurkova's lips with Pillowtalk lipliner, the makeup artist layered on her matte shade Sexy Sienna to get the picture-perfect pout.  
Judging by the completed look, Kurova's gown will be lighting up in only happy colors all night long. 
Watch E!'s Live From The Red Carpet 2016 Met Gala special starting at 7:30 p.m. ET/PT on Monday, May 2nd