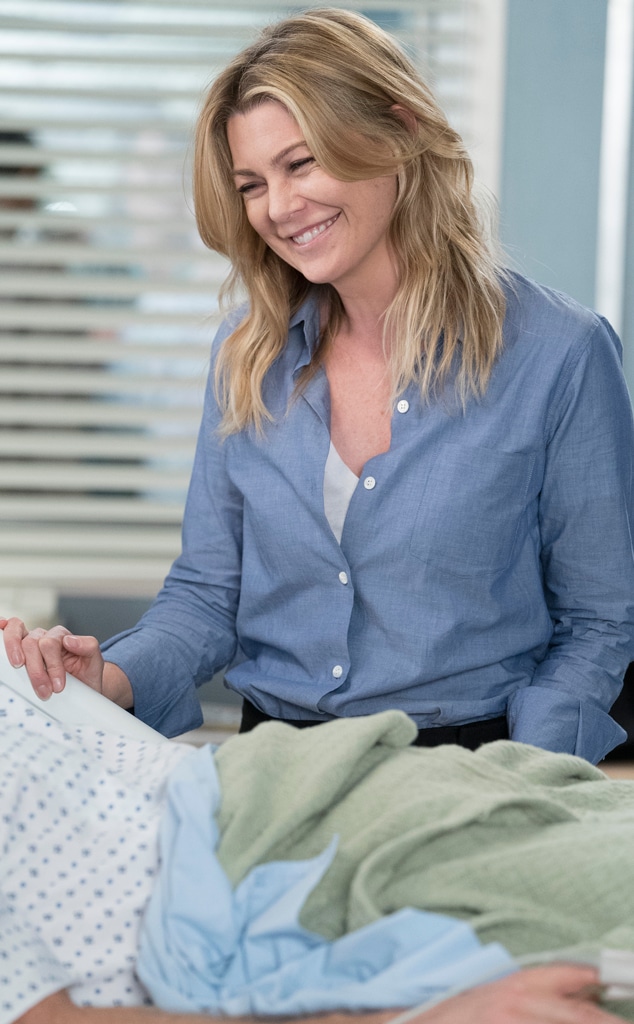 ABC
First rule of being a doctor: Don't fall in love with your patients. (At least, we assume. What do we know? We're not doctors.) And that goes double for the surgeons of Grey Sloan Memorial Hospital.
Falling for someone under their care has never failed to be anything less than total heartbreak for the doctors on Grey's Anatomy, which is why we've got a feeling that guest star Scott Speedman, beginning his arc in the March 29 episode, won't be long for this world. And that looks like it just might be bad news for a one Meredith Grey. Allow us to explain.
In the teaser trailer for the episode, which shows Ellen Pompeo's character meet cute with Speedman's transplant surgeon from another hospital, who's been admitted to Grey Sloan for treatment, the copy reads "The right person awakens a heart." And while we're all here for Mer finding some love, especially with someone as cute as Speedman, we've got a bad feeling about this. After all, when it comes to doctor-patient dalliances, the Grey's Anatomy evidence speaks for itself.
Izzie and Denny
These two are, perhaps, the gold standard when it comes to a lot of things on Grey's Anatomy. Few love stories that Shonda Rhimes has created in the 12 seasons that her magnum opus has been on the air have been as romantic or as tragic, but the season two saga surrounding Katherine Heigl's Izzie and Jeffrey Dean Morgan's Denny Duquette, a patient awaiting a heart transplant at then-Seattle Grace. They fell in love, he proposed, she risked her career to ensure he'd get a new heart by infamously cutting his LVAD wire, but he still died from a blood clot after getting his transplant. (And yes, we still cry whenever we hear that Snow Patrol song that was the soundtrack to his death scene.) The heart-wrenching end to their love story should've been enough to scare every other doctor off from following in her footsteps. Sadly, that wasn't the case.
Alex and Ava
Halfway through season three, the ferryboat disaster that nearly took Meredith's (Ellen Pompeo) life also brought the pregnant amnesiac with the severely scarred face who we'd later come to call Ava (Elizabeth Reaser) into Alex's (Justin Chambers) life. While at Seattle Grace, she gave birth, underwent extensive facial reconstruction—and fell heavily in love with Karev. She eventually regained her memory and returned home with her husband Jeff, but not before pleading with Alex to give her a reason to stay. She eventually returned to the hospital in season four, claiming to be pregnant with Alex's baby, but was revealed to be suffering from a hysterical pregnancy. She later attempted suicide, necessitating placement in a psychiatric ward. Alex's realization that his love for Ava—who at this point we knew was really Rebecca Pope—wasn't enough to give her the care she required was a rough pill to swallow.
Teddy and Henry
When Teddy Altman (Kim Raver) arrived in season six to take over as Chief of Cardiothoracic Surgery at then-Seattle Grace Mercy West, the Army vet who'd served time with Owen Hunt (Kevin McKidd) was there to cause trouble between her old crush and his girlfriend, the formidable Cristina Yang (Sandra Oh). However, in season seven, she would meet Henry (Scott Foley), a patient with a rare genetic condition who could no longer afford medical care. She married him out of a sense of altruism, with the pair maintaining a marriage of convenience to get the guy some health insurance. However, over time, they fell in love, but just as they could begin living in wedded bliss, Henry died during surgery in season eight. As if that wasn't bad enough, she wasn't made aware he had died until she finished a surgery of her own, robbing her of the chance to say goodbye. Brutal.
Stephanie and Kyle
When Wilmer Valderrama's Kyle was admitted to Grey Sloan Memorial in the middle of season 12, Stephanie Edwards' (Jerrika Hinton) last romantic dalliance had ended seasons back when her boyfriend Jackson (Jesse Williams) left her standing in the middle of a barn to chase after April Kepner (Sarah Drew) as she went all runaway bride on her wedding day. So, the poor doc was hungry for some love. Unfortunately, it came from a patient who'd come to the hospital to treat a tremor caused by MS. His arc saw him be discharged, only to be admitted yet again, wherein Amelia (Caterina Scorsone) kicked the career-focused Edwards off the surgery due to her romantic connection to the patient. She broke up with him, he came down with Meningitis, refused to forgive her, then relented, only to die on the operating table.
Love has never been a safe game on Grey's Anatomy, with it ending in heartache more often than not. But the receipts show that the odds of devastation only go up when a patient is involved. Fans of Speedman might not want to get too attached.
Grey's Anatomy airs Thursdays at 8 p.m. on ABC.
(This story was originally published on Thursday, April 28, 2016.)