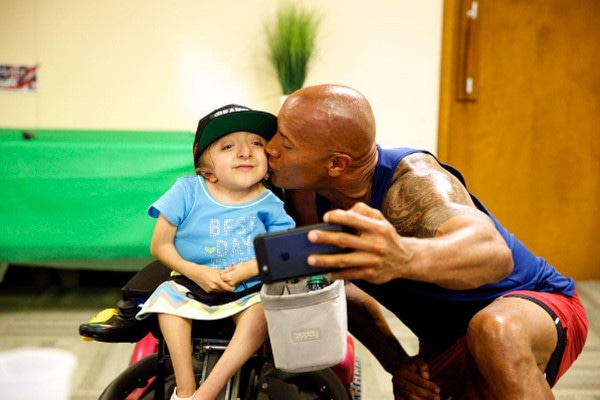 Instagram
Dwayne "The Rock" Johnson has one tough exterior, but on the inside he's just a giant softie.
The WWE star-turned-actor often visits nearby children's hospitals whenever he's on set, and his latest visit might make you choke up. The Baywatch star took a break from filming to spend time with a couple of sick children who are part of the Make-A-Wish program. A picture within a picture, The Rock plants a wet one on Ashley's cheek all while taking a selfie.
"She asked for a kiss... don't threaten me with a good time woman!" he began his caption, adding a hysterically laughing emoji. "#OnSet #BAYWATCH #MakeAWish #LovelyAshley #AndTheKissingSilverback."
The Rock has become well known for insanely muscular body and equally intense diet plan to get him looking like that. The roles he has taken on have always had him playing the rock hard hero (pun intended) or former athlete, but one of his next roles has softened him a bit: Moana. It's one of Disney's highly anticipated animated movies, and The Rock is voicing one of the characters. So when he got to meet another young girl who is as passionate about Disney princesses as he is, he surprised her by letting her in on some Moana secrets and the characters he plays.
The Rock has also teamed up with IfOnly to auction a visit to the set of Baywatch in Savannah, Georgia, where the winner and a friend can meet and hang out with him. All proceeds from the auction will directly benefit The Charlotte and Gwenyth Gray Foundation in the race to #CureBatten.
Whether he's hanging out with kids on set or visiting them in the hospital, The Rock has proven he's anything but an intimidating guy.
Click through the gallery to see all of his emotional visits.