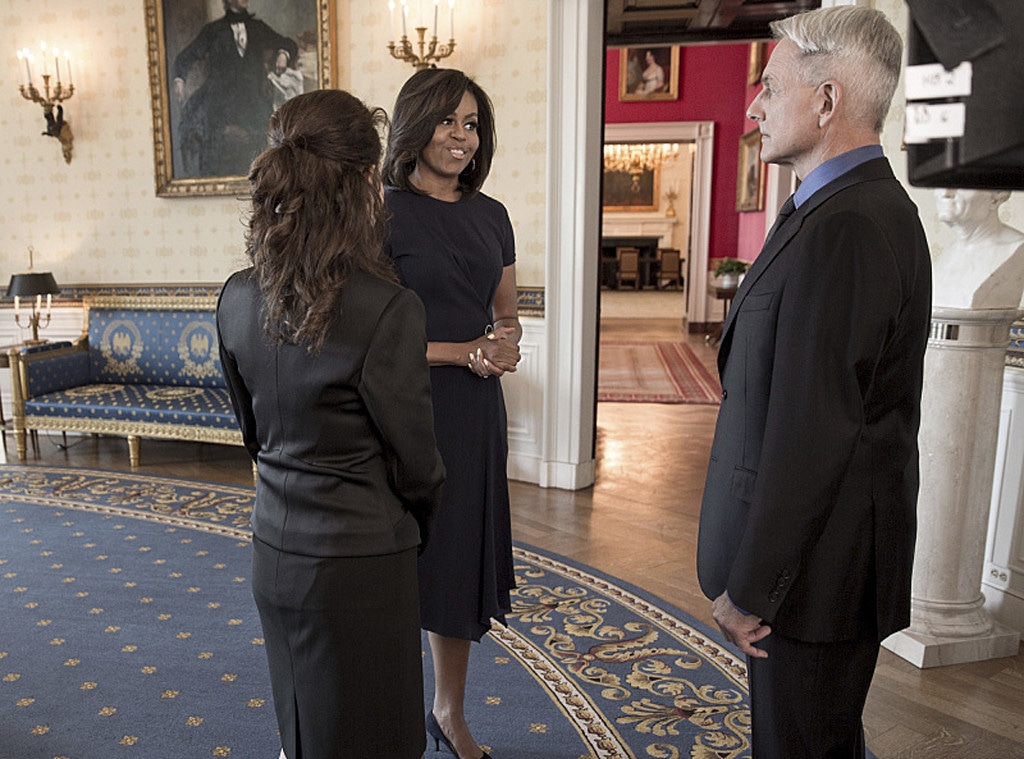 CBS
Before Michael Weatherly's big goodbye, the cast and crew of NCIS took a pretty remarkable field trip and welcomed a very powerful guest star to the show: First Lady Michelle Obama.
But just how did that collaboration come about? NCIS showrunner Gary Glasberg explains that it all began with the writers pitching a story that involved Joining Forces, the organization that Obama and Dr. Jill Biden founded to provide support for the families of service members.
"We've known about it for a while. It's about to celebrate its fifth anniversary," Glasberg tells E! News. "Whenever we can do a story that supports and explains the difficulties that our military families, we embrace it and we want people to understand. This was natural for us."
Once the writers decided to spotlight the organization, they brought up the idea of asking the First Lady to appear—and thankfully, she said yes. "Initially, we wanted her to come to us and, understandably, for scheduling reasons that couldn't happen," Glasberg says. But all hope wasn't lost—her people invited NCIS to her house, instead. You know, the White House.
"The next thing we knew we started to plan a trip," he continues. "We are the first film production outside of a news organization to film in the White House. The West Wing filmed outside, other shows have filmed outside, but we actually went in and had an extraordinary day filming this scene. She was just wonderful and welcoming and I can't thank her enough for what she did for our crew. And then we did a couple of scenes outside the White House as well."
Yes, it was as incredible a time as it sounds. "It was a special day for us," he says. "And at the end of the day it's all about this organization and the support of this organization and we're happy to do it."
NCIS airs Tuesdays at 8 p.m. on CBS. FLOTUS appears on May 3.