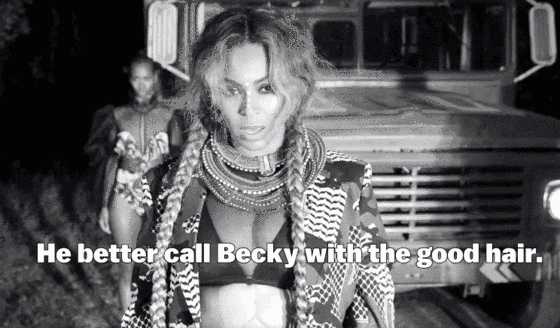 Tidal
After Beyoncé dropped her sixth studio album onto the world and thus changed the timeline of humanity to B.L. (before Lemonade) and A.L. (after Lemonade), the first thing people did was pour over every note, every lyric and every frame of that HBO special.
The very next thing they did was get to work trying to figure out who Beyoncé is referring to when she sang about "Becky with the good hair" in her scathing kiss-off anthem "Sorry."  And those Internet detectives have been hard at work ever since, essentially becoming Claire Danes' character on Homeland:
Twentieth Century Fox Film Corporation
And yes, there are theories on who is the real "Becky." But we want to talk about the crazy, insane, not-just-outside-the-box-but-nowhere-near-the-box conspiracy theories about Becky. These people are the true visionaries and they are looking deeper (like, way deeper) into this whole situation. Because sometimes the obvious answer is the least obvious answer. Understand?
No? Well, wake up, people! Here are the more ridiculous, absurd "Becky with the good hair" hypotheses out there:
1. Full House's Aunt Becky
We just find it quite suspicious that she Instagrammed the above photo unprompted. Something to hide, perhaps?!
2. Beck
OK, her name is not Becky nor is her hair good. But the HBO connection must mean something, right?
Taylor has been the subject of a Tumblr meme called "No its becky" for years. She's even embraced the joke herself. Or perhaps she always knew this day would come and bought that shirt as a preventive measure?! BRB, reading every single lyric from all her albums in a whole new light.
5. Becky from Roseanne
The question is...which Becky? They were played by two different actresses. We're going with Lecy Goranson because, well, look at the 'do.
6. Bucky from the Captain America series
This all could've been a typo on Bey's part. Not that she would ever dare do anything wrong. Ever.
7. This hamster gerbil creature thing
Open your eyes, America!
8. Rebecca Black
Has anyone seen her since Lemonade came out? Hmm....
9. Billy Eichner
Never mind, call off the search. Billy just outed himself as Becky on Twitter. Hope he's ready for the Beyhive!
10. Beyoncé