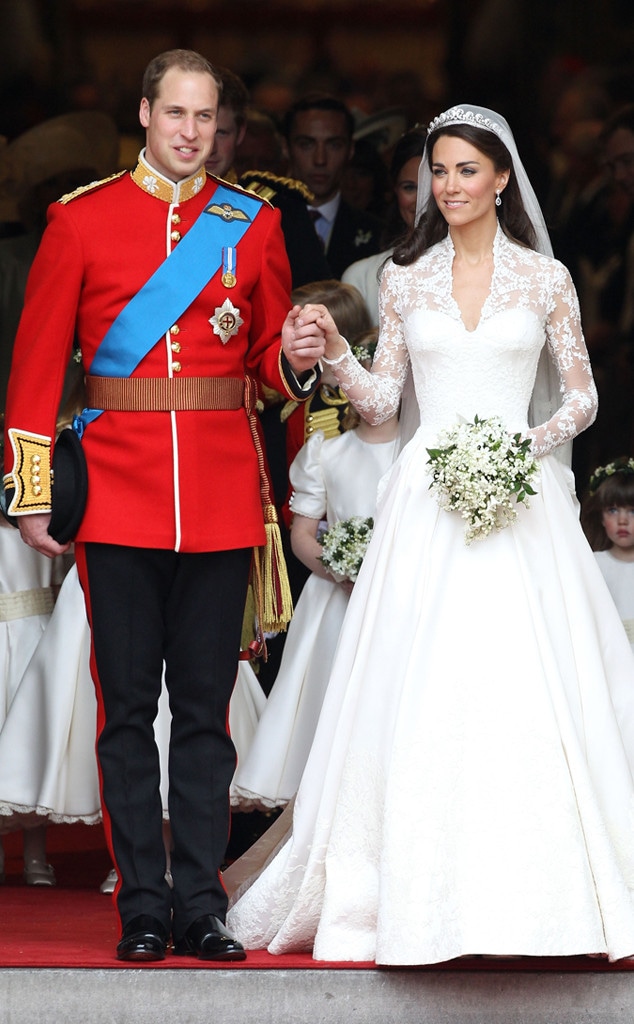 Chris Jackson/Getty Images
It's hard to believe five years have passed since Prince William and Kate Middleton said "I do" as the world watched from all different time zones. However, though it seems like time has passed ever so quickly, quite a bit has happened since that beautiful day—you know, like two royal additions by the names of Prince George and Princess Charlotte.
As we continue to move forward from the royal wedding with news of babies, Princess Kate's fashion statements and even a little bit of controversy, the intricate details from the magical moment seem to get lost in the bustle. Thus, in honor of the milestone anniversary, we're taking a look back at the Duke and Duchess' wedding day with a play-by-play of all the most important factors that went into making it the "Wedding of the Century."
THE TIME AND PLACE
The ceremony was held at the Westminster Abby at 11:00 a.m. local time (those of us in Los Angeles stayed up until 3:00 a.m. to watch it all happen live).
THE TITLES
Queen Elizabeth II bestowed the betrothed couple with new titles slightly after 8 a.m. in London. Prince William became His Royal Highness the Duke of Cambridge, the Earl of Strathearn and Baron Carrickfergus, while Kate became Her Royal Highness the Duchess of Cambridge, Countess of Strathearn and Baroness Carrickfergus.
THE ARRIVALS
The groom got ready alongside his brother and best man Prince Harry at nearby Clarence House and pulled up to Westminster Abbey at around 10:20 a.m. in a Bentley. Kate's mother, Carole Middleton, arrived at 10:30 a.m., wearing a sky-blue day dress by Catherine Walker and was escorted by her son James.
The royal family's caravan left Buckingham Palace at 10:35 a.m., led by Prince Charles and Camilla, Duchess of Cornwall, and followed by Queen Elizabeth II—who wore yellow—and Prince Philip.
At around 10:50 a.m., the Rolls Royce Phantom VI carrying the bride and her father, Michael Middleton, pulled up shortly after her Maid of Honor, Pippa Middleton, and the rest of the bridesmaids.
Hugo Burnand/Clarence House - WPA Pool/Getty Images
THE ATTIRE

Kate chose a gorgeous, custom Alexander McQueen gown designed by Sarah Burton, while William, who was 28 on the big day, looked timeless and dapper in his Royal Air Force uniform.
Kate's dress was designed with lacey long sleeves, a demure yet subtly sexy neckline and a regal train. The queen lent Kate the Cartier "halo" tiara, which was presented to Elizabeth by her father, King George VI, on her 18th birthday. The bride's pear-shade, diamond drop earrings by Robinson Pelham, with a design inspired by the Middleton family's new crest, were a wedding gift from her parents. Finally, Kate's bouquet was a picturesque arrangement of lily-of-the-valleys, sweet William, hyacinth, ivy and myrtle.
CARL DE SOUZA/AFP/Getty Images
THE WEDDING PARTY
Kate's sister was chosen as her Maid of Honor and wore a Sarah Burton for Alexander McQueen dress that kept people talking about her bum for months. She was joined alongside the bridesmaids including: Lady Louis of Windsor, Margarita Armstrong-Jones, Grace van Cutsem and Eliza Lopes. Prince Harry was the Best Man, and William Lowther-Pinkerton as well as Tom Pettifer were both page boys.
As for her dress, Pippa later told the Mail on Sunday in 2012, "It is a bit startling to achieve global recognition before the age of 30 on account of your sister, your brother-in-law and your bottom. One day I might be able to make sense of this. In the meantime I think it's fair to say that it has its upside and its downside."
THE GUESTS
Kate and Will sent a mere 1,900 gilded invites to their friends and family for the big day. The attendees included VIPs such as David Beckham and Victoria Beckham, Elton John and David Furnish, Guy Ritchie, and Rowan Atkinson and his wife.
Also in attendance: Australian Olympic gold-medalist swimmer Ian Thorpe, Princess Diana's brother, Charles Spencer, Prime Minister David Cameron (no small feat considering Tony Blair and Gordon Brown weren't invited), Deputy PM Nick Clegg, former PM John Major and leaders from the British Commonwealth, which includes Australia, India and Canada.
THE CEREMONY
Kate chose to walk down the aisle to "I Was Glad," Sir Charles Hubert Hastings Parry's choral number from Psalm 122. The Dean of Westminster, John Hall, officiated most of the service. Rowan Williams, the Archbishop of Canterbury, was chosen as the celebrant of the marriage and Richard Chartres, the Bishop of London, lead the preaching of the sermon.
During their vows, Kate and William promised to "love, comfort, honor and keep" each other. The ceremony continued with prayers and exhortations by Hall and Williams, and the lesson from the Epistle to the Romans, which was read by Kate's brother. It concluded as the newlyweds walked down the aisle, pausing briefly to bow and curtness to the Queen.
THE RING
Prince William popped the question to Kate by giving her the ring Prince Charles had given to Princess Diana, an 8-carat sapphire and 14 diamond rock with an estimated worth of $500,000. William decided not to wear a wedding band (as he wears the signet ring on that hand).
John Stillwell-WPA Pool/Getty Images, Hugo Burnand/Clarence House-WPA Pool/Getty Images
THE CAKE
The eight-tier spiced fruit cake was crafted by pastry chef Fiona Cairns. It boasted raisins, walnuts, cherries, lemon, grated orange, and French brandy. The lace-reminiscent decorations were inspired by a piece of Kate's wedding gown.
Two years later, in 2013, a piece of the grand wedding cake sold at auction for $4,160.
John Stillwell - WPA Pool/Getty Images
THE RECEPTION(S)
Two receptions were held to honor the Duke and Duchess. The first was filled with nearly 650 guests at St. James Palace, while the second was held at Buckingham Palace for a far more intimate and laid-back event. In fact, Kate decided to switch dresses for the second reception, donning another all-white Sarah Burton-designed Alexander McQueen ensemble. The strapless satin gazar evening dress was accent with a circle skirt and diamante embroidered detail around the waist. She topped it off with a white angora bolero cardigan.
THE FIRST NIGHT
Kate and Will spent their first night as a married couple together by celebrating into the wee hours of the morning with their close friends at Buckingham Palace. In fact, Prince Harry set up a 6 a.m. breakfast the following morning for any attendees who needed a little pick-me-up after the long evening!