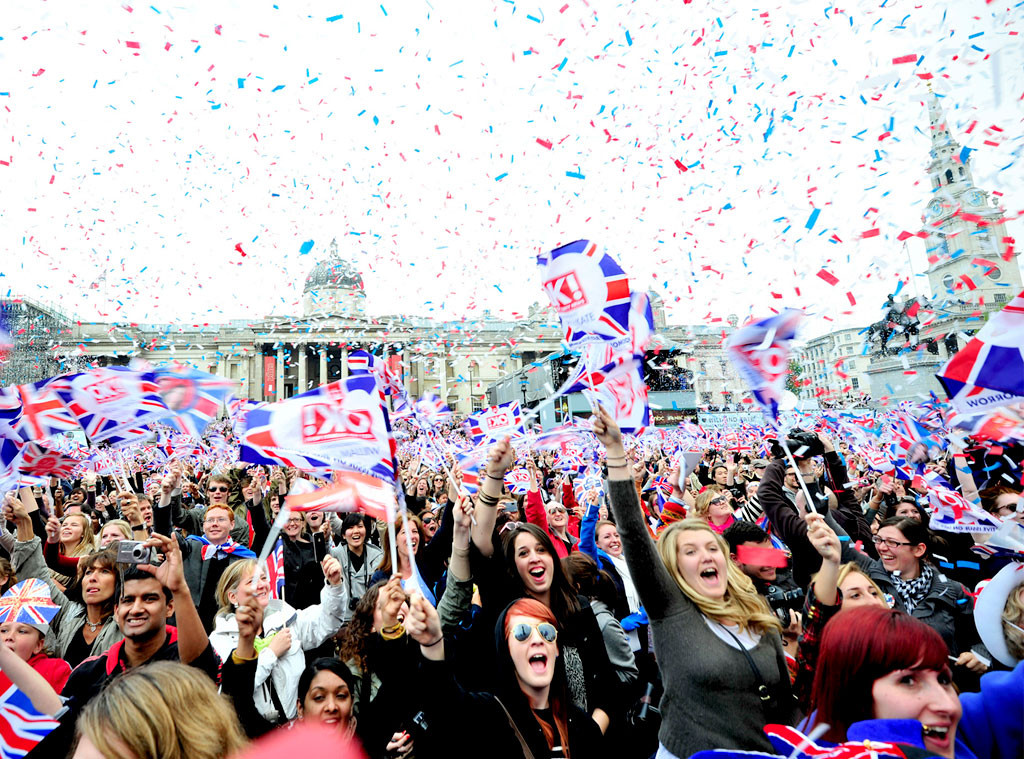 GLYN KIRK/AFP/Getty Images
Tomorrow marks a very special anniversary. It has officially been five years since the world was introduced to Princess Beatrice's Royal Wedding fascinator. 
Let's set the scene here. It was the wee hours of the morning of April 29, 2011, and pretty much all of modern society was eagerly awaiting the big reveal. (That would be the first sight of Kate Middleton in her dress, of course). And while the people were of course treated to the sheer otherworldly beauty of that Alexander McQueen dress, we were also struck with a phenomenon that no one could prepare for: This pink...well, the only true word to describe it is probably monstrosity.
But it wasn't just Princess Beatrice's octopus-meets-female-reproductive-system topper that surprised us. The event was a full-on parade of wacky headwear, and those of us who don't regularly attend royal gatherings were left mouths agape, staring in wonderment at the great big world of Royal Fascinators. As such, there's no better time that the five year anniversary of this great affair to look back at—and judge—the most hilarious and horrifying hats. 
Princess Beatrice's Classy Octopus

Chris Jackson/Getty Images
This really was the Fascinator Heard 'Round the World. It stunned a nation, inciting memes that featured everything from cats crawling out of the center circle to things that we can't exactly write about on this website. One might even go so far as to say Princess Beatrice was the original British meme. (You go, girl?). They say never to upstage the bride on her wedding day, but this was one exception wherein the bride probably didn't mind—even Kate Middleton has a sense of humor. We give thee a B+, for substance over style and the fact that we're still laughing five years later.
Zara Phillips' Abstract Crow
Chris Jackson/Getty Images
We like what she's doing here. She couldn't decide if she wanted to wear a gaggle of ribbons leftover from the bridal shower or a hat to shield the sun, so she did both. Unfortunately her color palette is a bit too mournful for what is meant to be a joyous occasion. C-, Zara, and maybe a pop of red next time?
Miriam Gonzalez Durantez's Fake Flowers
Dave Thompson - WPA Pool/Getty Images
We couldn't think of a unique name for this topper, because it appears as though she literally just swiped some polyester blooms from the impulse section at JoAnn Fabric. We do appreciate the frugal nature if that was the case, though. B. 
Princess Anne's Lace-y Lilac
Ian Gavan/GP/Getty Images
Girl, you so British you don't even know what to do with yourself! Anne is the only daughter of Queen Elizabeth II and Prince Phillip, and she looked the part perfectly. If this fascinator doesn't scream Do you think my Mum would like this?, we don't know what does. Way to be a team player. A-. 
Princess Eugenie's Feather Taco
Pascal Le Segretain/Getty Images
Never one to be outdone by her sister, Eugenie showed up in her own outlandish concoction. It wasn't quite the zoological wonder that was Beatrice's fascinator, but she seemed to be preparing for a long church service by packing a tasty Tex-Mex snack on top of her head. The ingenuity of it all! A-. 
Victoria Beckham's Falling Fez
Danny Martindale/FilmMagic
Posh Spice, we bow down to you and all your British glory. For being one of the only non-Royal wedding attendees, she sure showed them who was the fashion boss. She is so trendy that she doesn't even need to wear her fascinators on her head—she goes straight to strapping it on her face. An A, with all the pluses in the world.
Ikon Pictures, PacificCoastNews.com
What happened here, Chelsy? Were you too busy worrying about how to impress your boyfriend's Grandmother, the Queen, that you forgot to buy a fascinator and then just grabbed the first piece of fabric you saw and glued a strap to it? We wanted to root for your reconciliation with Harry, but you're just going to have to try harder with your hat game. D-. 
Tara Palmer-Tomkinson's Canoe
At first glance we thought this was a ripoff of Princess Eugenie's feather taco, but there's a chance that coordinated with each other so we don't want to jump to conclusions. What we'll say instead is that a) she went to great and respectable lengths to be monochromatic and b) we appreciate the fact that her fascinator makes her approximately three feet taller than usual. Here's hoping she found someone she really hates to sit in front of. B+.