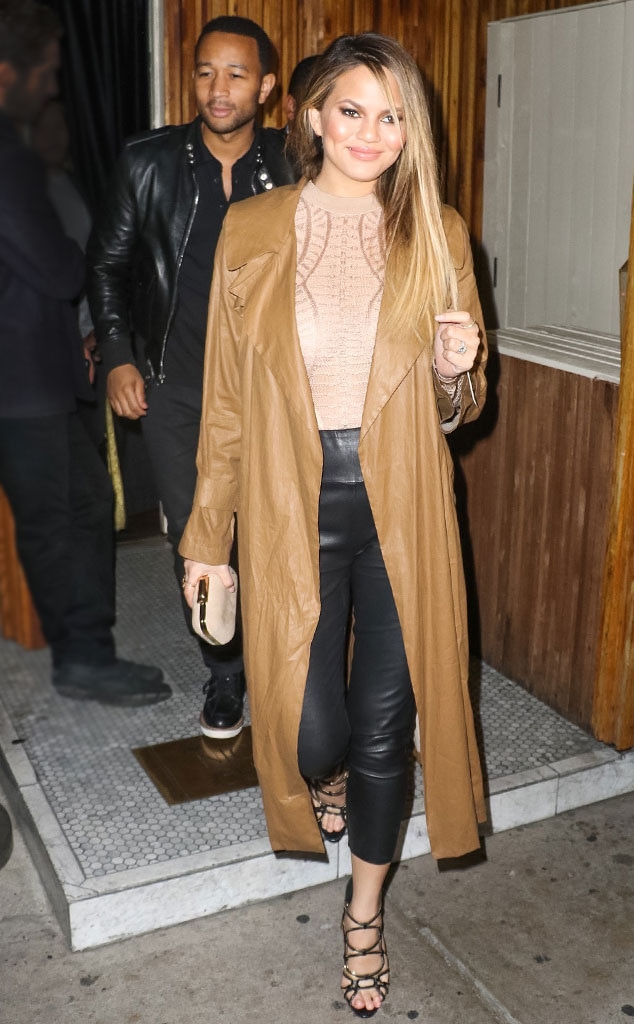 Elite Images / AKM-GSI
Apparently, Chrissy Teigen can't eat a meal in peace.
While some fans have been more than kind and thoughtful when it comes to the supermodel's new life as a mom, others are spending their weekend criticizing John Legend's wife for the strangest reason.
When photos surfaced showing the happy couple enjoying a date night at a Los Angeles restaurant Saturday evening, some followers immediately began to criticize the parents for stepping out.
"That spotlight pull be strong. One week. Who wants to leave a one week old baby to go to a bar?" one follower wrote. Another user added, "Yeah they could have ordered in…But it's like a competition with these self-absorbed celebs."
In true Chrissy fashion, the proud mom decided to speak out on Twitter with her signature humor and attitude that so many followers admire.
"I went to dinner. People are pissed. Good morning!" she wrote with screenshots of just a few of the nasty comments. "'I never wanted to leave my daughter, I love her, BUT THAT'S JUST ME' - the passive aggressiveness is real!"
When one fan asked how baby Luna was doing, Chrissy jokingly replied, "I dunno I can't find her."
All kidding aside, a source recently shared with E! News that the FABLife co-host and her husband are loving every second as new parents. And while there is plenty of sleep deprivation and diaper duty, it's all worth it in the end.
"John and Chrissy are in such a joyful place with their healthy baby girl Luna," a source close to the new mom told E! News. "They are surrounded by family and close friends. Chrissy and John can't stop gushing over Luna. She is perfect!"
And for those wondering what Chrissy ate during her date night, we have the details.
"Seared scallops with leaks and potato puree. delicious!" she wrote before realizing her spelling error. "leeks* - i will never forgive my autocorrect for that one."