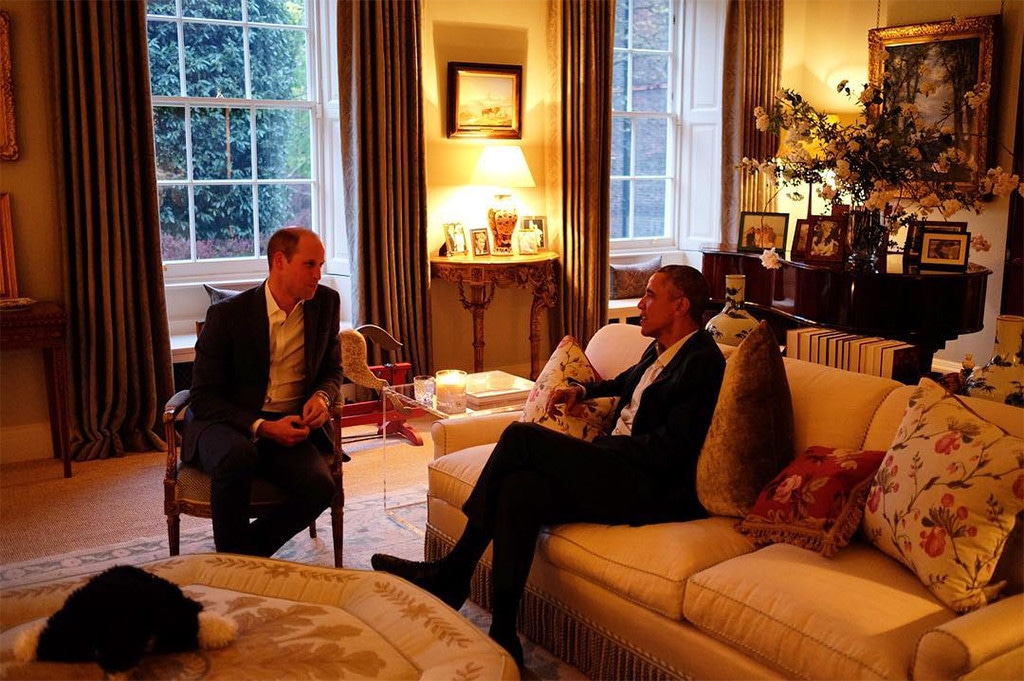 Kensington Palace
Welcome to Kensington Palace, Mr. President.
On Friday, President Barack Obama and First Lady Michelle Obama had dinner with Kate Middleton and Prince William at their royal London home, where they met the royal couple's eldest child, Prince George, 2. They group was also joined by William's brother Prince Harry.
Kate and William live in the four-story Apartment 1-A of the complex, while Harry also lives on the premises, in the two-bedroom Nottingham Cottage. Other royal family members and employees also live at Kensington Palace. William and Kate's late mother Princess Diana resided there until her 1997 death.
William and Kate's apartment has 20 rooms, including several for staff members, two nurseries, a built-in playground, two living rooms and a gym. Photos of the Obamas' meeting show some never-before-seen decor. Among the highlights are:
1. Flowers, flowers everywhere: A large vase of white flowers rests upon a table in the drawing room, while rose-printed cushions adorn a fancy beige couch. There are also gold-toned velvet cushions. On the other side of the room is another vase with pink flowers. 
Dominic Lipinski - WPA Pool/Getty Images
2. Family photos, including one with Diana: Like many families, framed pictures of William, Kate and the extended royal family are placed around the room. Photos show a teen William, the duchess wearing one of her many stylish hats, her parents and Diana, who is pictured with her sons.
A picture of either George or their daughter Princess Charlotte, who will turn 1 in May, at their christening hangs from the wall.
STEPHEN CROWLEY/THE NEW YORK TIMES
3. Don't slam your drink: William is seen sitting in an armchair, chatting with Obama, who is sitting on the couch, which rests beside a delicate, arguably out of place glass or acrylic end table bearing a lit candle and what two clear drinks.
STEPHEN CROWLEY/THE NEW YORK TIMES
4. The royals serve average-price booze in addition to the pricey stuff: Smirnoff Vodka on the liquor table, we see you. The royals—they know how to party.
5. Child's play: Yes, George can bring his toys to the living room, just like most non-royal kids. At least, for this visit. A plush Portueguese Water Dog, the breed of the Obamas' dogs Bo and Sunny, a toy the Obamas gave the little prince after he was born, rests on top of what appears to be a lavish octagon-shaped coffee table. Other photos show George sitting on a rocking horse the president and First Lady gave him for his first birthday.
The Obamas had previously met Kate and William in 2011 in Buckingham Palace weeks after the Royal Wedding and in 2014, when the royal couple visited the United States. Michelle had also met Harry during a royal visit to the U.S. last October.