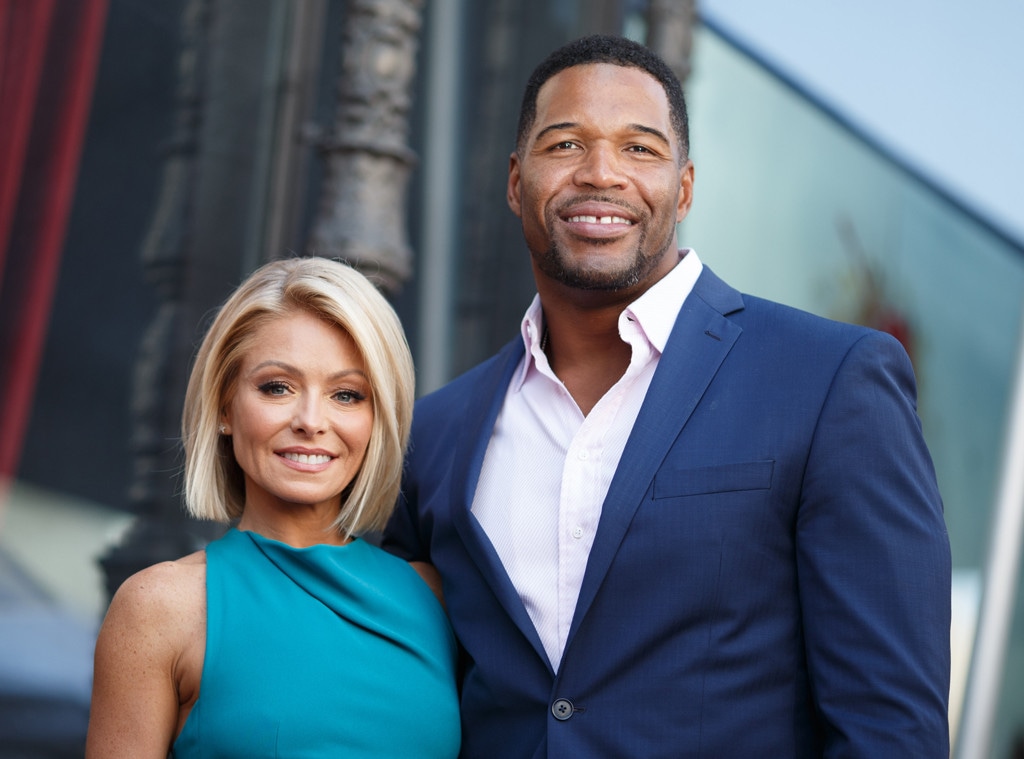 Mark Davis/Getty Images
For once, Kelly Ripa isn't smiling—and for good reason.
Live! With Kelly and Michael fans were surprised on Tuesday when it was announced Michael Strahan would be leaving the daytime talk show to join Good Morning America full-time in September. Just as shocked as we were? The woman who has spent four years by his side, and 15 years at Live!'s table. Turns out, Ripa basically found out about the major move along with the rest of us. And she was not happy about it, deciding not to appear on Wednesday's show and has yet to publicly comment on Strahan's exit (with a source telling us the two haven't spoken since it was announced). 
And you know what? Good for her.
Here's how I see it: Sure, Ripa is making A LOT of money hosting the show (reportedly $15 million per year). She's (probably) set for life. Her kids are (probably) set for life. But she's also made ABC and Disney, who distribute the show, A LOT of money. Her name is on the show—it's the first name on the show. She is, at least, half of the show. When the discussions about Strahan's departure started, she shouldn't have just been informed, she should've had a seat at the table. 
Instead, executives decided to inform Ripa of Strahan's exit on Tuesday morning in a meeting, which Strahan attended, along with Live!'s executive producer Michael Gelman, and Dave Davis, the general manager of WABC, just before the rest of us found out. Again, this is the person whose name is in the show's title. A source told E! News that Ripa was "livid" with how the situation was handled. And can you blame her? It was 2011 all over again, when she was informed of Regis Philbin's exit just 20 minutes before he announced it on-air. Forget being offered a chair at the table; she wasn't even invited to the party.
Five years ago, Ripa showed up the next day to do her job (though she and Philbin did not speak for years after his exit). This time around, Ripa took a different approach. She was absent from Wednesday's show, with Ana Gasteyer filling in for her. A rep for the show explained Ripa would be absent until next week due to a "previously-scheduled vacation," which has reportedly now been canceled due to the Live! madness. The vacation? Oh, just her 20th wedding anniversary trip with husband Mark Consuelos and her family. 
Of course, Ripa's absence lead to a flood of coverage, with headline after headline and think-piece after think-piece analyzing the situation and Live!'s future. (It was recently renewed through 2020 and the show's producer are saying they are committed to its future.) Everyone waited with bated breath for Strahan to address his exit on-air. And he did and it was lovely, with the former NFL star thanking Ripa, saying, I've learned so much from her, and she's just been an amazing influence on me." Still, it felt a little off, mostly because it wasn't Ripa sitting in the seat next to him.
In a conversation with a friend about the clusterf--k (Is there a better word for this situation?), I found myself focusing on their view that Ripa should still be showing up to work, despite her unhappiness, because she's "being paid millions of dollars to do this job."
And that's true. She is. But does that mean she shouldn't demand to be treated with the same respect her male co-stars? (It's worth noting Strahan reportedly did not have a say in how Ripa was told the news, with executives wanting to prevent any leaks.) 
Frank Lewis/startraksphoto.com
"Some of this is about gender roles—about mostly male bosses and a female star and about how women on television are treated," CNN's Brian Stelter told E! News, and Ripa's situation reminds me of the op-ed Jennifer Lawrence penned for Lena Dunham's Lenny Letter in 2015, about the gender wage gap in Hollywood. In it, she acknowledged that her "problems aren't exactly relatable," given her celebrity status and salary, but still faced major backlash over speaking out about making less money than her male co-stars. "Some news show called my essay a 'bratty display,'" Lawrence told Entertainment Weekly after her piece was published. Similarly, Ripa's actions are being called into question as possibly being "petty" and unprofessional by the media and viewers.
Like Lawrence, there's no arguing that Ripa's problems are relatable for most people. But that doesn't mean she should let the powers that be know they can treat her this way and she'll still plaster a smile on her face, offer adorable anecdotes about her children and pretend it's OK. Because it's not; she deserves better and isn't apologizing for being aware of that. That's not being petty, it's demanding respect from the people you've worked with for 15 years who didn't give your opinion or feelings a second thought—twice in five years—when making a major decision about the show with your name in the title.
No wonder she was just spotted walking in NYC with a copy of David and Goliath: Underdogs, Misfits, and the Art of Battling Giant.
Watch:
Was Kelly Ripa Disrespected By ABC?