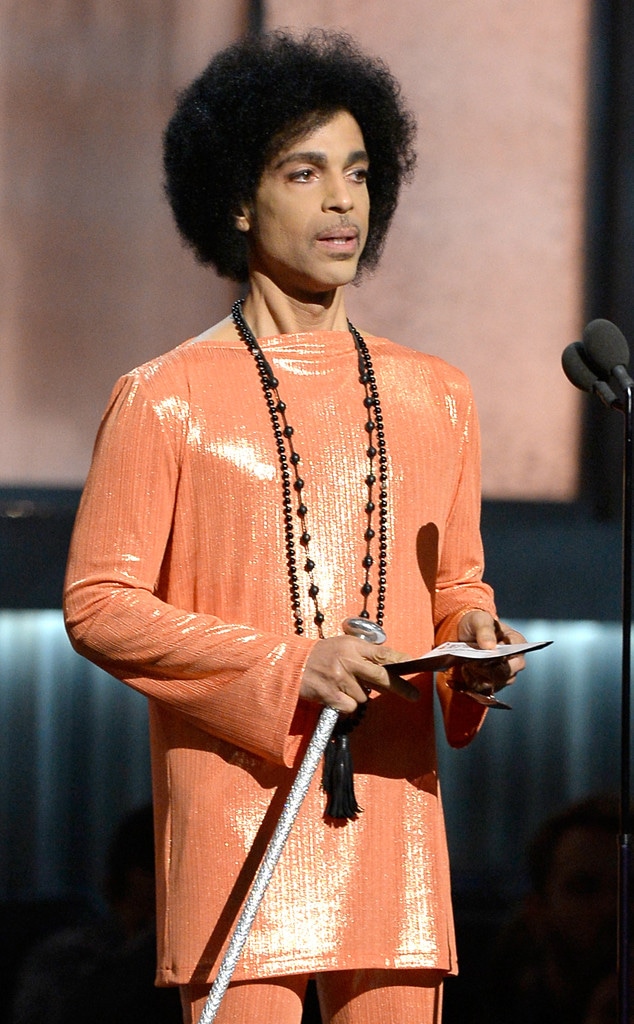 Kevork Djansezian/Getty Images
The music world has lost another legend.
World renowned pop artist Prince has died at age 57. The singer was found dead at his Paisley Park estate and studio in Chanhassen, Minnesota Thursday, two sources told E! News. Prince's rep later confirmed his death.
"It is with profound sadness that I am confirming that the legendary, iconic performer, Prince Rogers Nelson, has died at his Paisley Park residence this morning at the age of 57," the rep said in a statement to NBC News. "There are no further details as to the cause of death at this time."
The Carver County Sheriff's Office said in a statement to E! News police found Prince unresponsive in an elevator inside the property and that first responders were unable to revive him via CPR. He was pronounced dead just after 10 a.m. Police are investigating the circumstances of his death.
Peter Still/Redferns/Getty Images
Earlier this month, Prince said he was feeling unwell and canceled two concerts in Atlanta. Last Thursday, he performed one concert in the city.
"Prince sounded amazing!" a concertgoer told E! News. "He was energetic and the crowd went crazy. It was a memorable night with a packed house. He seemed really happy with his performance."
But after the show, his plane then made an emergency landing in Moline, Illinois and the singer was hospitalized. TMZ and other outlets had said he suffered from the flu. His rep later said, "He is fine and at home," according to CNN.
"Just a week or so ago, he started not feeling unwell and expressed that to a few close friends," a source told E! News exclusively. "He never spoke about what the illness was, only that he was just fighting a cold and he will get better and not to worry. He never liked to complain. He never wanted to show pain. Ever." 
This past Saturday, Prince appeared at a Paisley Park dance party, where he reassured fans about his health status. The singer has often performed shows for the public at the studio.
"Wait a few days before you waste any prayers," he said, according to The New York Daily News.
The source had told E! News that earlier this week, Prince was supposed to meet up with a few people for dinner but canceled and said he was still not feeling well and he needed to reschedule.
Another source said the singer "has been sick since his plane had to have an emergency landing," adding, "He was very religious and adamant about not taking any sort of medication.
Prince became a Jehovah's Witness in 2001, The Los Angeles Times reported. According to the Jehovah's Witnesses website, members may accept medicines and medical treatments if they do not "conflict with Bible principles." Blood transfusions are discouraged.
Jeff Kravitz/AMA2015/FilmMagic
Prince was working on a "few key projects," including new music, before his illness and death, the first source told E! News.
"Prince was extremely happy and upbeat about life and his music a few weeks ago," the source added. "His energy was high and he was feeling healthy."
Prince appeared to be in great spirits when he attended a Golden State Warriors vs. Oklahoma City Thunder NBA game in March. He was filmed walking courtside with a cane, which he has sported for many years, reportedly due to hip problems.
Prince also had epilepsy.
"I've never spoken about this before but I was born epileptic and I used to have seizures when I was young and my mother and father didn't know what to do or how to handle it, but they did the best they could with what little they had," he said on the PBS show Tavis Smiley in 2009. "the My mother told me one day, I walked in to her, and said, 'Mom, I'm not gonna be sick anymore' and she said, 'Why?' and I said, 'Because an angel told me so.'"
"Now, I don't remember saying it, that's just what she told me," he said. "And from that point on I've been having to deal with a lot of things—getting teased a lot in school and you know, early in my career, I tried to compensate for that by being as flashy as I could and as noisy as I could."
In addition to his music, Prince was known for his elaborate, eclectic stage styles.
The singer was born in 1958. His father was a pianist in a Minnesota jazz band. He rose to fame in the late '70s and was most popular in the '80s and early '90s and won seven Grammy Awards throughout his career.
Dubbed the "Purple One," Prince released hits such as "Little Red Corvette," "When Doves Cry," "Let's Go Crazy," "Cream," "Diamonds and Pearls," "1999"—which became an anthem for many schools' and colleges' graduating classes, "Kiss"—which Julia Roberts' character famously sang in a bathtub scene in the movie Pretty Woman and the iconic "Purple Rain."
A 1984 album with the latter name remains one of the singer's most successful and inspired a rock musical film with the same title, in which Prince made his film debut. He won an Oscar for the movie's original song score.
Prince's music has also been used in movies such as Batman in 1989 and Pretty Woman in 1990.
The singer, who many saw as a rival to Michael Jackson during his prime years, last released new music in 2015—the album Hit n Run Phase Two. A year earlier, he dropped Art Official Age and Plectrumelectrum, marking his first records released by Warner Bros. Records since he famously parted ways with the record company in the 1990s amid disagreements over his contract, namely with regard to ownership rights.
Before he left the label, Prince identified himself by a "love symbol" and was known as The Artist Formally Known (as Prince). He also sported the word "Slave" on his face during concerts to signal his protest.
Richard E. Aaron/Redferns
"Well, I had searched deep within my heart and spirit and I wanted to make a change and move to a new plateau in my life and one of the ways in which I did that was to change my name and sort of divorce me from the past and all the hang-ups that go alon with it," Prince told CNN in 1999.
The public, he said, came up with his alternate name.
"['The Artist Formerly Known as'] came up through people's problem with, mainly the media's problem with, not having a pronunciation for the symbol, so they had to come up with something, I guess," the singer told CNN.
He changed his name back to Prince in 2000. 
Kevin Winter/Getty Images
Prince was extremely private and when he did give an interview, he often made headlines. In 2010, he famously declared in an interview with the U.K. newspaper The Daily Mirror that "The Internet's completely over."
"I don't see why I should give my new music to iTunes or anyone else," he said. "They won't pay me an advance for it and then they get angry when they can't get it."
"At one time, MTV was hip and suddenly it became outdated," he added. "Anyway, all these computers and digital gadgets are no good. They just fill your head with numbers and that can't be good for you."
Prince revisited his comments about online music in an interview with the U.K. newspaper The Guardian, published last November.
"What I meant was that the Internet was over for anyone who wants to get paid, and I was right about that," he said. "Tell me a musician who's got rich off digital sales. Apple's doing pretty good though, right?"
Prince's music is available for purchase on iTunes but was removed a while ago from Spotify and other music streaming services, at his publisher's request. His albums jumped to the top of iTunes' best seller list Thursday following news of his death, Time magazine reported.
Watch E! News at 7 p.m. tonight for more on Prince.