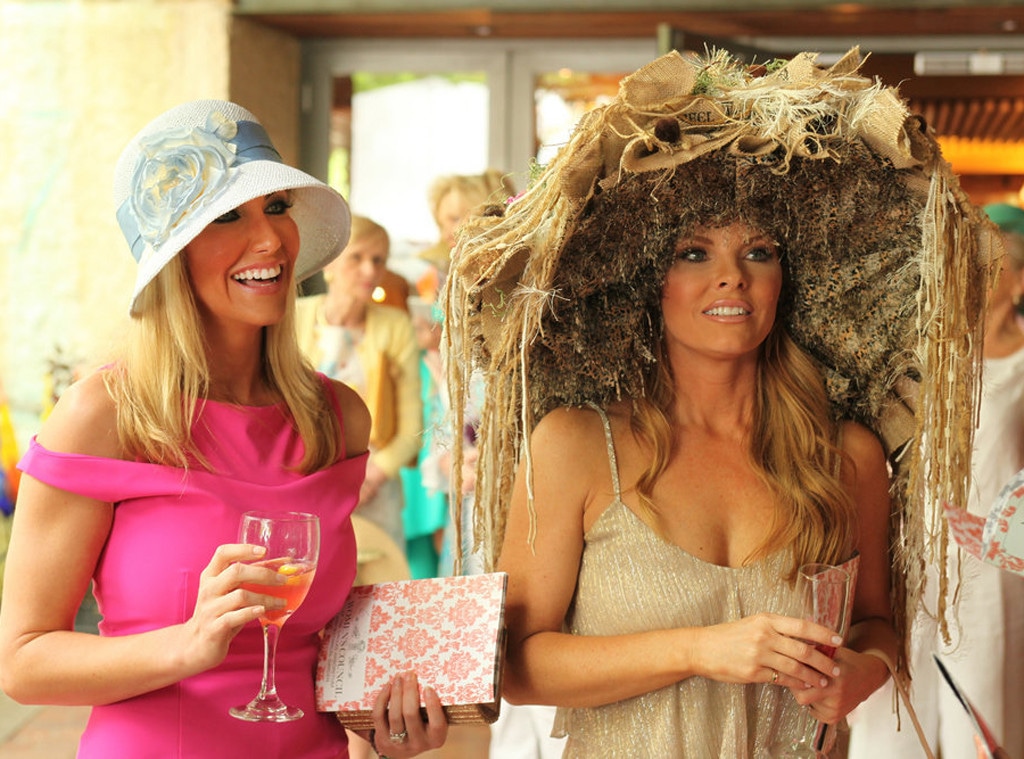 Bravo
Forget charity. If there was one thing The Real Housewives of Dallas couldn't stop talking about during their second episode on the air, it was poop.
Seriously, we've never seen a group of Bravolebrities talk toilet like this. Gone are the days when the likes of Lisa Vanderpump and Luann de Lesseps reigned supreme, looking down on such undignified language. We are firmly in the age of Brandi Redmond and her poop-positive worldview—and it's kind of awesome.

Brandi doesn't have time for anyone's ideas of decorum. She's going to attend your Mad Hatter's Gala to benefit the Dallas Arboretum and she's going to festoon her hat with all manner of fake dookie and there isn't a damn thing you can do about it!
What follows are our favorite fecal-related quotes (with a few unrelated gems mixed in because these ladies are too good) from tonight's new episode. It's but a small offering from the hour because, seriously, there was just so. much. poop. talk. Enjoy!
The Night's LOL Lines:

"I'm doing Poop in the Park." If you name your poop hat, does that make it art? Asking for a friend.

"My hat is beautiful. It has green moss, little brown rabbit turds. It has a toilet seat poop, and a dog poop, and a dog on it." Imagine Brandi at the Met Gala. Just imagine it. Who can we petition to get her there?

"Stephanie definitely wants to wear a poop hat, but Stephanie cares a little bit more and, you know, she's just a people-pleaser." We feel your struggle, Steph.

"I decided to start teaching myself and I found the steepest hill I could find and stood at the top and would throw myself backwards. I'd land on my side, I'd roll all the way down the hill. And eventually, I actually taught myself how to do a back handspring." Brandi told the same story the day she tried out for the Dallas Cowboys cheerleaders, we bet.

"I just wanted her to learn some basic choreography moves that hopefully she can use." Why does Marie's 10-year-old daughter need a basic stable of go-to moves? Can someone explain this to us?

"Mommy is no Martha Stewart for sure," Brandi said, as she opened a bag of dry cake mix with one hand and held a puppy nearly over the bowl in her other.

"Zuri already knows English. She's working on Spanish, French and a little bit of Swiss-German. She's an international baby." Zuri is two and could barely say "I took a nap."
"Did you know we've been married 11 years and we've never seen each other pee?" Tiffany asked her realtor. Why would she know that, Tiffany?!

"I think she's making out with the dog." This was said about a child. Carry on.

"Travis has fur coats and we live in Texas." After seeing those fur coats, we want to know what Travis is doing with them. We want a whole spin-off series about it.

"That was like jizz." Brandi sees the world in such a delightful way. (This was about wasp's nest removal spray, btw.)

"If I'm gonna wear s--t, I'm also gonna try to look good in s--t." Stitch that on a pillow, Brandi.

"I just really can't believe her husband's letting her do all this." Of course, this is what a random man had to say about Brandi. At a place where another random man was wearing a top hat and gigantic leather suspenders in a black and green Louis Vuitton pattern over a T-shirt.

"Go put that turd on that chair." Cary was really you-know-what-stirrer at Mad Hatter's.

"Embrace poop, people, because everybody does it. And if you're not doing it, something's wrong. Everybody has s--t." Embrace it, people! Because we've got a whole season of this to look forward to.

What did you think about all the potty humor? Are you into it or is it time to flush? Let us know in the comments below!

The Real Housewives of Dallas airs Mondays at 10 p.m. on Bravo.

(E! and Bravo are both part of the NBCUniversal family.)
Watch:
"RHOD" Cast Shares Advice They Got From Other Housewives