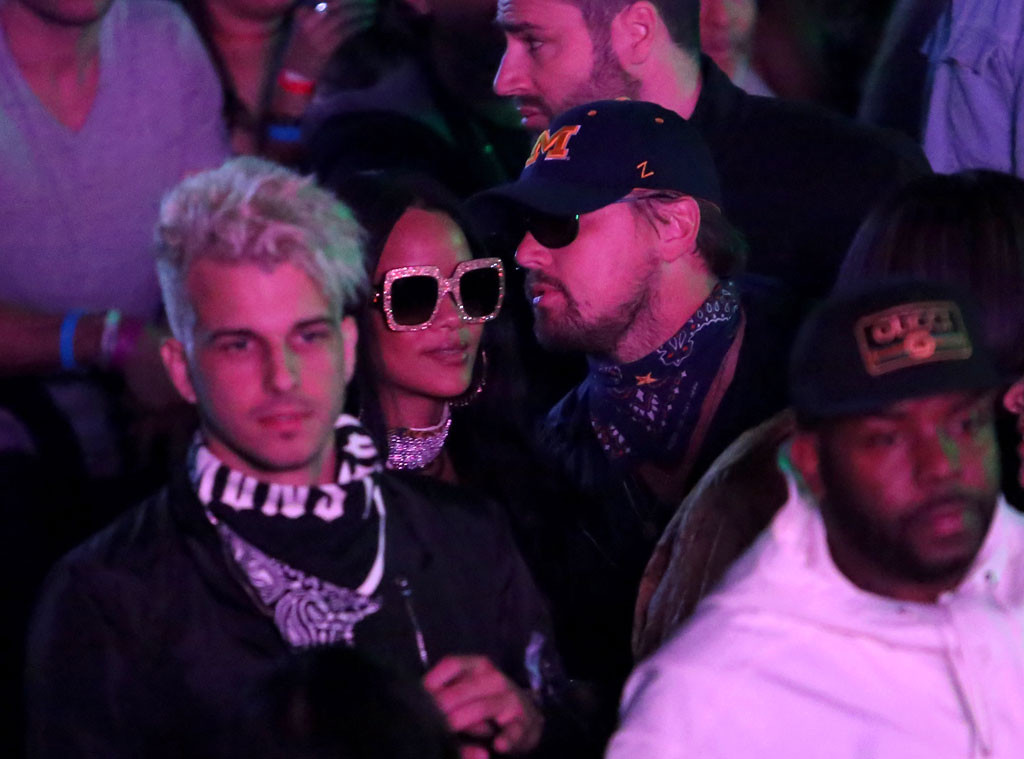 Jesse Grant/Getty Images
Oh, these two. So much hip, talented, artfully disheveled hotness between them.
We're of course talking about Rihanna and Leonardo DiCaprio, who with his winning awards season behind him has reverted back to his between-projects ways: the scruff is back, he's all about having a good time and he's the subject of a new batch of hookup rumors.
Nothing new, considering any lucky fellow who parties with Rihanna tends to find himself the target of more-than-friends-with-RiRi speculation (may we introduce you to our old friend Drake), but this isn't the first time that the platinum-selling artist and the Oscar-winning actor have looked rather close.
Rihanna and Leo were spotted enjoying Neon Carnival at Coachella this past weekend, the exclusive after-party proving a magnet for celebs of all stripes once again in 2016. They didn't arrive together, but the actual time spent together was more than an "oh hey, what a coincidence!" moment.
Come on, he's single, she's single... they're not anti-mingle... Sexy stuff, right? Let's take a look out how their seemingly random friendship came to be—as it turns out, their common interests go beyond livin' large and lookin' good...
Tomokazu Tazawa/FilmMagic, Richard Corkery/NY Daily News Archive via Getty Images
In 2007, both Rihanna and Leo participated in the global Live Earth event in 2007, she as one of the headliners in Tokyo and he as a speaker in New York's Central Park. So maybe they didn't actually meet on that day nine years ago, but Rihanna's participation in an event that would have hit so close to DiCaprio's heart (and still would to this day, Leo remaining one of the biggest celebrity champions of environmental causes in Hollywood) can't have but added to whatever chemistry sparked when they finally did meet.
Jeff Kravitz/MTV Hope for Haiti Now via Getty Images, Dave M. Benett/MTV via Getty Images
It would have been a similar scenario a few years later when both appeared on the Hope for Haiti Now telethon in 2010—Rihanna from London, Leo from L.A. Still on different continents, but still an indicator that they have more in common than joie de vivre.
Considering their cosmic paths crossed every few years, then they were right on track to actually shake hands in 2013 or 2014. The first whispering of a rumor hit the hookup radar when they both rang in 2015 from the comforts of St. Barts—though there's no evidence that either was any the wiser to the other's presence on the celeb-friendly island.
They weren't seen looking friendly in the same place at the same time until later in January at the Playboy Mansion, where they both attended a mutual friend's birthday party. Then a few nights later their paths crossed again at Caleb Followill's birthday bash at West Hollywood's Sunset Marquis hotel and they hung out during the festivities.
Still, one source assured us that they were just friends, while another insider insisted this was nothing new, that the two had actually hung out "a long time" beforehand (see, celebs can party quietly) and the happily flirty Rihanna wasn't looking to get serious with anybody.
Both career-minded, yet another thing to talk about at Rihanna's PDA-packed 27th birthday party in the Hollywood Hills, and when they met up again in March 2015 at another private party in Beverly Hills.
So off these two go on their separate ways, no longer in L.A. at the same time, with Leo embarking on his press tour for The Revenant and Rihanna off touring. In the meantime, she was romantically linked to Lewis Hamilton and Karim Benzema, but neither friendship joined the ranks of any great love affair for the singer.
In an interview for the November 2015 issue of Vanity Fair, Rihanna dispelled the notion that she was into casual hookups, acknowledging that dating is tough but meaningless sex can just be depressing.
"That's why I haven't been having sex or even really seeing anybody," she told the magazine, "because I don't want to wake up the next day feeling guilty. I mean I get horny, I'm human, I'm a woman, I want to have sex. But what am I going to do—just find the first random cute dude that I think is going to be a great ride for the night and then tomorrow I wake up feeling empty and hollow? He has a great story and I'm like...what am I doing? I can't do it to myself. I cannot. It has a little bit to do with fame and a lot to do with the woman that I am. And that saves me."
But the flames were fanned yet again this past January, when Leo and RiRi were seen nightclubbing in Paris together.
Yet again, a source insisted that they're just flirty friends who have a great time together, enjoying that they can just relax and have fun—and that story has not changed one bit since.
Aside from the two of them possibly making efforts to see each other (though jetting in and out of exotic locales—such as the Southern California desert—hardly even qualifies as effort for celebrities), they are just pals.
Pals who frequent the same parties.