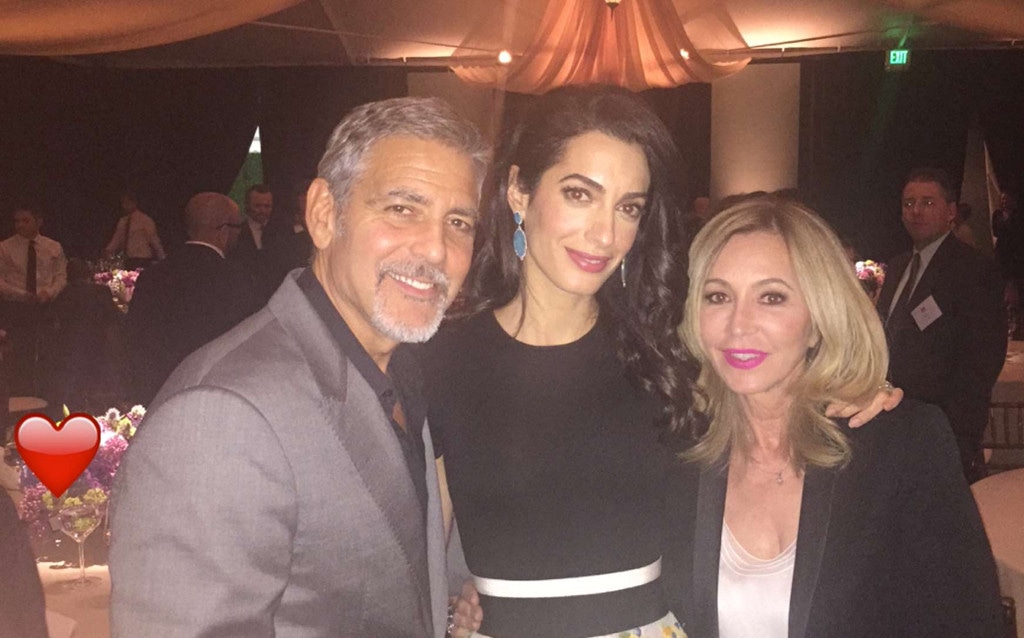 Anastasia Beverly Hills / Snapchat
It was a star-studded—very expensive—night at George Clooney and Amal Clooney's Los Angeles home Saturday night.
The two co-hosted a fundraising dinner for Democratic presidential candidate and party frontrunner Hillary Clinton. The event was attended by the likes of Ellen DeGeneres and wife Portia de Rossi, Jane Fonda, Anna Wintour and The Big Bang Theory star Jim Parsons.
"The night went really well," a source told E! News. "The event was about four hours and George gave a really great speech."
Amal, known for her chic outfits, sported a maxi dress with a black and white-trimmed bodice and colorful, floral skirt. George wore a gray suit and black shirt and sported a goatee.
Anastasia Soare, founder of beauty brand Anastasia Beverly Hills, was also present and posted a slew of photos and videos on her Snapchat.
Anastasia Beverly Hills / Snapchat
Anastasia Beverly Hills / Snapchat
Guests dined on dishes such as beef tenderloin, Chillean sea bass, warm strawberry rhubarb crumble with whipped cream and chocolate chip ice cream sandwiches.
Anastasia Beverly Hills / Snapchat
At the event, Clinton floated between the Clooneys' head table and another one hosted DreamWorks Animation CEO Jeffrey Katzenberg, Variety reported. About 150 people attended the events and tickets were priced at $33,400 per person, the outlet said, adding that the co-hosts contributed $50,000, and event co-chairs contributed $353,000. Clinton attended a smaller fundraising event at the Katzenbergs' Beverly Hills home, Variety said. Proceeds went to the Hillary Victory Fund.
Down the street from George and Amal's house, supporters of Clinton's rival Bernie Sanders staged a protest. They also held their own fundraiser—for just $27 a head.
Anastasia Beverly Hills / Snapchat
Sanders supporters also protested another Clinton fundraiser the Clooneys had also hosted Friday night in San Francisco, which cost up to $353,400 per couple to attend.
"It is obscene that Secretary Clinton keeps going to big-money people to fund her campaign," Sanders said on CNN on March 27.
"We had some protesters last night when we pulled up in San Francisco and they're right to protest. They're absolutely right," George said on NBC's Meet the Press in an interview that aired Sunday. "It is an obscene amount of money."
"The Sanders campaign, when they talk about it is absolutely right," he added. "It's ridiculous that we should have this kind of money in politics. I agree completely."
George had also hosted a fundraiser for President Barack Obama for his 2012 re-election campaign and raised $12 million.
Watch:
George Clooney in 1995 - E! Looks Back
(E! and NBC are part of the NBCUniversal family.)