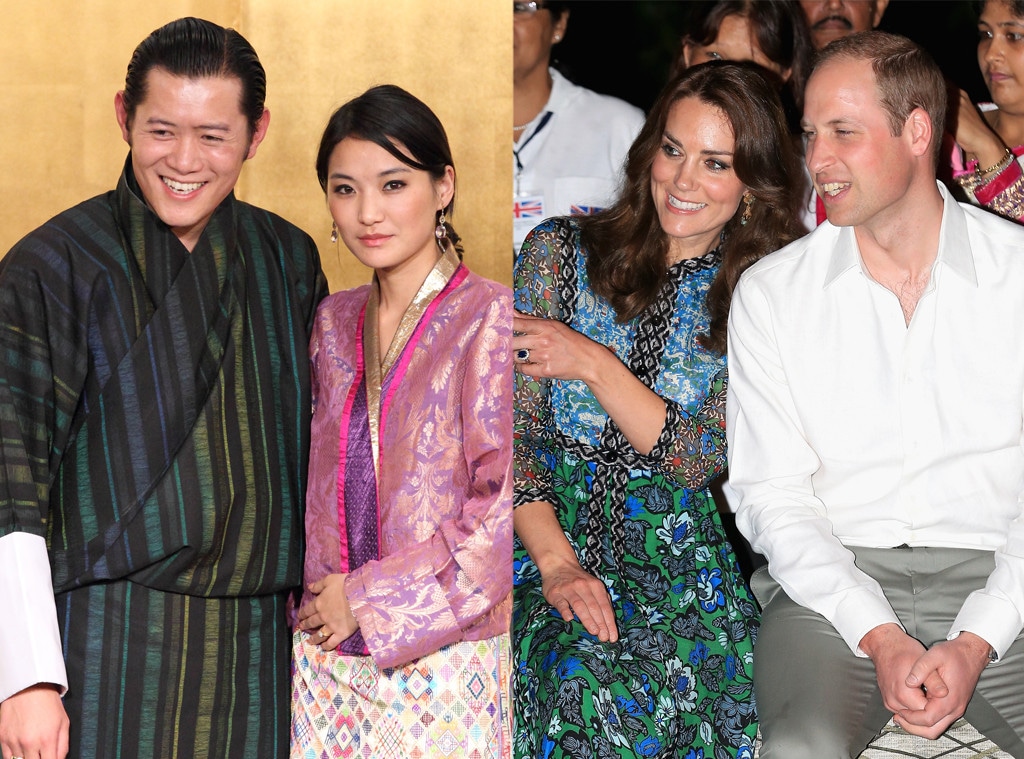 Masatoshi Okauchi/REX/Shutterstock; Chris Jackson/Getty Images
The King of Bhutan met the woman who would one day become his bride when he was a teenager. According to local legend he was at a picnic when, out of the blue, a then 7-year- old Jetsun Pema ran up to him and gave him a hug. Apparently he told her: "When you grow up, if I am single and not married and if you are single and not married, I would like you to be my wife, provided we still feel the same."
Little would either of them have thought to take that proposal seriously.
But years later they would meet again, and ultimately Jigme Khesar Namgyel Wangchuck really did fall head over heels in love with Jetsun Pema. Now they are commonly referred to as the "William and Kate of the Himalayas"—and like their western counterparts, they are paving the way for a new kind of royal family in the remote Southeast Asian country of Bhutan.
Tomorrow the Duke and Duchess of Cambridge will begin a 24-hour double date with the much-beloved pair, and there will be plenty to talk about.
In fact, despite living on opposite sides of the globe, their worlds are strikingly similar—beyond the obvious fact that both couples are genetically blessed. Here's why "Will and Kate of the Himalayas" and Will and Kate of Britain are going to get along famously during their time together:
Paula Bronstein/Getty Images
1. Prince William and King Jigme each married a commoner.
Like Kate, Jetsun's dad had a career in the aviation industry; he was a pilot for an airline. Similarly, before creating their company Party Pieces, Kate's dad worked as a flight despatcher, while her mom toiled as a flight attendant. So for both young ladies, marrying an heir to the throne was not something either could have ever imagined. As Jetsun's former teacher Kinley Pem once explained, "She doesn't have any airs. I think she didn't even dream of becoming a queen."
While Jetsun's family did have some royal connections, she was certainly not the most obvious choice for the handsome bachelor, who is so charismatic he is actually sometimes referred to as Prince Charming. But as fate would have it, Cupid's arrow hit the bull's-eye when they met for a second time. After dating for a few years, the pair moved in together out of wedlock (mirroring William and Kate, who first lived together while at university).
Jetsun and Jigme shacking up caused quite a scandal among more conservative circles in the predominantly Buddhist country, but soon the critics were silenced. Eight months later, in October 2011, they made it official and tied the knot.
Their fairy-tale marriage was huge for the nation and even televised (a particularly big deal considering TV was banned in Bhutan until 1999). And they made sure not to disappoint their viewers. Once the five-hour ceremony was complete, King Jigme walked the new queen outside to greet the ecstatic 30,000-strong crowd. When he asked the masses if he could kiss his bride, an answer came in the form of a huge cheer—so he gave Jetsun a history-making smooch on the lips (much like William and Kate's balcony kiss on their wedding day earlier that same year). 
Jigme and Jetsun have continued their PDA fest well beyond that magical day and are often seen holding hands in public. It's an unusual sight in Bhutan, as theirs is a union born of love rather than an arranged marriage. 
"I have been waiting for quite some time to get married, but it doesn't matter when you get married as long as it is to the right person," Jigme, who was 31 when they married, said at the time. "I am certain I am married to the right person. She is a wonderful human being. Intelligent. She and I share one big thing in common, a love and passion for art."
Jigme has also declared that Jetsun will be his only wife (his father has four wives, as tradition allows in Bhutan).
Paula Bronstein/Getty Images
2. Marrying for love has given both couples the normal touch.
Just like William, Jigme represents a new generation of royals by heading up a modern monarchy that prides itself on being in touch with its subjects. Jigme's dad abdicated the throne so his son could make seismic changes to a country that only recently got access to the Internet and still doesn't have a traffic light.
And the "People's King," as he is otherwise known, is determined to bring the ancient kingdom into the 21st century. He was educated in both the United Kingdom and the United States so he could learn about other cultures (Jetsun also went to college in London to study art history, the same subject Kate concentrated in). And since his coronation, he has promised to try to meet every single one of his country's 750,000 citizens; he's even been known to invite people in for an impromptu cup of tea.
Shekhar Yadav/India Today Group/Getty Images
3. Kate and Jetsun have both become huge style icons.
Kate's impeccable wardrobe has landed her on countless best-dressed lists around the world and Jetsun might soon be joining her. Twenty-one when she became the youngest queen in the world, the now 25-year-old royal is fast becoming one of Asia's brightest fashion stars thanks to her unique style of wearing very vibrant traditional kiras, the national dress for Bhutanese women. One glimpse at her Instagram account and you'll see just how beautifully she dons her country's traditional attire. And when she is traveling overseas, Jetsun favors pencil skirts and tailored jackets, influencing even more sartorial copycats.
Royal Office For Media/picture-alliance/dpa/AP Images
4. Both couples are new parents.
On Feb. 5, the Dragon King and Queen welcomed their first child to the delight of an infatuated country. The couple announced the birth using social media, following William and Kate's lead with Princess Charlotte. Their son is currently referred to as The Gyalsey, which means "prince," but his official, full name, is expected to be announced this weekend (on the same day William and Kate leave the country and continue their trip to the Taj Mahal). After The Gyalsey's birth, thousands of Bhutanese volunteers planted 108,000 trees to honor their new heir, 108 considered a sacred number in many Eastern religions, including Buddhism.
It's unimaginable that part of tomorrow's dinner won't be spent by the proud parents swapping tales and pictures of The Gyalsey, George and Charlotte.
Arthur Edwards - WPA Pool/Getty Images
4. They all share a love of sport.
As we well know Kate was a field hockey fanatic growing up and her Bhutanese counterpart definitely shared her love of a good athletic competition. Jetsun is known to be very active in sports and was even captain of her school basketball team. Jigme shares his wife's passion for hoops, a love developed when he was in the U.S. and played varsity basketball. He's a huge follower of the NBA (his favorite team being the Philadelphia 76ers) and he's even said to have a pretty good shot himself.
Nowadays he's more likely to be found on the pitch. Locals in the capital city of Thimphu, where Jigme and Jetsun reside, say he is sometimes seen playing soccer with the local kids. William can relate, as he will often go to the park to kick around a soccer ball with his mates.
Ray Tang/REX/Shutterstock
5. Conservation is close to their hearts.
Bhutan is often called "The Forbidden Kingdom" thanks to it being home to some of the tallest peaks in the Himalayas. It is breathtakingly beautiful and the country's new queen is keen to protect it. Like William, who has pledged to do all he can to preserve wildlife habitats in Africa and Asia, Jetsun is a massive advocate of environmental issues (she is Patron of the Royal Society for Protection of Nature). She also shares Kate's passion for helping kids and works with various charities to improve the lives of children.
Just like their new European friends, the King and Queen of Bhutan are carrying a lot of responsibility on their shoulders. There's no denying that the attractive and personable young royals help boost the country's profile; but more importantly, they want to build and sustain a modern monarchy for modern times.
It looks as though William and Kate are about to meet their match.
Tune into E! News tonight at 7 & 11 p.m. for the latest details on Prince William and Kate Middleton's tour of Southeast Asia and their meeting with the King and Queen of Bhutan