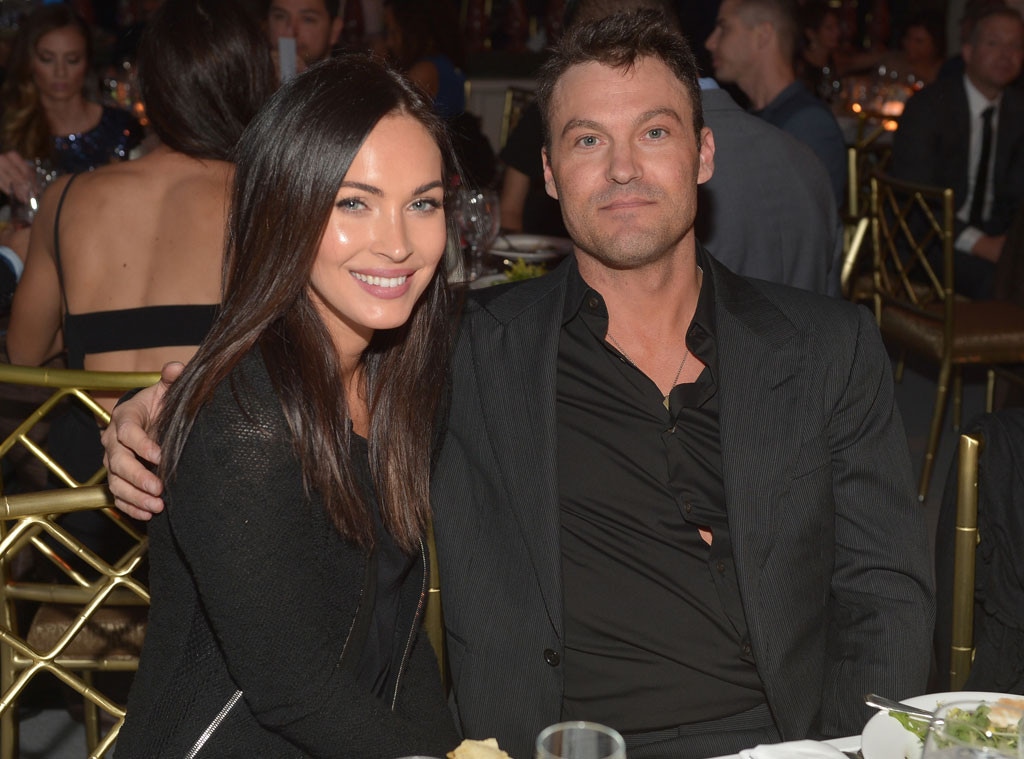 Charley Gallay/WireImage
Megan Fox and Brian Austin Green's love story is a long, complicated one with its fair share of ups and downs.
It came as quite a surprise when the Teenage Mutant Ninja Turtles star filed for divorce this past August, but it was an even bigger shock on Monday when she debuted an unmistakable baby bump at CinemaCon in Las Vegas. Megan quite hilariously confirmed B.A.G.'s paternity with a cheeky Instagram post on Tuesday (she noted that three of her recent co-stars—Shia LaBeouf, Will Arnett and Jake Johnson—were #NotTheFather of her baby-to-be). This will be the third child for Megan, 29, and Brian, 42, who have two sons together—Noah, 3, and Bodhi, 2. Brian also has a son Kassius, 14, from a previous relationship. 
Chris Pizzello/Invision/AP
The actors have made it very clear at every stage of their split that their sons' well-being is of utmost importance to them, and Baby No. 3 will undoubtedly be a top priority in their lives as well. There's also a chance that Brian and Megan's third child together will impact the course of their relationship (and perhaps even the state of their marriage).  Their divorce is still pending, but as one insider tells E! News, it "will likely be put on hold for a while" now that Megan and Brian are expecting.
"This pregnancy was not planned," adds a source, "but when they found out they were extremely happy."
Could this unexpected blessing bring Megan and Brian back together for good? Let's take a look back at the changing course of their romantic timeline through the years.
Denise Truscello/WireImage/ABC
2004: Megan initially met Brian when he guest starred on an episode of Hope & Faith called "9021-Uh-Oh." Brian played himself and was the comical love interest of Kelly Ripa, the mom of Megan's character.
In a 2009 interview with the New York Times, Megan recalled meeting Brian for the first time. "I didn't know who he was from 90210, but I liked him right away," she said. "Everyone was around the monitor watching a scene, and Brian accidentally touched my leg. I remember literal electricity shooting through me and out me from every direction. It was like magic."
At the time, Megan was 18 and Brian was 30, but that didn't stop them from dating off the bat. "I had to convince him that I was slightly more responsible and well-spoken and had other things to bring to the table besides being 18," she later told Elle magazine.
And clearly, she did just that... 
Todd Williamson/WireImage.com
2006: After two years of dating, Megan and Brian got engaged in November 2006. The pair mostly remained mum about their relationship in this pre-social media age, but they did drop a few clues here and there about their plans for a life together. In 2008, for example, Brian shot down breakup rumors when he confirmed to People that he and Megan were still engaged and planning a "small" ceremony. "Originally we were talking elopement," he noted, "and now we might have a few people there."
But then, plans changed.
2009: In February 2009, Megan and Brian called off their engagement. A source told People at the time the "decision was mutual" and that the actors were "still friends. " 
2010: Just a few months after calling it quits, Brian and Megan were going strong once again. In June 2010, Megan's rep confirmed her engagement to Brian was back on, just days later, the pair married in a top-secret ceremony at the Four Seasons Hotel resort on the big island of Hawaii.
"[We have] the most backwards, f--ked-up love story you've ever heard. And it worked," Brian told Details magazine (as excerpted by InTouch and Life & Style) after they exchanged vows.
"And the day that I said, 'I do,' I've never been more sure of anything in my life. And it was the absolute perfect start to what we hope will be an amazing life together."
2012: On Sept. 27, 2012, Megan and Brian welcomed son Noah. 
Megan confirmed the joyful news on Facebook, calling her firstborn, "healthy, happy and perfect."
"We are humbled to have the opportunity to call ourselves the parents of this beautiful soul," she wrote, "and I am forever grateful to God for allowing me to know this kind of boundless, immaculate love."
2014: Megan and Brian welcomed their second son together, Bodhi, on Feb. 12, 2014. 
Family life seemed to suit the Greens. Although Megan admitted parenthood put a major damper on her sex life with Brian, she spoke about how having children actually brought them closer together.
In an interview with Cosmopolitan's August 2014 issue, Megan was asked about the "glue" between her and B.A.G.'s relationship. "A big part is that we respect each other as parents," she said. "He's willing to make sacrifices to keep us all happy. When he sees I'm getting overwhelmed, he'll say, 'I have both of them. Go take a nap.' That will keep me married to him forever. But I don't know anything about keeping the sex life going!"
In the same interview, Megan spoke with great confidence about her marriage, telling Cosmopolitan, "You have to be with someone who loves you at your absolute worst, because you can't be an actress every moment of the day forever. Brian and I have done everything you can do to ruin a relationship and we still love each other. I don't want to be boastful and say that we would never divorce, but I can't imagine a scenario we couldn't work through."
Of course, Megan acknowledged there's no such thing as a perfect relationship. "You can't live in a fantasyland and think that everything's going to be perfect all the time," she said in a 2014 interview with Men's Health. "You will go through phases where you're just not getting along. You're not communicating well. That's going to happen, and it's going to feel impossible to you sometimes. It might not even make sense to you sometimes. Arguments are normal. You have to be patient and sit through that and remember that this is a part of human communication and interaction. You're going to have these conflicts with anyone. It's not necessarily just that person."
"You have two people, separate beings, trying to share one life together," she continued. "That's always going to have difficulties. Brian is my soulmate. I happen to believe that. He's definitely meant to be the father of my children. That makes it easier for me to work through things, because I always see the spiritual side of things. I look at the end game. If you don't see life that way, I'm not sure what advice I can give. But I believe that every interaction is an act of fate in some way, that we're meant to interact with them, and it's our job to flesh that out and experience it to the fullest and learn the lessons we're meant to."
Jason Merritt/Getty Images
2015: After 11 years together, 5 years of marriage, and two children together, Megan filed for divorce from Brian this past August. On separation papers, dated June 6, 2015, she cited "irreconcilable differences" as the reason for the split.
The exes reunited on a number of occasions post-filing, oftentimes doing family activities together with their sons. Megan and Brian both sought joint custody of Noah and Bodhi, but while the 90210 alum requested spousal support, Megan left that section of her petition blank. 
As of now, their divorce is still pending. Megan's attorney last filed paperwork Jan. 29, and there are no future hearings are scheduled at this time. 
So how will baby No. 3 impact all of this? Will Megan and Brian's on-again, off-again history repeat itself? Time will tell.