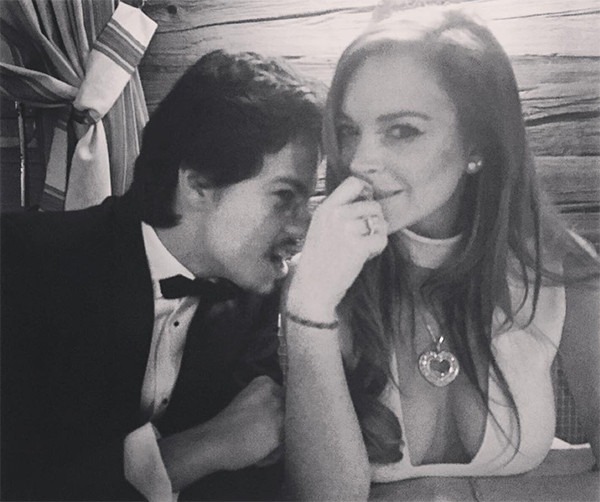 Instagram
Lindsay Lohan's love life is hard to keep tabs on today—but isn't it always?
Here's what we know: TMZ broke the news Tuesday that the 29-year-old actress was engaged to boyfriend Egor Tarabasov. While one source also confirmed to E! News, another source just as quickly said not so fast. Shortly thereafter, a rep for the actress  officially made moot any public well wishes and denied the engagement news to Page Six. 
We thought it was peculiar that this purported engagement wasn't chronicled across Lindsay's numerous social media feeds. The Mean Girls star often documents her personal life (and bits of her relationships) online, and there's yet to be any explicit mention of Egor popping the question. (Keep an eye on it, tonight, though, because according to Lindsay's Instagram, her sister Aliana Lohan is performing with Duran Duran in NYC. Who knows if we'll get a post-concert sister selfie or maybe even a big news reveal from the whole fam?) 
In any case, though, Lindsay seems to be happy with Egor, a 22-year-old Russian business heir.  "I haven't known Egor for that long," she said in an interview with The Sun published last month. "We've been together for about seven months. He is a great guy. I met him in the summer. I'm really happy."
Don't credit Egor for Lindsay putting her partying days in the past, though. "That's the one thing in America they always have done with me. If I have ever been linked to someone, they always say, 'This guy is so good for Lindsay. Look at how he has changed her.' I am just like, 'F--k you,' because I have done this for me. I take care of myself and then they just set it up to fail," she said. "The smartest thing I have done for myself is making the move to London I came to London by myself. Being here is such a big deal. I didn't have anyone here at first."
Egor lives and works in London, where Lindsay has been keeping a low profile out of the spotlight since her probation officially ended in May 2015.
She is currently working on a full-length feature called The Shadow Within, which is slated for a release later this year.
—Additional reporting by Beth Sobol and Sara Kitnick
(Originally published Apr. 12, 2016 at 12:16 p.m. PST)